Making Cioppino is a Christmas Eve tradition in our house (we also love to make it on cold, rainy days throughout crab season). Last year Christmas Eve was on a Saturday, so we were able to pick up almost everything we needed for Cioppino early in the morning at the Ferry Plaza farmer's market.
Our first stop was Eatwell Farms, where we picked up fresh fennel, garlic, and herbs. They always have the most beautiful selection. Then we headed inside to San Francisco Fish Company for fresh Dungeness crab, shrimp, cod, and shellfish (we use manila clams, but you can also add mussels if you like). Finally, we picked up a loaf of crusty sourdough at Acme Bread.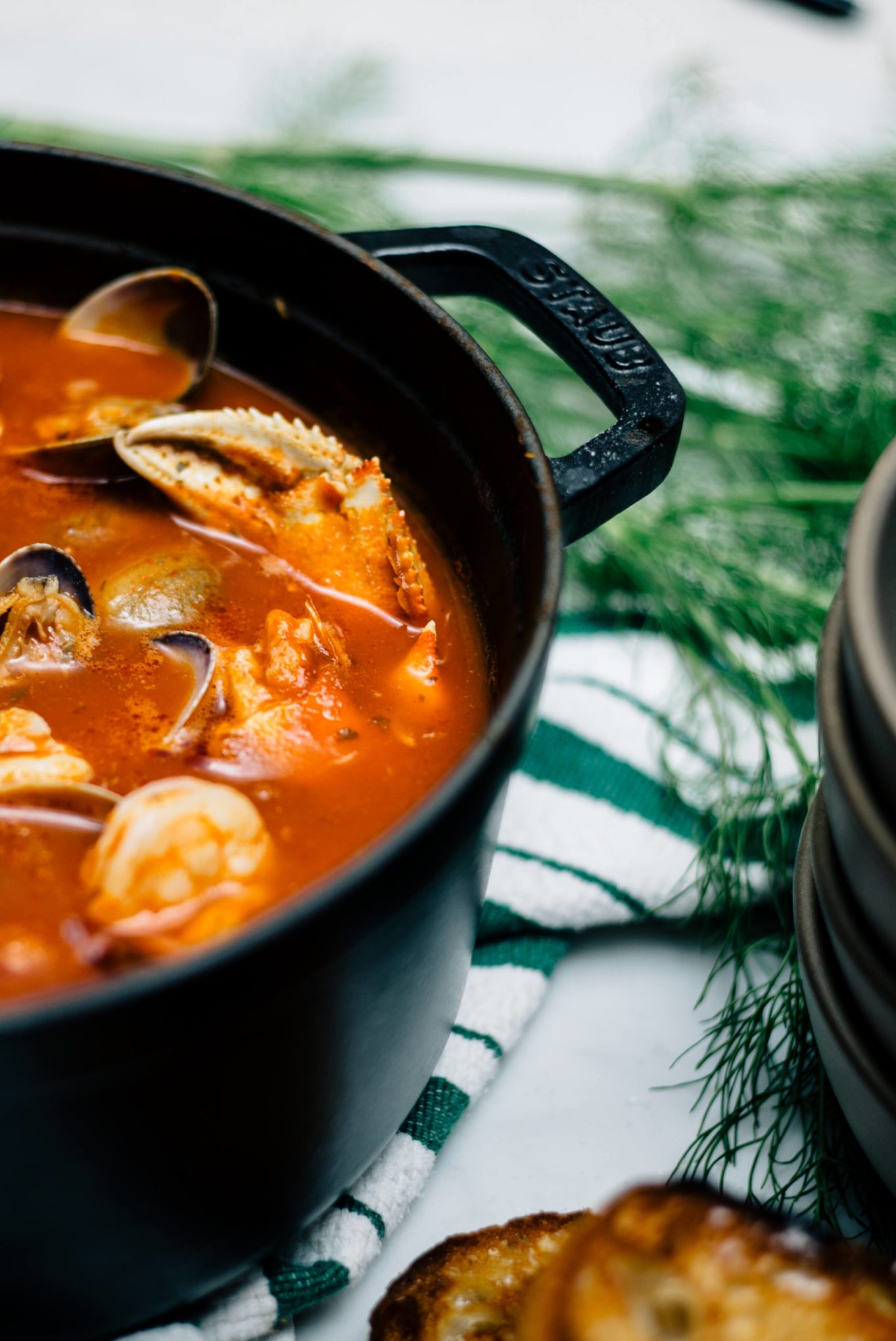 Cioppino is not hard to make at all, but here are a few quick tips to make it even more convenient. If you have extra shellfish shells in the freezer, this shellfish stock is a great way to use them, otherwise, just purchase frozen fish or shrimp stock. When you purchase crab, ask for it cleaned and cracked. We let our fishmonger know we were going to be adding the crab to Cioppino, so he cleaned it extra thoroughly. Finally, you can make a large batch of Cioppino base and freeze portions until you're ready to use them, or make it a day ahead and keep it in the refrigerator (it will taste better the next day), then all you have to do to get dinner on the table is bring the soup base to a simmer and toss in the fish.
Don't forget to toast thick slices of sourdough with lots of butter in a cast iron skillet!

Cioppino
Ingredients
4 T butter
1 large onion, diced
4 garlic cloves, sliced
1 fennel bulb, sliced thin
2 T tomato paste
⅓ cup chopped fresh parsley
3 sprigs fresh oregano (or 2 T chopped)
2 tablespoons of flour
1 bay leaf
28-oz tomato puree
2 cups dry white wine
1 qt fish stock
1 large Dungeness crab, cleaned and cracked
1.5 lbs shrimp, peeled and deveined
1 lb manila clams, scrubbed and soaked
1 lb cod, skinned and cut into 3-4 inch pieces
salt
pepper
sourdough bread, for serving
Instructions
Heat butter in a large dutch oven or stock pot.
Sauté garlic and onions in butter until they begin to soften.
Add fennel and sauté. Stir in tomato paste and cook for a few minutes to remove the raw tomato taste. Sprinkle the softened vegetables with a few tablespoons of flour and stir to incorporate.
Add oregano (whole sprigs or leaves, stripped and chopped), bay leaf, tomatoes, white wine, and stock. Stir and simmer over low heat until the broth reduces in volume by about half. Season to taste with salt, pepper, and crushed red pepper. Remove the bay leaves and oregano stems (if using).*
Immediately prior to serving, bring the base to a simmer. Add clams and fish, and cover. Once the clams start to open, add the shrimp and crab.
Serve as soon as the seafood is just cooked through.
Serve with a thick slice of buttered sourdough toast.
Notes
Soup base can be made ahead of time and kept in the refrigerator overnight or frozen for longer-term storage.
If you do cannot find Dungeness crab, you can substitute snow crab clusters or omit.