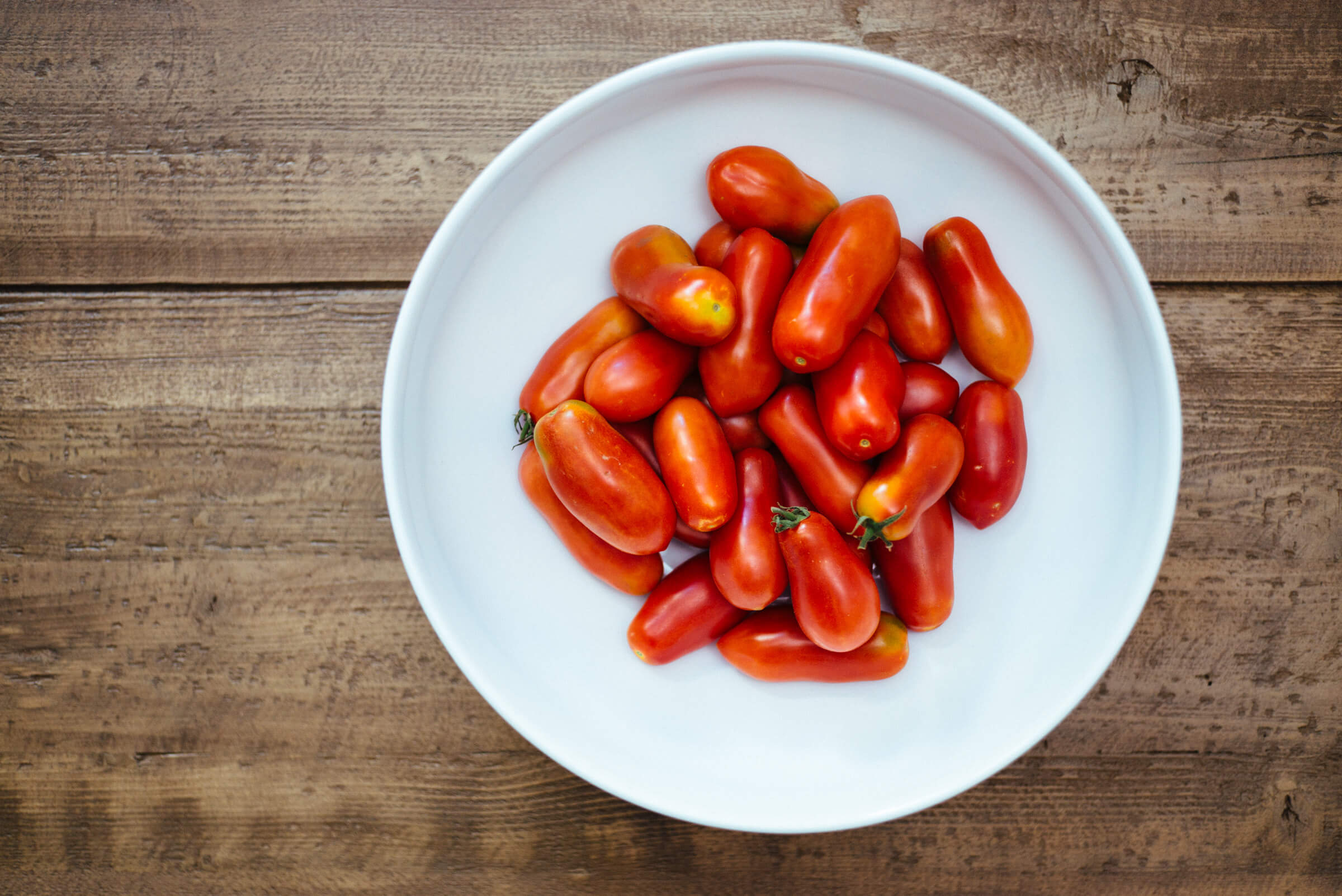 It's tomato season! If you've been following along, you've seen all the ways we've been using tomatoes the past month (like our favorite spicy pasta, savory tart, beautiful Caprese salad, and baked risotto). Peak season for tomatoes is the end of summer through the beginning of fall, and it's when you can find the sweetest tomatoes at the market. It's also the best time to capture that fresh sweetness in jars so that you can enjoy them all winter long.
We don't do a lot of canning, but last summer we learned about hot packing from our friends at Eatwell Farm. We buy as many San Marzano or Early Girl tomatoes as we can and make a day of it. Since you're canning them you can also get bruised or over-ripe ones–they still taste good and tend to be a good deal. Our favorite jars are these tall ones. Our friend Jeanie gave us a pack a while back and we absolutely love them. We also use them to store our bulk items in the pantry.
If you thought canning has to be tedious or messy, you'll be surprised. Hot packing is a technique borrowed from industrial canning operations, and is super simple. Here's how we hot pack tomatoes:
Run jars, rings, and lids through the dishwasher on the heat dry cycle or boil them in an extra large pot of water to clean and sterilize them.
Preheat the oven to 250°F.
Put all of the jars, rings, and lids into the oven. Keep them there until you're ready to use them. You can put them on a clean sheet pan to help contain the lids and rings.
Wash and cut the tomatoes into quarters or your desired size.
Put the tomatoes into a large stock pot and bring them to boil until they begin to break down. You will probably be able to add more tomatoes to the pot as they cook down.
If you desire, add about 1 teaspoon of kosher salt per pound of tomatoes.
Run the tomatoes through a food mill on the largest setting to remove skins. If you also want to remove the seeds, use a finer die. (This one is our favorite.)
Put the tomatoes back to the pan and return to a simmer. If you want to cook them down to a thicker consistency, now is your chance.
Working with one jar at a time, carefully remove a jar from the hot oven with a kitchen towel, oven mitt, or jarring grips.
Fill the hot jar with hot tomatoes, leaving about an inch of space at the top.
Remove a hot lid and ring from the oven and quickly (and carefully) fasten and tighten the lid on the jar.
Turn the sealed jar upside-down on a towel to cool.
Repeat this process until you've filled the rest of your jars.
Leave the jars upside-down and undisturbed until they are completely cool. You may hear popping as they seal. We like to leave ours to sit overnight.
When you turn them over, the top of the lid should be indented. If you have any with loose lids, refrigerate them and use them as soon as possible. You can test the seal by taking off the ring and checking if the top is tight (you should be able to hold the jar by the top).
We've never had a jar that didn't seal, and we've used them up to a year later and they are perfectly fresh! Just to be extra safe, we always simmer them for 10 minutes in whatever sauce we're using them in. We like to use our jarred tomatoes to make one our favorite pasta sauce (get the recipe here).
Don't miss The Taste Edit digital magazine for more recipes directly from Italy!