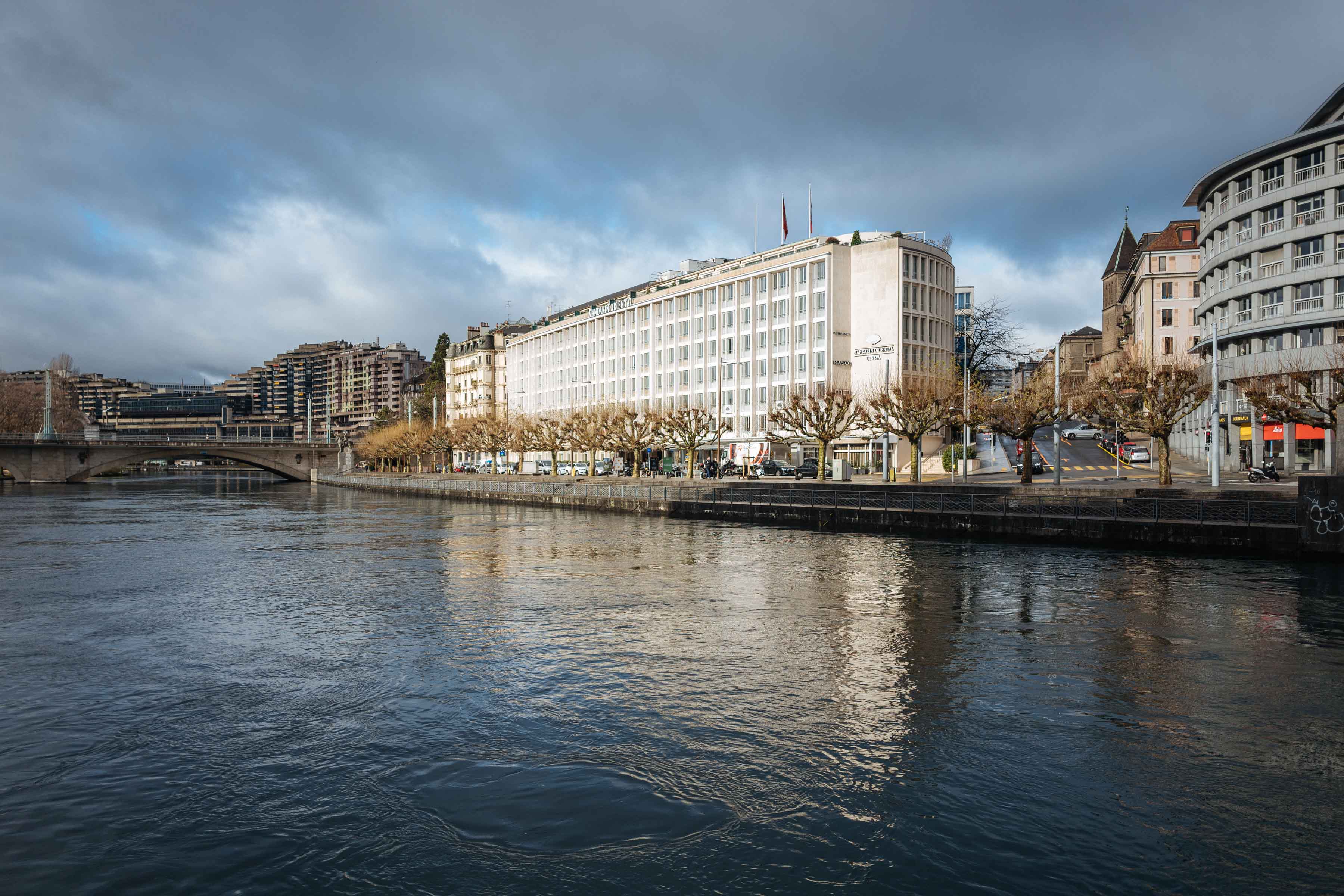 Geneva is the perfect starting point to explore watches, skiing, and wine tasting. It's very accessible by car or train and is very easy to navigate on foot or by public transportation. The Mandarin Oriental Geneva, located on the banks of the Rhone River, is just steps from Lake Geneva, Old Town, and the Geneva train station. We stopped in on our trip from Klosters to Burgundy. It was the perfect location for a quick overnight in Geneva followed by a day of exploring this charming city.
Sipping on flutes of Champagne while admiring watch displays in the lobby during check-in was the perfect start to our stay. With a modern clean feel, the Mandarin Oriental Geneva has beautiful suites with fireplaces, patios overlooking the river, views of the Jura mountains, and luxurious Bottega Veneta toiletries.
If you're tired from traveling, you don't need to leave the hotel to enjoy two different types of cuisine, Indian and Peruvian. Rasoi by Vineet, the Mandarin Oriental's fine dining Indian restaurant, was closed for the holidays. However, we had a fabulous dinner at the hotel's new Peruvian restaurant Yakumanka. Celebrity chef Gastón Acuriovery's ceviche restaurant serves beautiful seafood dishes and pisco cocktails. Read more about our dinner here.
Breakfast is served in Yakumanka, with a buffet and an a la carte menu. Chef César Bellido makes some of the prettiest versions of classic breakfast dishes like Eggs Benedict. Sit in the atrium and enjoy the views of the river while you enjoy breakfast and a coffee.
Mandarin Oriental Geneva, Quai Turrettini 1, 1201 Genève, Switzerland
Note: The Mandarin Oriental Geneva provided support for the reporting of this story.