Autumn is in full swing! It's probably both of our favorite time of year. We especially love all the great ingredients that come into season around this time, like squash, apples, and brussels sprouts. We also love fall cocktails that are perfect for curling up in a blanket and sipping by the fire. This is one of those cocktails! It was inspired by this some of our favorite maple syrup that is hand bottled and aged in rum barrels, and these huge crystal clear ice cubes that are perfect for a slow-sipping drink like an Old Fashioned.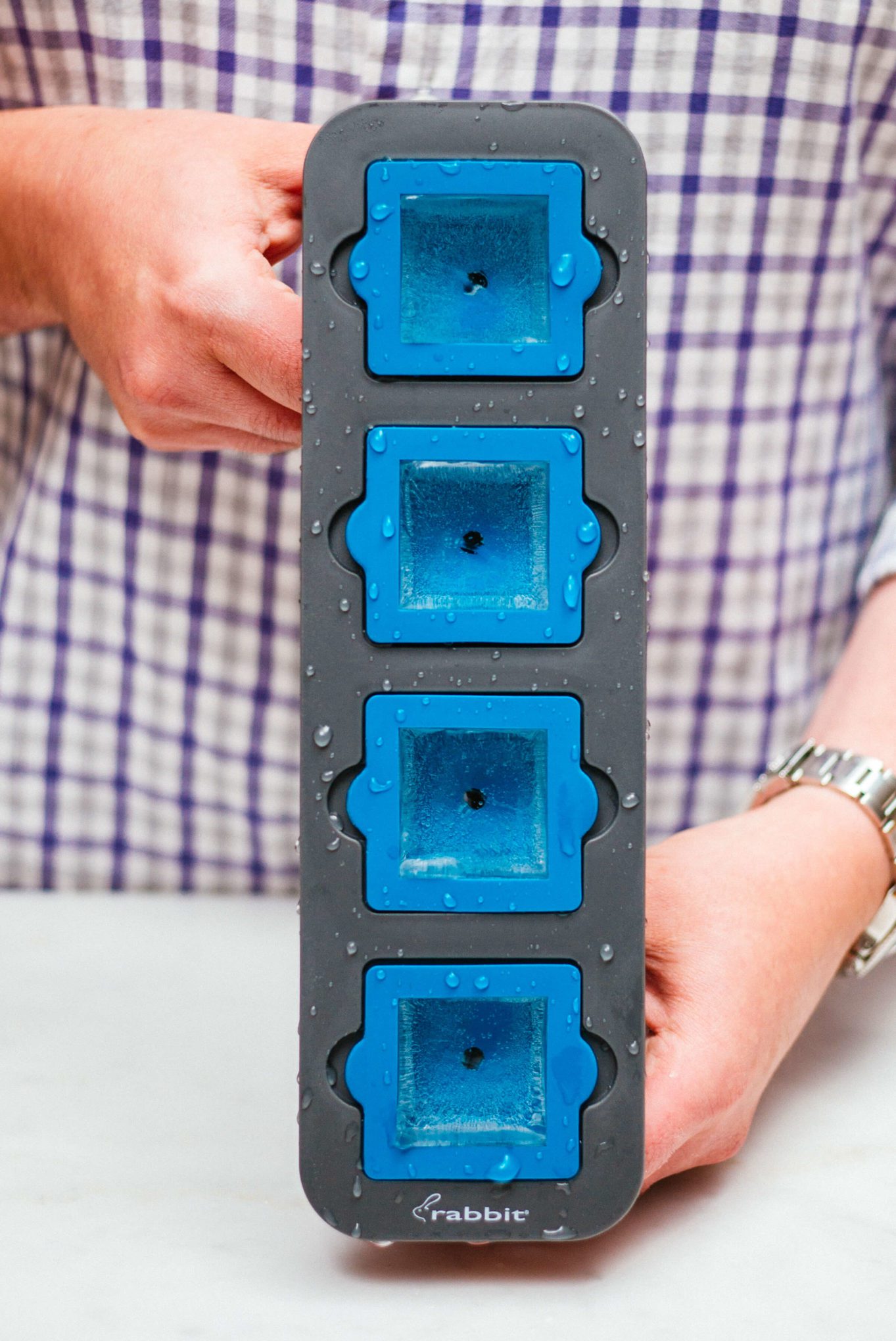 Ice has been getting a lot of attention in craft cocktail bars because the shape of ice you use has affects how fast it melts and how the cocktail tastes. For cocktails like an Old Fashioned, large cubes are best because they melt more slowly and don't dilute the flavor.
We were excited to find this new clear ice cube tray from Rabbit (the company that makes the corkscrew). We've tried other large cube ice trays before, but none of them have made the crystal-clear ice cubes this tray makes with. We were really impressed.
They look like cubes of glass! They take a while to freeze, but we think that's how they come out so clear. We've been making them and keeping them in a freezer bag to have on hand whenever we need them. We have a few other cocktails that we've been planning to make that would be perfect for these.
Our tips: remove the tray ice cube tray from the insulation about 15 minutes before you plan to use them to easily remove them from the tray. You can also run them under warm water briefly, the cubes should come right out. Definitely make sure to use glassware that shows off these cool cubes!
Most Old Fashioned cocktails use sugar syrup or a sugar cube as sweetener, but the barrel aged maple syrup in this cocktail gives it a deeper of flavor. We met the farmer a few years ago in Chicago and it's one of our favorites. We also used these pecan, magnolia, and habanero bitters we discovered a few months ago. They're amazing and give everything you use them in a touch of southern spice. These limited edition holiday pie bitters (pecan, apple, pumpkin, etc) would be a great option too.
Thank you to Rabbit for sponsoring this post.

The Autumn Old Fashioned
Instructions
Place one or two large, clear ice cubes in a double old fashioned glass.
Add bourbon, maple syrup, and bitters, then stir to combine. The ice should melt slightly while stirring.
Garnish with lemon peel and serve.