Franklin BBQ is the gold standard for barbecue in Austin. Not only the best BBQ in Austin, it's hailed as the "best BBQ in the country" by Bon Appetit, "best barbecue joint" by Esquire Magazine, and awarded James Beard Best Chef… you get the idea. It's good. Serving brisket, ribs, sausages, and turkey – you'll spend hours waiting in line. It's a commitment, and they sell out of Franklin bbq brisket daily.
Order mouthwatering BBQ on your next trip to Austin or skip the line and preorder it to fly home with you. Owner Aaron Franklin says that you don't have to get a 1/4 or 1/2 pound of everything. You can always order by the slice if you want to try a variety of meats.
We missed our chance to try Franklin BBQ because it was closed during our trip to Austin, but you can learn the secrets to the best barbecue in the Franklin Barbecue book. It's not your typical cookbook, but more of a textbook on how to smoke meats and make some of the best BBQ at home. This is the perfect gift for the person in your life who wants to learn more about barbecue and smoking. Here's just a taste of what you'll find when you order the book.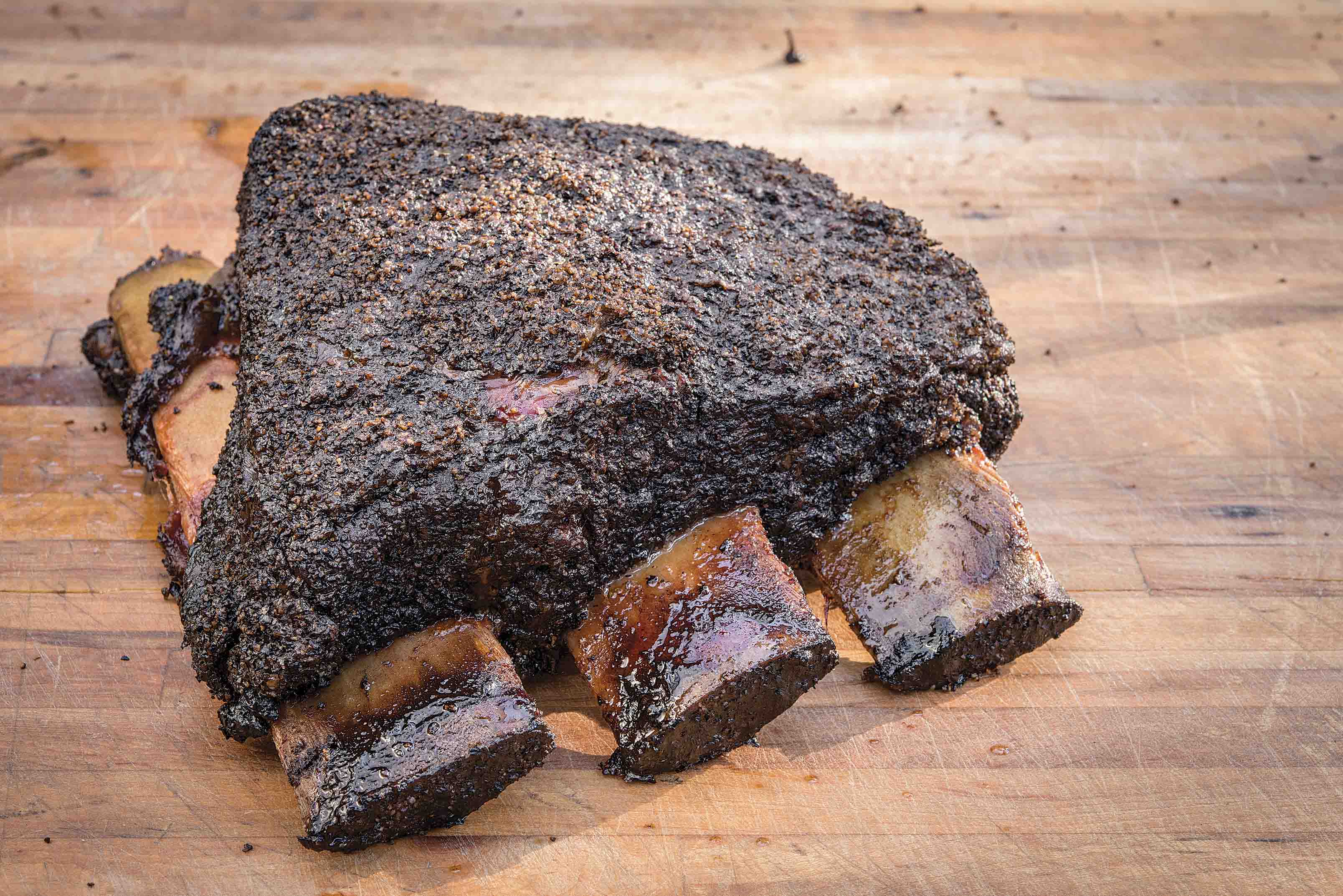 Get Franklin Barbecue's famous beef rib recipe. Just enter your email below to become an insider at The Taste Edit, and you'll immediately get access to Franklin's mouthwatering beef rib recipe.
Aaron Franklin on Building a Good Rub.
"Every rub I make starts with a base of salt and pepper. Then I add other spices to complement the meat that I am cooking. The goal of any rub is to complement a nice piece of meat, not to obscure a crappy piece of meat. All spices should react well with one another. No one spice should stand out or be too recognizable, so add just enough to taste. It would be a shame to buy a nice piece of meat, spend a ton of time prepping and cooking it, and have it taste like an overzealous mixture of flavors. Restraint is the name of the game when using seasonings other than just salt and pepper."
Aaron Franklin's BBQ Brisket Rub & Rib Recipe
Print Recipe
Email Recipe
Now you can make the best BBQ in Austin at home with Franklin BBQ Brisket & Beef Rib Rub for your summer BBQ.
Ingredients
equal parts

16-mesh ground black pepper

equal parts

kosher salt
Instructions
A rough guideline is that you'll need about ½ cup (4 ounces) of rub, total, for each 12-pound brisket.

A 3- to 5-pound rack of beef ribs will require just a bit less rub, maybe ⅓ to ½ cup, total.

Optional Add-ons: granulated garlic; granulated onion; paprika: Add for color and savory aspect; seasoning salt: However much you add, subtract the same amount of salt from your rub.
Notes
Reprinted with permission from Franklin Barbecue by Aaron Franklin & Jordan Mackay, copyright © 2015. Published by Ten Speed Press, an imprint of Penguin Random House LLC. Photography credit: Wyatt McSpadden 
Don't miss a thing! Become an insider here at The Taste Edit to receive exclusive content, insider guides, giveaways, and more directly in your inbox.