2880 Wines
2880 Foothill Blvd, Calistoga
707-942-6737
Not open to the public
Amici Cellars
3130 Old Lawley Toll Road, Calistoga
707-967-9560
Open by appointment, please call
Aril Wines
Calistoga
415-987-6257
Not open to the public
Aubert Wines
333 Silverado Trail, Calistoga
707-942-4333
Not open to the public
August Briggs Winery
1307 B Lincoln Avenue, Calistoga
707-942-4912
No appointment needed
Barlow Vineyards
4411 Silverado Trail, Calistoga
707-548-8317
Open by appointment, please call
Becklyn Cellars
Calistoga
707-295-8699
Not open to the public
Bennett Lane
3340 Highway 128, Calistoga
707-942-6684
Open by appointment, please call
Brian Arden Wines
331 Silverado Trail N, Calistoga
707-942-4767
No appointment needed
CAMi Vineyards
3959 Silverado Trail, Calistoga
707-738-3512
Not open to the public
Canard Vineyard
1016 Dunaweal Lane, Calistoga
707-942-1149
Open by appointment, please call
Carter Cellars
1170 Tubbs Lane, Calistoga
707-445-0311
Open by appointment, please call
Castello di Amorosa
4045 Saint Helena Highway North, Calistoga
707-967-6272
No appointment needed
Chateau De Vie
3250 Highway 128, Calistoga
7079426446
Open by appointment, please call
Chateau Montelena
1429 Tubbs Lane, Calistoga
707-942-5105
No appointment needed
Checkerboard Vineyards
4331 Azalea Springs Way, Calistoga
707-942-4112
Open by appointment, please call
Clos Pegase
1060 Dunaweal Lane, Calistoga
707-921-2603
No appointment needed
Constant
2121 Diamond Mountain Road, Calistoga
707-942-0707
Open by appointment, please call
Coquerel Family Wine Estates
3180 Highway 128, Calistoga
707-942-4534
Not open to the public
Davis Estates
4060 Silverado Trail, Calistoga
707-942-0700
Open by appointment, please call
Dutch Henry Winery
4310 Silverado Trail, Calistoga
707-942-5771
No appointment needed
Dyer Vineyard
1501 Diamond Mountain Road, Calistoga
707-942-5502
Open by appointment, please call
Eisele Vineyard
2155 Pickett Road, Calistoga
707-942-6061
Not open to the public
Envy Wines
1170 Tubbs Lane, Calistoga
707-942-4670
No appointment needed
Fairwinds Estate Winery
4550 Silverado Trail North, Calistoga
707-341-5300
No appointment needed
Frank Family Vineyards
1091 Larkmead Lane, Calistoga
707-942-0859
Open by appointment, please call
Galerie
3299 Bennett Lane, Calistoga
707-547-4798
Open by appointment, please call
Hans Fahden Vineyards
4855 Petrified Forest Road, Calistoga
707-942-6760
Open by appointment, please call
Helena View Johnston Vineyards
3500 Highway 128, Calistoga
707-815-1999
Open by appointment, please call
Heritage School Vineyards
225 Franz Valley School Road, Calistoga
707-942-1513
Open by appointment, please call
Hindsight Vineyards
2383 Mora Avenue, Calistoga
707-942-9000
Open by appointment, please call
Homage Wines
102 Foothill Boulevard, Calistoga
707-490-8449
Not open to the public
Huge Bear Wines
1373 Lincoln Avenue, Calistoga
707-341-3414
No appointment needed
Jericho Canyon Vineyard
3322 Old Toll Road, Calistoga
707-942-9665
Open by appointment, please call
Jones Family Vineyards
1251 Tubbs Lane, Calistoga
707-942-0467
Open by appointment, please call
Joseph Cellars
4455 Saint Helena Highway, Calistoga
707-942-9999
Open by appointment, please call
Kelly Fleming Wines
2339 Pickett Road, Calistoga
707-942-6849
Open by appointment, please call
Kenefick Ranch Winery
4550 Silverado Trail, Calistoga
707-942-6175
No appointment needed
Knighton Family Vineyards
3860 Old Toll Road, Calistoga
707-942-8386
Not open to the public
Knights Bridge Winery
1373 Lincoln Avenue , Calistoga
707-341-3391
Open by appointment, please call
La Sirena
3718 Saint Helena Highway, Calistoga
707-942-1105
Open by appointment, please call
Larkmead Vineyards
1100 Larkmead Lane, Calistoga
707-942-0167
Open by appointment, please call
Laura Michael Wines
2250 Lake County Highway, Calistoga
707-942-9251
Open by appointment, please call
Lawer Estates
Calistoga
707-327-9228
Not open to the public
LOLA Wines
Calistoga
707-342-0623
Not open to the public
Madrigal Family Winery
3718 Saint Helena Highway, Calistoga
707-942-8619
Open by appointment, please call
Maldonado Family Vineyards
1307 Lincoln Street, Calistoga
707-942-1376
No appointment needed
Myriad Cellars
1170 Tubbs Lane, Calistoga
707-266-8154
Open by appointment, please call
Next Door Wine
Calistoga
207-350-6229
Not open to the public
Olabisi Wines
1226 Washington Street, Calistoga
707-942-4472
No appointment needed
Petrified Forest Vineyards
Calistoga
707-942-9434
Not open to the public
Phifer Pavitt Wine
4660 Silverado Trail, Calistoga
707-942-4787
Open by appointment, please call
Picayune Cellars
1458 Lincoln Avenue, #9 Calistoga
707-888-9885
No appointment needed
Poggi Wines
30 Rosedale Road, Calistoga
707-942-1310
Not open to the public
Romeo Vineyards & Cellars
1224 Lincoln Avenue, Calistoga
707-942-8239
No appointment needed
Schramsberg Vineyards
1400 Schramsberg Road, Calistoga
707-942-4558
Open by appointment, please call
Sebright Cellars
Calistoga
Not open to the public
Selah Wines
Calistoga
Not open to the public
Sterling Vineyards
1111 Dunaweal Lane, Calistoga
707-942-3345
No appointment needed
Storybook Mountain Vineyards
3835 Highway 128, Calistoga
707-942-5310
Open by appointment, please call
Summers Estate Wines
1171 Tubbs Lane, Calistoga
707-942-5508
Open by appointment, please call
Switchback Ridge
4292 Silverado Trail, Calistoga
707-967-8987
Open by appointment, please call
Tamber Bey
1251 Tubbs Lane, Calistoga
707-942-2100
Open by appointment, please call
Tank Garage Winery
1020 Foothill Blvd, Calistoga
707-942-8265
Open by appointment, please call
Tedeschi Family Winery
779 Grant Street, Calistoga
707-501-0668
Open by appointment, please call
The Grade Cellars
1236 Lincoln Avenue, Calistoga
707-967-8200
Open by appointment, please call
The Vineyardist
263 Petrified Forest Road, Calistoga
707-815-3189
Open by appointment, please call
Tofanelli Wines
1212 Pine Street, Calistoga
707-529-1907
Open by appointment, please call
Tom Eddy Winery
3870 Highway 128, Calistoga
707-942-4267
Open by appointment, please call
T-Vine Winery
810 Foothill Boulevard, Calistoga
707-942-1543
Open by appointment, please call
Twomey
1183 Dunaweal Lane, Calistoga
800-505-4850
No appointment needed
Venge Vineyards
4708 Silverado Trail, Calistoga
707-942-9100
Open by appointment, please call
Vermeil Wines
1255 Lincoln Avenue, Calistoga
707-341-3054
No appointment needed
Vincent Arroyo Winery
2361 Greenwood Avenue, Calistoga
707-942-6995
Open by appointment, please call
Vineyard 511, Llc
511 Kortum Canyon Road, Calistoga
707-942-2156
Not open to the public
von Strasser Winery
965 Silverado Trail, Calistoga
707-942-9500
Open by appointment, please call
Vörös Cellars
Calistoga
707-974-6272
Not open to the public
Wallis Family Estate
1670 Diamond Mountain Road, Calistoga
877-463-8008
Not open to the public
W.H. Smith Wines
1367 Lincoln Avenue, Calistoga
707-942-1194
No appointment needed
Napa Valley Guide
We've received a lot of questions for wine country recommendations, so we wanted to share our tips including some of the best wineries and restaurants in Napa Valley to help you have the best experience possible during your visit to Napa Valley. Get it here.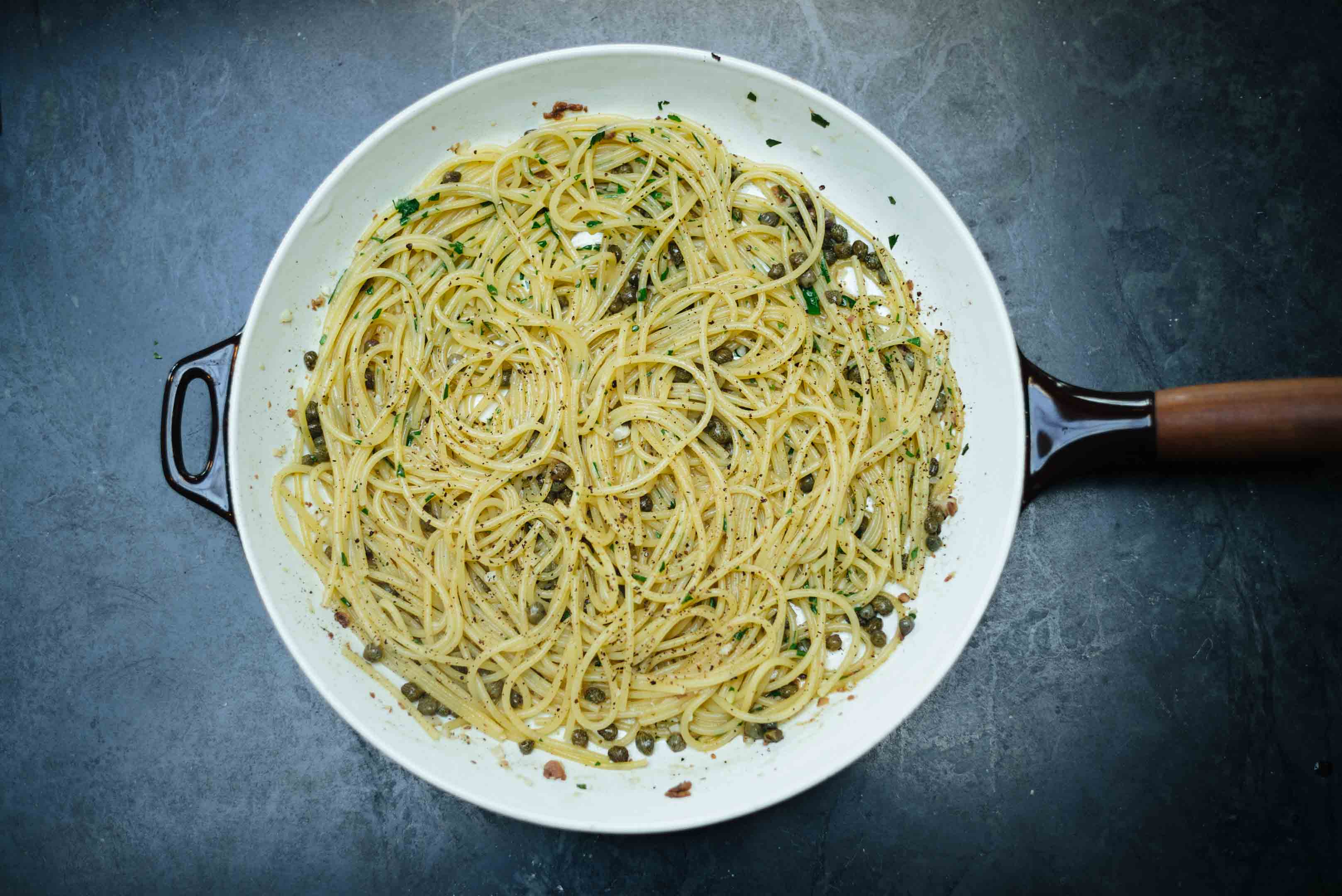 Wine Country Spaghetti
We always say that when you're making a simple recipe with very few ingredients, the quality of the ingredients is key. As we tasted this wine, we discussed potential pairings, and Jim suggested a pasta with anchovies, capers, French butter, and garlic. Make this now.
The Only Wine Glass You Need
Stemware perfected. This glass works for reds, whites, and sparkling. We didn't believe it until we tried it, and now it's the first one we reach for.