When we were looking for an apartment in San Francisco, we made it a non negotiable to have a large kitchen and some outdoor space for vegetables and flowers. We've made a few trips to our favorite nurseries the past few months (the Berkeley Horticultural Nursery and Van Winden's in Napa) and our garden is off to a great start. Our tomatoes are taller than either of us, and our peas are plumping up. Here we're sharing how everything started, as well as a few tips for container gardening.
We wanted to try our hand at seedlings this year, but we didn't get to it, so instead we picked out a few different plants early in the season. We started with lettuce, tomatoes, Roman peas and herbs, and recently added a few more herbs, Padrons, and a Meyer lemon tree.
If you're thinking about starting a vegetable or herb container garden in the city, you'll want to assess your space, especially what kind of light you get (full sun, partial sun, shade) and how warm it gets. We live in a warmer part of the city, which has helped with our peas and tomatoes. We get full sun all morning and have some space with shade.
Check with a knowledgeable person at your nursery and make sure you get an appropriate size container for each plant. We used a mixture of basic terra cotta, plastic, and fabric. These Dirt Pots have been amazing – the herbs we've planted in them are all thriving. Use a high quality organic potting soil so you get the right amount of drainage. We planted everything with E.B. Stone Sure Start, an organic fertilizer we swear by. We also fertilize intermittently with this Espoma fertilizer for vegetables, and keep pests at bay with an organic insecticidal soap.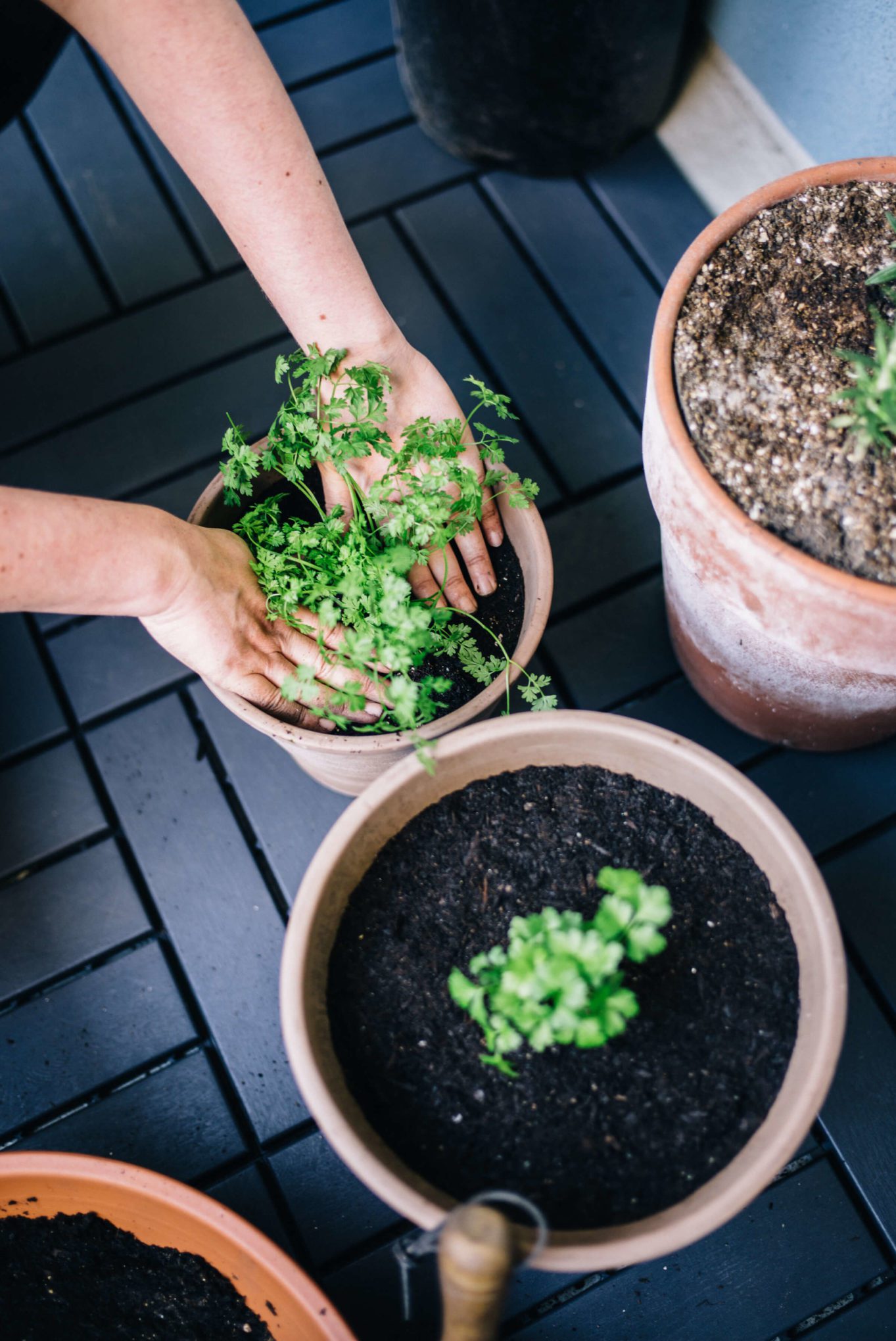 We recently started experimenting with a new (to us) product called Kelzyme that comes from a prehistoric ocean bed in Nevada.  We'll report back in our next update. We're also planning to try a hose with a faucet adapter since there is no outdoor water tap on our balcony and our plants are starting to require a lot more water.
Gardening is definitely addictive. We've already brought in mint for mojitos and can't wait to share what else we're making with produce we grew ourselves! Keep an eye out on Instagram Stories for updates on our garden's progress!