Having lived in San Francisco for two years, we'd still never been to Tahoe. This year we made it a priority and booked a trip as soon as we started seeing snow in the forecast. Now that we're back in SF, it seems crazy that we'd never been. It's so close, and the gorgeous forests of North Lake Tahoe are the perfect escape from the city.
For our trip, we booked a car through Audi on Demand. It was our first time using this service and we could not have been happier with it. We booked a new Audi A4 allroad the day before our trip on the app. It was delivered to our door Friday morning. They gave us a quick rundown of the features of the car, handed us the keys, and after running a few quick errands around the city we were on our way. We headed out around noon (trying to beat traffic), but didn't miss any work since the car has built-in wi-fi. We used the three hour drive to catch up on emails .
Booking the allroad  turned out to be a good choice. The weather was looking dicey all week leading up to our trip, and as we got farther up into the Sierra foothills, the sky looked really ominous. By the time we got close, it was half-raining half-snowing, dark, and really windy. Even with conditions outside worsening, the drive was a breeze.
We rented a house in Martis Camp, a private community near Truckee. We met our friends, dropped off our bags, and headed out to grab a cocktail and snacks at Restaurant Trokay (a must-see more here). Snacks and a cocktail quickly turned into dinner once we saw the menu. Restaurant Trokay was nothing short of amazing.
Back at the house, we prepped a late-night fondue for our other friends who were arriving much later. We had a great time sitting around by the fire and admiring the beautifully decorated trees in Martis Camp.
The only downside to our trip was that it rained constantly! We headed down to see the lake on Saturday morning, explored Northstar for a bit (we'll be returning there later in the winter for proper skiing), and then headed back into downtown Truckee for lunch. It's such a cute town. We'd love to have a house there someday! We had another fun night back at the house making a full steakhouse dinner to celebrate Sarah's birthday (see details and recipes here).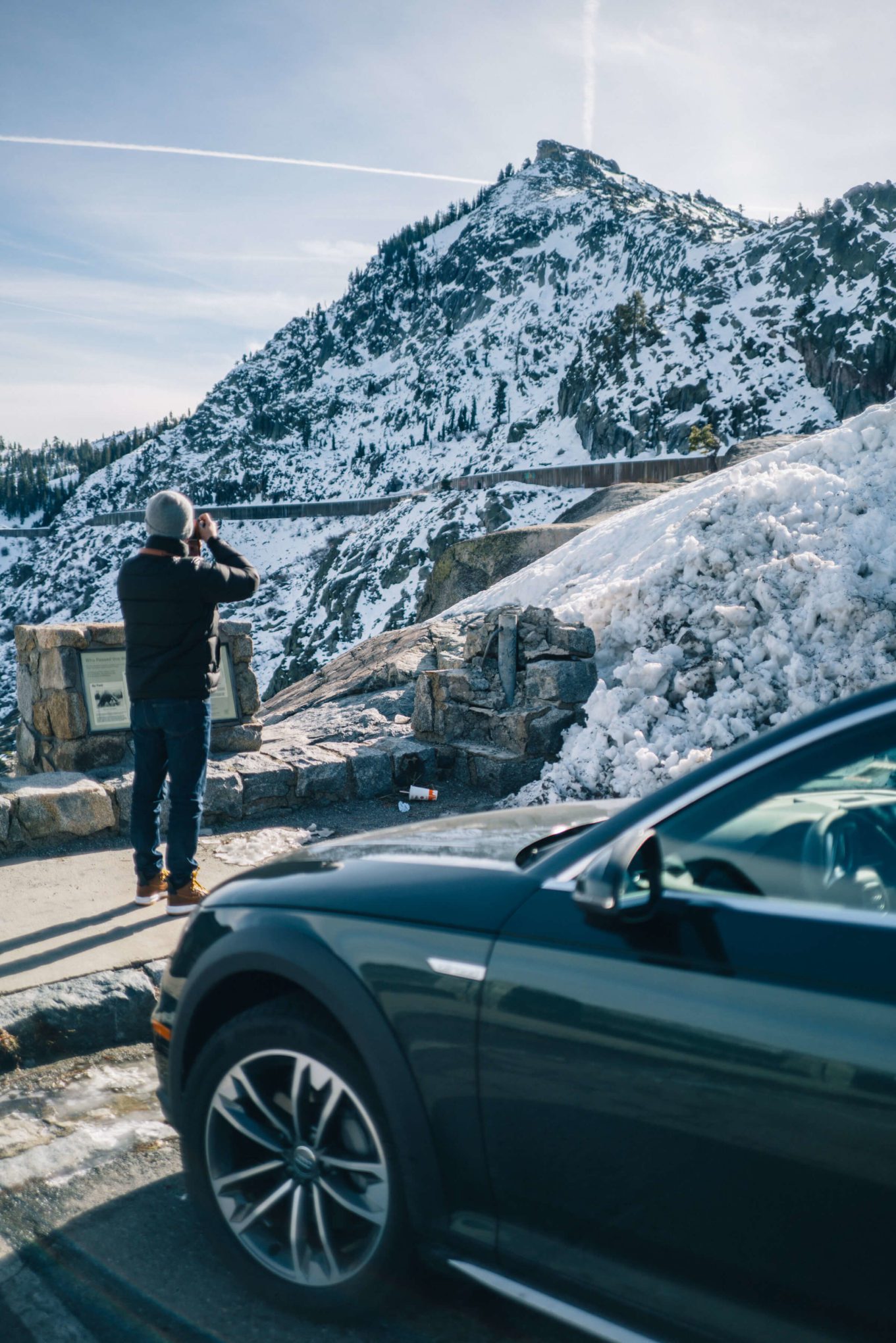 We wanted to beat the traffic back into the city so we left first thing on Sunday morning. All of Saturday's rain had turned to ice, so we were thankful again for the AWD (and heated steering wheel!) on our rental car. We made a stop on the way out at Donner Summit. Clayton is pretty interested in the history of California and we decided to be adventurous and seek out the abandoned rail tunnels we'd seen on photography websites. If you've been to Donner Summit (or read the story around it) you know that it's no joke.
If we had a normal rental car, we would have turned around long before we got anywhere near the tunnels. Having lived in Chicago for a long time, we're used to driving in snow, but icy roads and steep cliffs aren't a great combination in our minds. It was way too icy to hike out to the tunnels but we got a few shots from afar, and the allroad got us safely back up the crazy road we ventured down to see them. They came to pick up the car first thing Monday morning. We were sad to see it go.
Thank you to Audi on Demand for sponsoring this post.