Winter is citrus season. We love it when the farmers markets and grocery stores start filling up with meyer lemons, cara cara oranges, Buddha's hands, and our favorites – blood oranges! We first had blood oranges in Italy and were super excited to find them at home (now that we live in California, it's much easier). When we saw them for the first time this season, we decided to bake one of our favorite blood orange cakes!
This blood orange cake is one of our go-to desserts. It's really simple and we made it even simpler with these Chef'n MeasureUp beakers (c/o). They're great for prep (and cleanup) because you can measure multiple items in one beaker. You just measure out and level the first ingredient, then move the band to the top, and add your next ingredient.  They're made of glass so no issues with chemicals and they're dishwasher safe. They are also microwave safe, which is perfect for melting the butter you'll need for this cake.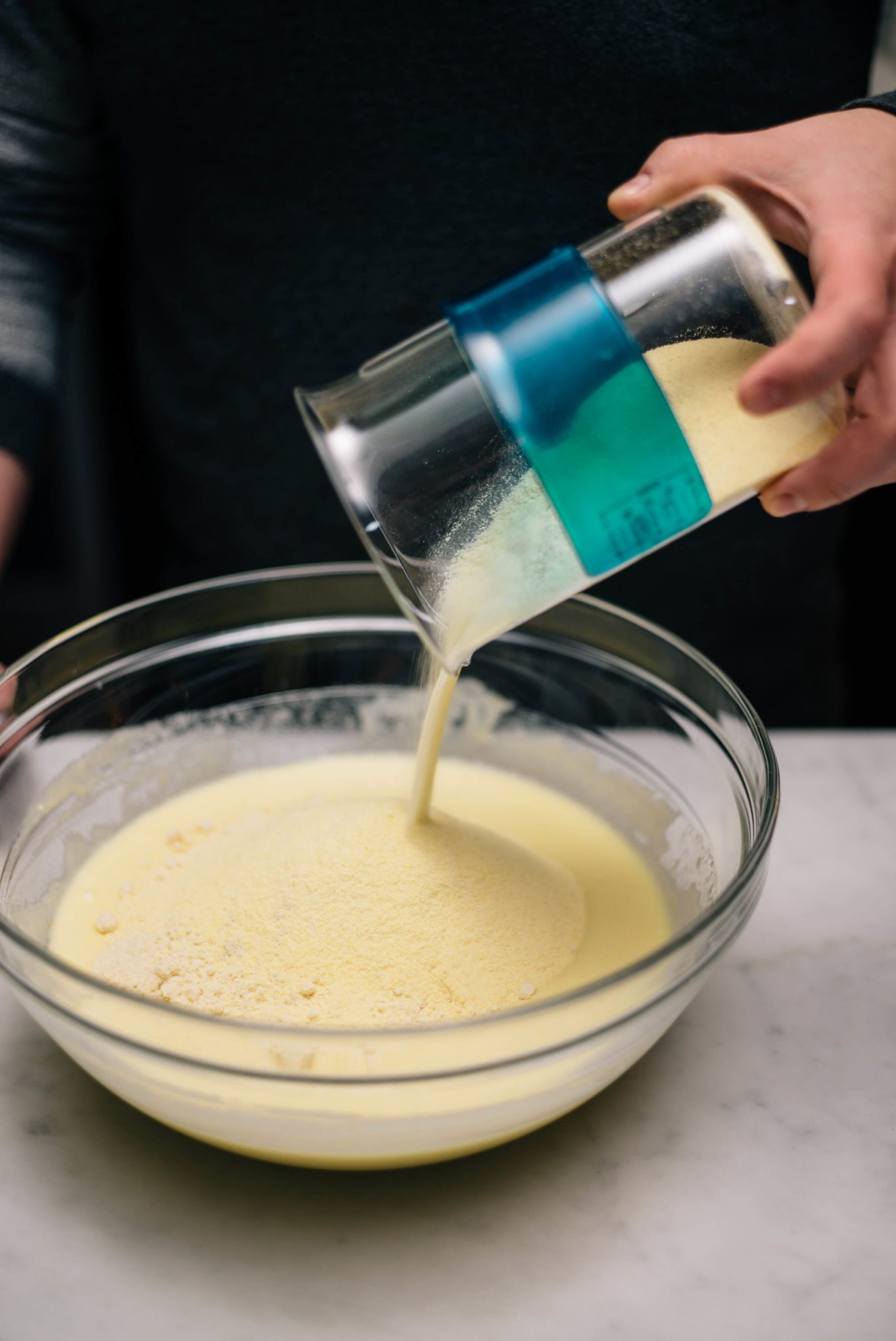 One of our favorite things about this cake is that it's made with almond flour. Between the almond flour and Campari, it's not a super sweet cake, but it has lots of flavor. We topped this cake with candied blood oranges after drizzling it with the Campari sauce. This cake is great for parties and we've made it for several. If you don't want to make the round, you can use a different shaped pan and serve the Campari sauce on the side.
Blood Orange Campari Cake
Print Recipe
Email Recipe
Instructions
Preheat oven to 350F. Measure and combine 1¼ cups of sugar, semolina flour, almond flour, and the blood orange zest in a large mixing bowl.

In a separate bowl, combine the Greek yogurt, eggs, and melted butter.

Add the wet ingredients to the dry ingredients and stir to combine. Butter a round cake pan and add the batter to the pan.

Bake at 350F for 40 - 50 minutes, just until the center of the cake springs back when you press on it. The cake is very dense, so it may take more time depending on your oven.

Make the sauce by combining ¾ cup Campari, ¾ cup sugar, and the juice of 4 blood oranges in a small saucepan. Bring to a boil, then reduce the heat and simmer until it begins to thicken.

To assemble the cake, turn the cooled cake out of the cake pan and drizzle with Campari syrup. Top with candied blood oranges or another garnish of your choosing.
Thank you to Chef'n for sponsoring this post.