California's Gold Country is the perfect weekend escape from the Bay Area. We recently spent a weekend visiting Tuolumne County and Yosemite National Park, and the fall colors were almost at their peak. We had such a fun weekend exploring this beautiful and unique region of California and learning about its rich history, we're sharing a three day itinerary that offers a taste of the Sierra Foothills and Yosemite National Park.
Day 1: Sonora and Jamestown
Leave the Bay Area after the morning rush hour and arrive in Sonora, the county seat of Tuolumne County just after noon. Take a stroll around downtown Sonora to explore its shops, then head to neighboring Jamestown (just three miles away) for a visit to Railtown 1897 State Historic Park.
This state park features a collection of working steam engines, including the famous Steam Engine No. 3 that has been featured in numerous movies like Back to the Future III. Travel back in time by taking one of their four daily train rides.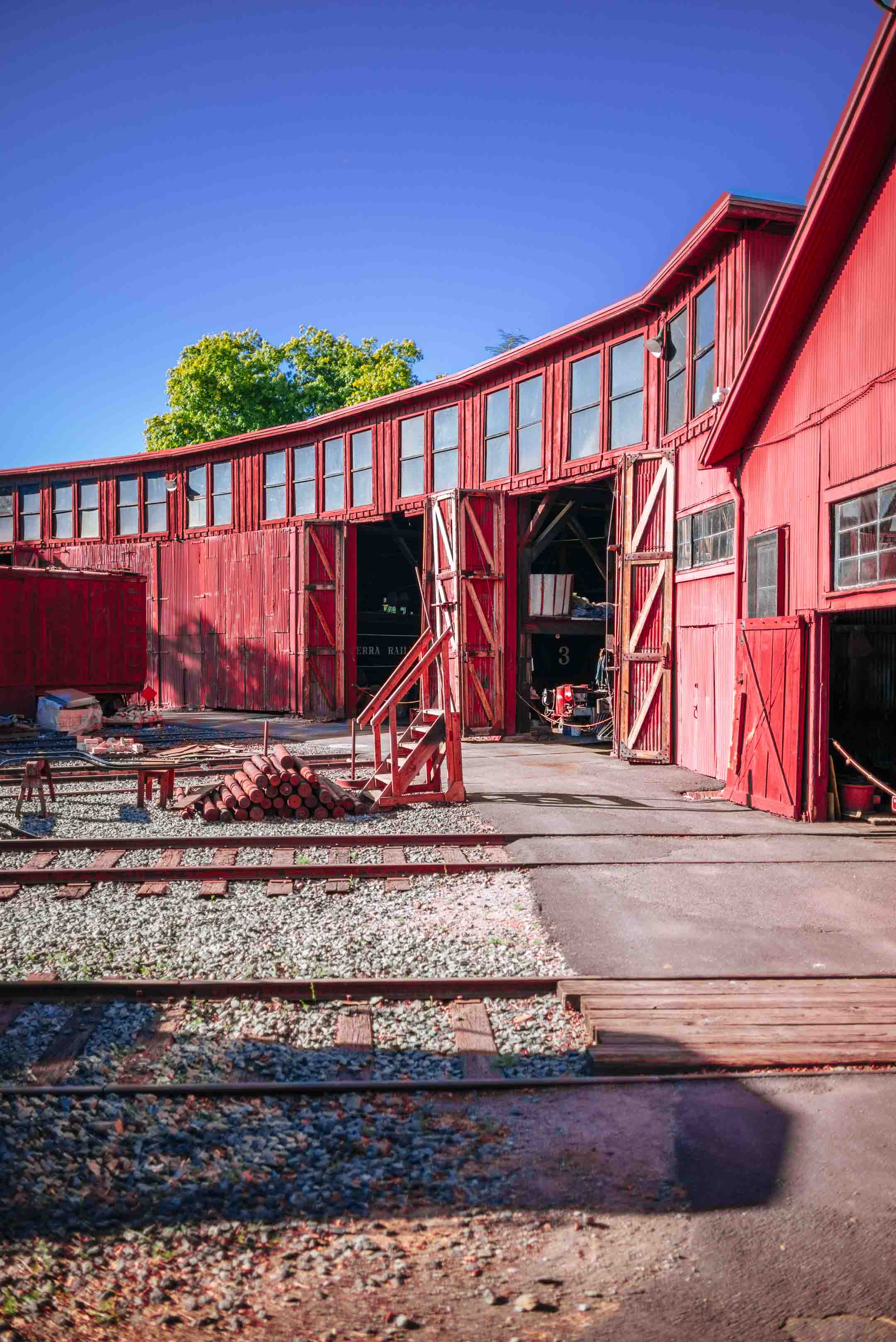 After your visit to Railtown 1897 State Historic Park, explore downtown Jamestown, a historic Gold Rush town. Enjoy the old saloons and gold panning shops or stroll through antique stores and wine tasting rooms.
Stop into the National Hotel for an authentic saloon experience. The hotel was built in 1859 and is still the original building (i.e., it has survived over 150 years without being damaged by fire, the most significant hazard in the foothills). Have a whiskey or beer from one of their many local beers on tap and contemplate what it would have been like to be a forty-niner.
Our favorite wine tasting experience in Jamestown was at the Inner Sanctum tasting room. This winery offers a variety of delicious wines, and their tasting room features a beautiful outdoor patio in the back where guests can enjoy wine by the glass. For some of the best food in Jamestown, head to the Service Station, which offers tri-tip sandwiches, burgers, steaks, and a variety of small plates.
Stay at the Barretta Gardens Inn. This historic farmhouse is now a luxe bed and breakfast surrounded by gorgeous patios and gardens. The Swedish owner, Astrid, runs the property more like a small European hotel, and her breakfasts are top notch.
Barretta Gardens is walking distance to downtown Sonora, which has numerous bars and restaurants. We had dinner at the wine bar adjacent to the Diamondback Grill, which offers a nice selection of California cheeses and an extensive list of local wines. Try their signature burger. After dinner, head over to the Sonora Tap Room, which has a great selection of craft beers on tap.
Day 2: Columbia and Standard
After breakfast, be sure to check out the downtown Sonora Farmers market. The produce was gorgeous. We brought home a bag of local heirloom apples to bake an apple tart and the most gorgeous plums.
From Sonora, it's just a few minute drive to Columbia, which is a must. Columbia was established as a boomtown in 1850 and the historic Columbia State Historic Park is closed to vehicle traffic. Park your car in one of the nearby parking lots and explore this exquisitely preserved mining town. Take a stagecoach ride, then explore the local shops and museums. Be sure to check out the blacksmith shop to see real blacksmiths in action, and try the confections at Nelson's Columbia Candy Store.
From Columbia, head to the Indigeny Reserve, a 160 acre apple orchard that specializes in the production of cider and French-style apple brandy. The day we visited, they were having their fall festival, but they normally offer tours and tasting experiences. You can find six packs of their standard ciders around California, but their special ciders are only available on the property.
For another one of the best restaurants in the area, grab lunch at The Standard Pour. Their spicy tri-tip sandwich and fried brussels sprouts were the two best things we ate in Tuolumne County. Make sure to try one of the local beers on tap, or a glass of wine from one of the many local producers on their list.
After lunch, head to one of the most spectacular national parks in the country — Yosemite. The most direct route into the park from the Bay Area is Highway 120, which puts you into the park at just around 3 hours from San Francisco, and from the park entrance, its only a few minutes to the Tuolumne Grove and about 30 minutes to Yosemite Valley. If you feel like stopping in the town of Groveland it is home to the oldest continually operating saloon in California, The Iron Door.
Check into the Sunset Inn cabins, which are incredibly cozy and cute. They have their own garden and flock of chickens. Just 2 miles from the entrance gate to Yosemite, it's one of the closest places you can stay to the park. If you're looking for family friendly accommodations with lots of activities, try Rush Creek Lodge (just a mile away). This expansive resort has a restaurant and bar (and fire pits with S'mores). You can also stop in for dinner if you stay at the Sunset Inn Cabins.
Day 3: Yosemite National Park
From the Sunset Inn cabins, it's just a few minutes to the Yosemite National Park entrance gate. A pass to the park is currently $35 per vehicle, and is good for several days. Highway 120 runs through the park and just about 8 miles in, you'll find the trailhead for the Tuolumne Grove of Giant Sequoias.
It's a 2.5 mile round-trip hike to see the giant sequoias, but it's worth every minute. To be prepared, know that the path to the trees is 100% downhill, which means the way back is 100% uphill. As the park ranger explained, it's one mile down, a half mile around the grove, and one mile back. Once you reach the grove, the towering trees are astonishing. You don't need anything more than a pair of sturdy sneakers to enjoy this experience, just take your time on the way back up.
We think Yosemite Valley is one of the most beautiful places in the world (it's also magical in the winter). Head to Tunnel View to snap the iconic shot of the entire valley. Once you experience California's Gold Country and Yosemite National Park, you'll be planning your next trip back. We can't wait to for our next trip – hopefully this winter!
Sponsored by Visit California and Tuolumne County Visitors Bureau