Our visit to Palm Springs coincided with Modernism Week, which celebrates midcentury architecture and design. Based at the "Camp" in Downtown Palm Springs, across from the Palm Springs Art Museum, the festival takes place every February. If you love modern design, mark your calendars for February 13-23, 2020.
We were interested to learn that Modernism Week is also a charitable organization, "providing scholarships to local students pursuing college educations in the fields of architecture and design; as well as supporting local and state preservation organizations and neighborhood groups in their efforts to preserve modernist architecture throughout the state of California."
You can't do Modernism Week without visiting the flagship location of Palm Springs Art Museum. We were really impressed with this awesome museum, which is surprisingly large for being in small desert resort town. The building itself is architecturally significant, deserving of as much attention as any piece of art in the collection. In addition to an impressive permanent collection and beautiful sculpture gardens, the museum also hosts special exhibits throughout the year.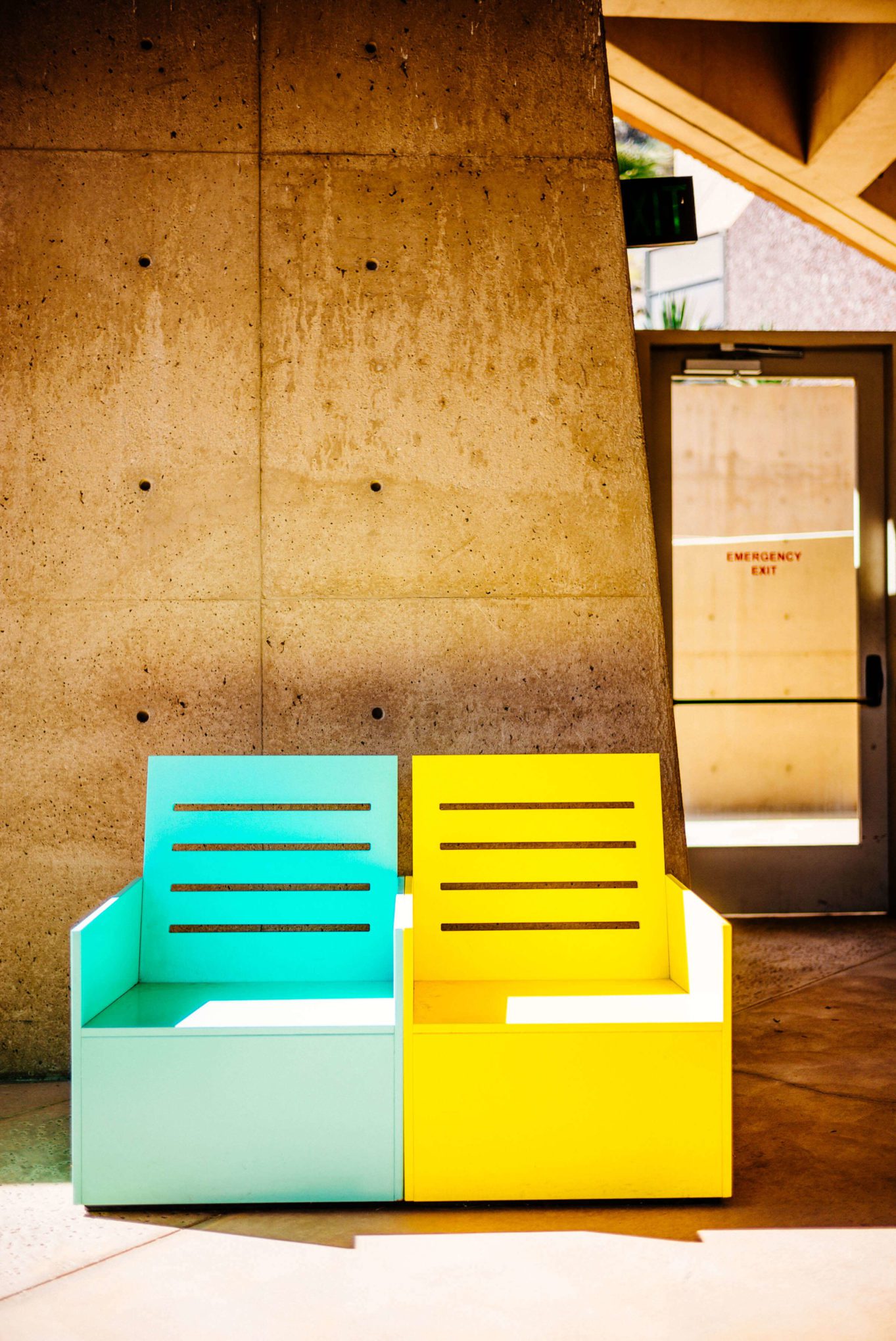 The special exhibit during our visit was Michael Childers: Having a Ball, which featured a collection of black and white photography by Michael Childers, a photographer for Andy Warhol's magazine. According to the Palm Springs Art Museum, "Childers photographed the avant-garde artists and other creative, often flamboyant, performers who were cast in Warhol's films and encouraged to use his studio as a living experiment in alternative values."
One work in the collection that impressed everyone we've talked to who has visited the museum is located on the upper level. It's a sculpture of two very ordinary looking people sitting on a bench. Even if you know it's there, the people are so realistic, you just might miss it! We walked past "them" several times before we realized it was a sculpture.
If you plan to visit Palm Springs, make sure to set aside a few hours for this wonderful museum. The Palm Springs Art Museum is closed on Wednesdays and is free on Thursdays.
Thank you to Alaska Airlines for sponsoring this post.
SaveSave
SaveSave
SaveSave
SaveSave