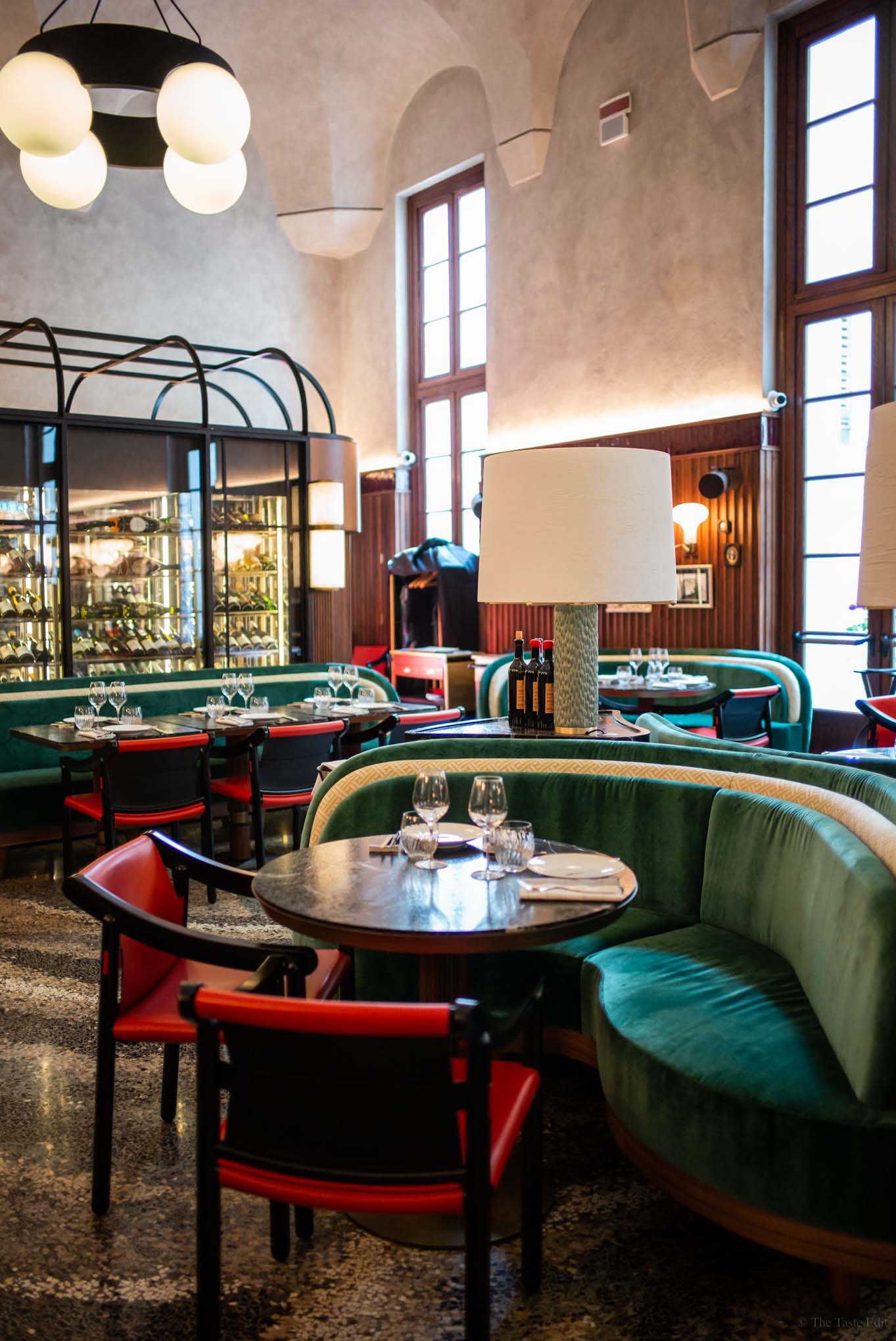 Nestled in the heart of Milan, the newest Beefbar opened its doors in March 2023 adjacent to the new Portrait Milan hotel, bringing with it an air of exclusivity and extravagance. From the moment you step inside, you know you're in for a treat. The glamorous dining room is adorned with wood-trimmed walls, velvet seats, and gold lights that create a cozy and inviting ambiance. It's the perfect setting for a night out with friends or a romantic dinner with that special someone.
What sets Beefbar Milan apart from other fine dining establishments in Milan is its menu. With dishes inspired by various countries and cultures, it's truly a global dining experience. From Japan and China to France and Argentina, there's something for everyone. And with the kitchen surrounded by display cases showcasing tantalizing cuts of beef wrapped in black cloth, the meat is the star of the show.
It's not just about the steak. We started our meal with street food-inspired mini-sliders and gyozas filled with Kobe beef, which were both delicious and flavorful. However, it was the unexpected standout dishes that really blew us away. The kale salad and baby kabob were so fresh and packed with flavor, while the Miso Black Beef, served on a copper grill, was an absolute showstopper.
For those looking for a traditional steak experience, the special ovens used by Beefbar cook the meat at an extremely high temperature, leaving it perfectly seared on the outside while remaining rare and full of flavor inside. And don't miss the truffle fries, which are topped with generous amounts of shaved black truffle.
The dining experience at Beefbar Milan is not just about the food. The restaurant has incorporated the traditional Beefbar look with the old high stone ceilings of the former monastery, creating a unique and sophisticated atmosphere. And at night, a DJ takes over the turntables, adding to the vibrant and energetic vibe.
Overall, the new Beefbar Milan is the perfect place to see and be seen, especially by the Milanese fashionable elite. It's an extravagant and glamorous setting, with a menu that's sure to impress. Whether you're in the mood for a prized steak or simply looking for a night out with friends over more casual bites, Beefbar Milan is the place to be.
Beefbar Milan, Corso Venezia, 11, 20121 Milano MI, Italy, +39 02 5003 7500
Note: Beefbal provided support for the reporting of this story.