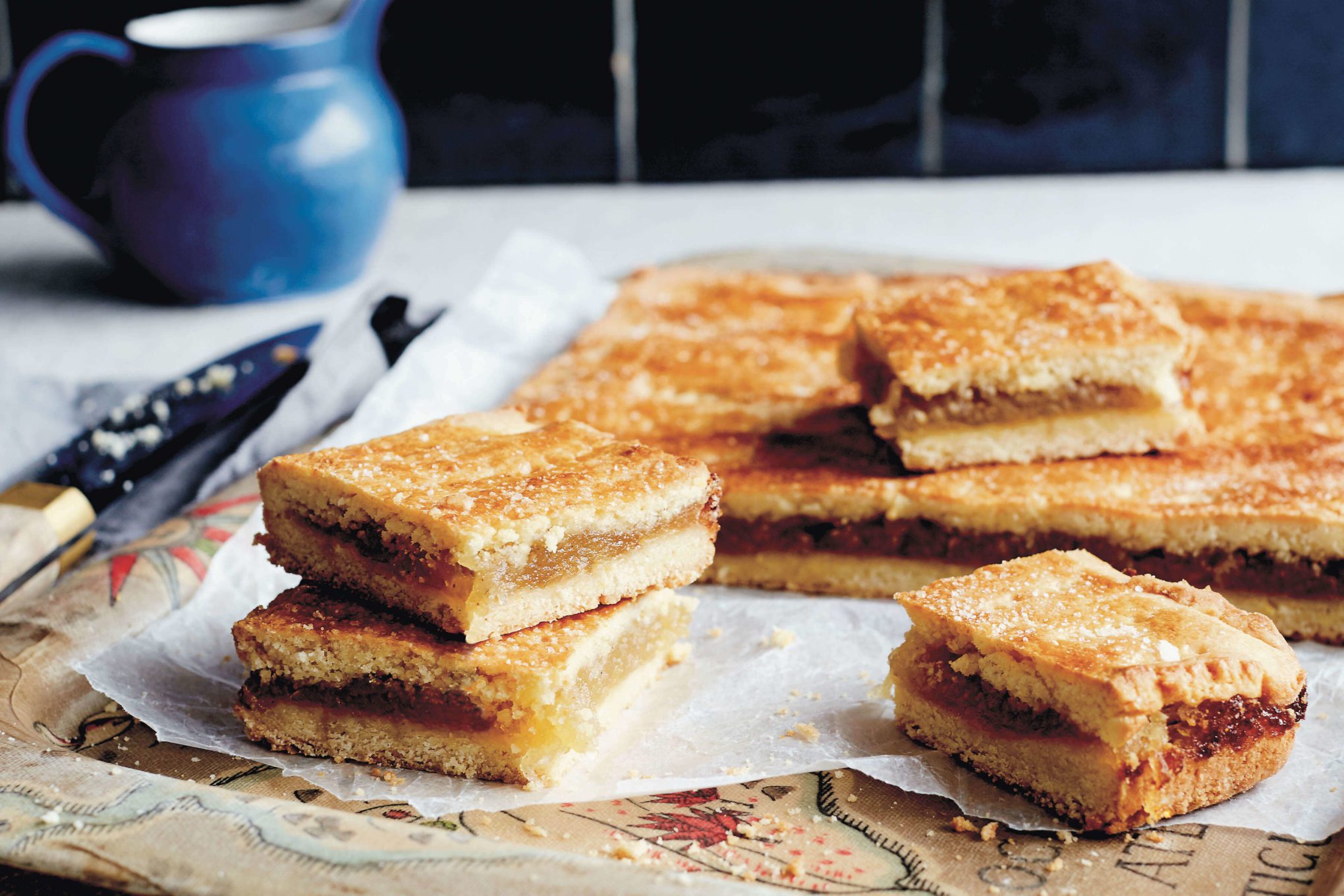 Croatia is high on our list of places we'd like to travel. We've had numerous friends visit, and everyone has loved it. The new Dalmatia: Recipes from Croatia's Mediterranean Coast cookbook released in May has been sitting on our coffee table and tempting us with it's amazing recipes all summer. Now that fall is in full swing, we're sharing this Croatian Apple Cake recipe just in time for your Thanksgiving entertaining.
According to author Ino Kuvačić, "this is a classic Croatian cake (or kolač as we say) and can be prepared for any occasion – as a dessert after Sunday lunch, or to have along with a cup of steaming Turkish coffee and a gossip session with your friends. You don't have to stick to the apple filling either; other popular variations include maraska sour (morello) cherries or walnuts. This cake is prepared in all parts of Croatia and I have to say I really do love it, no matter what the occasion. The sweet and sour flavour of the apple and the crumbly texture of the pastry work their delicious magic on the taste buds. It also keeps well for a number of days. Cut the cake up into squares and serve with caramel sauce and vanilla ice cream, or serve it on its own just sprinkled with sugar."
We'll be giving away a copy of Dalmatia in the next few weeks, so keep an eye out for your opportunity to win.
Croatian Apple Cake
Print Recipe
Email Recipe
Ingredients
375g / 13 oz/2 ½ cups

plain (all-purpose) flour

1

tablespoon

baking powder

165g/5 ½ oz

butter

165

g

5 ½ oz caster (superfine) sugar

1

egg

zest of 1 lemon

2

tablespoons

dark rum

½

teaspoon

salt

1

egg

,

whisked (egg wash)

2

tablespoonscaster

,

superfine sugar, to sprinkle
APPLE FILLING
750g / 1 lb 11 oz

granny smith (or similar) apples, grated

225g / 8 oz

caster (superfine) sugar

juice of 1 lemon

2

tablespoons

dark rum

½

tablespoon

ground cinnamon
Instructions
To make the apple filling, sauté the apple and sugar in a saucepan over high heat for 5 minutes. Add the lemon juice, rum and ground cinnamon.

Sift the flour and baking powder into a bowl.

Using an electric mixer, beat the butter and sugar until pale. Add the egg and lemon zest and beat on high until the mixture is pale and fluffy in texture. Fold in the flour, baking powder, rum and salt. Work the mixture into a dough but do not work it for too long. Refrigerate the dough for 1 hour.

Preheat the oven to 190°C (375°F).

Divide the dough in half, sprinkle with flour and roll out each half to fit a 15 × 20 cm (6 × 8 in) baking dish or tray. Line the dish with baking paper. The dough should be 1–2 cm (½–¾ in) thick.

Put one layer of dough in the dish and bake for 10 minutes. Remove from the oven, spread the filling over the top and cover with the remaining dough. Brush with the egg wash and sprinkle with caster sugar. Prick the top of the dough with a fork and bake until golden brown. Serve hot or cold, cut into squares.
Excerpt and photo reprinted with permission from Dalmatia: Recipes from Croatia's Mediterranean Coast by Ino Kuvačić, published by Hardie Grant Books May 2017.