Our friends Kira and Diego came over with their new puppy, Pelé, a few weeks ago for a fun Brazilian dinner. Diego is from Brazil, and the plan was to make a few of his family's recipes. We had such a great time catching up with them and meeting their new fur baby.
We don't have a dog, even though we both love them. We also love cooking, but to be honest, it was a little distracting with Pelé bouncing around around the house. We mostly wanted to play with him! He's a Coton de Tuléar, and one of their trademark moves is that they can hop on their hind legs. He also has an adorable personality and truly feels as soft as cotton. Fortunately, everything we made was pretty easy, so if you have a cute pup competing for your attention, you won't have to mind the stove for too long.
Brigadeiro is a traditional Brazilian chocolate confection invented during World War II, when milk was scarce. It uses sweetened condensed milk as a base. Chocolate is just one variation. It's made in all different flavors. Our friends had them at their wedding, in addition to a traditional wedding cake.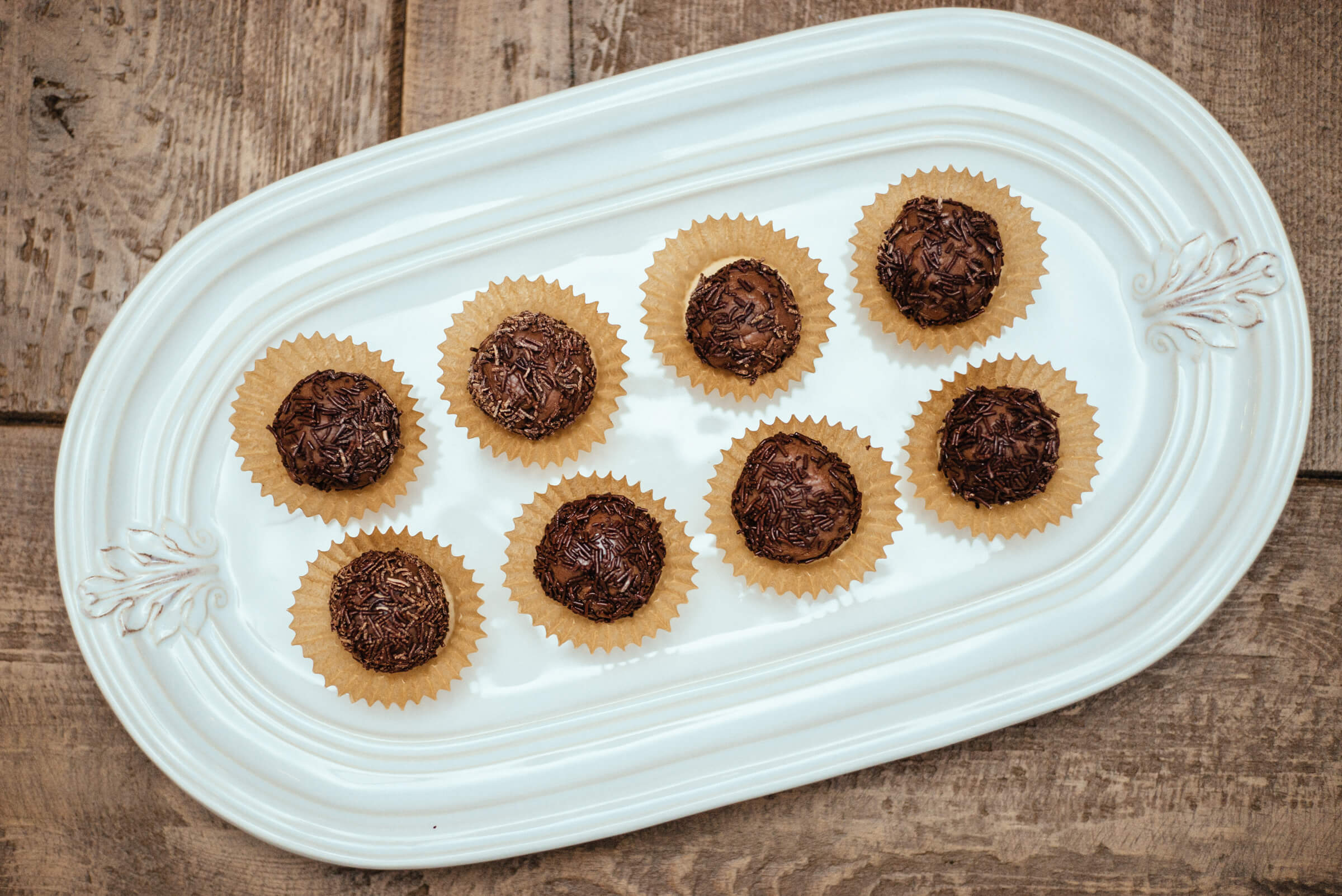 We used this All-Clad TK Copper Core saucier pan (c/o) to make the Brigadiero. It's the perfect size and distributes heat evenly, so you don't get burnt spots. We used local Guittard chocolate powder for a rich chocolate flavor. To finish off these delicious treats, we rolled them in this chocolate vermicelli and placed them into mini paper baking cups. We served them on a pretty platter (similar here, here, and here). They were a perfect easy dessert for a casual dinner with friends!
We'll be sending out the full menu from our Brazilian dinner party, including the recipes and details to our email list this weekend, so sign up here to make sure you don't miss out!

Brazilian Chocolate Brigadeiro
Instructions
Melt the butter in the saucier pan.
Add the condensed milk and cocoa powder. Cook on medium-high stirring constantly (so you don't but it) for 15-20 minutes, or until it's thick enough to stay together. If you drag your spatula through the mixture you should see the bottom of the pan for a bit before it fills back in the space.
Put a silpat on a baking sheet. Pour the mixture on a silpat and allow to cool for about 15 minutes.
Coat your hands in butter and create 1½ inch balls.
Add chocolate vermicellito a dish and roll each ball to coat.
Place each ball into a mini baking cup to serve.