Two foods we both have a weakness for are olives and cheese. We could make a whole meal of olives and cheese, and in fact we did. You're looking at it.
We found this recipe in a very old cookbook of ours and it's special to both of us. This book by Charlie Trotter was the first cookbook Clayton ever bought, and working through a lot of the recipes in it taught him a lot about cooking. He also made this recipe on our first date.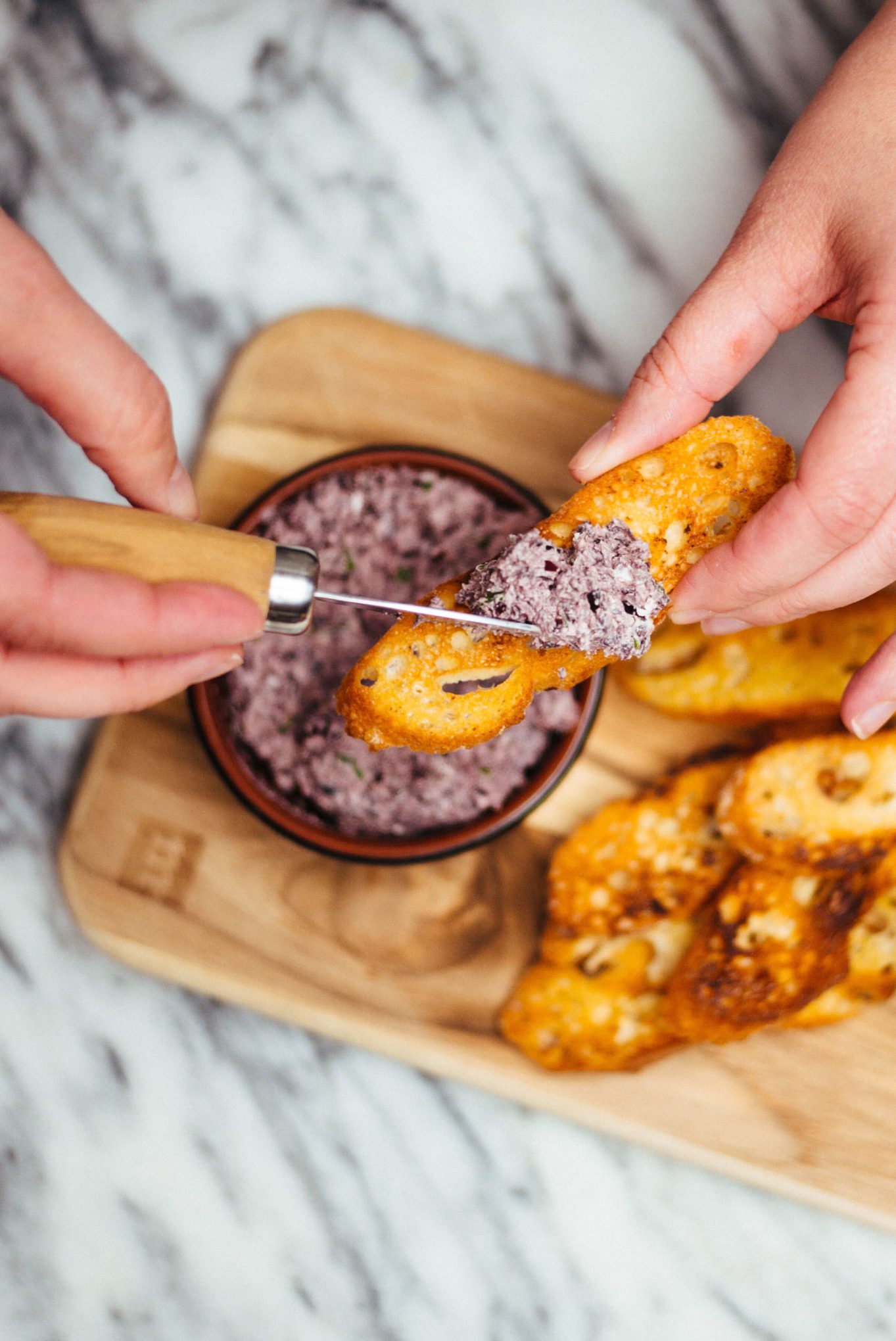 Eating at Charlie Trotter's is one of the things we're most disappointed we missed out on during our time in Chicago. It's a lesson in not putting things off. If there is a restaurant you've always wanted to eat at, or a trip you've always wanted to take, just do it! Charlie Trotter's was a Chicago institution that we always assumed would be around, then in 2012 Charlie announced it would be closing. Our fault for not squeezing it in the last few months it was open, but we should have gone much earlier. It wasn't until after Charlie Trotter unexpectedly passed away the next year that we learned all the great things he did for the community, like bringing underprivileged children into his Michelin-star kitchen to educate them about food.
We love how simple and elegant this tapenade is. It's literally just three ingredients–kalamata olives, goat cheese, and chives. You need a soft goat cheese like Chèvre. Having heard a lot about Charlie's perfectionism, we're sure the simplicity of the recipe was a result of a lot of R&D.
Our tips for making this recipe: Leave your goat cheese out on the counter to come to room temperature so it's a little softer and easier to work with. When you think you've chopped the olives enough, you haven't. Chop them a little more. Serve them on crostinis cut from a fresh baguette and toasted in butter in a cast iron pan. Then pour yourself a glass of wine, eat all of it for dinner (or take it to a dinner party and impress your hosts), go online and start planning your next vacation or date night at that restaurant you've always wanted to go to!

Olive and Goat Cheese Tapenade
Ingredients
1 cup of pitted Kalamata Olives
½ cup soft goat cheese such as Chèvre
2 tablespoons finely chopped chives
French baguette, very thinly sliced
Butter, for toasting
Instructions
Leave the goat cheese on the counter for a few hours to come to room temperature.
Chop the kalamata olives very finely. The texture should be uniform, you might consider using a small food processor.
Put the goat cheese in a mixing bowl and break up with a fork, then add the olives and chives and combine with a small spatula until the mixture is uniform and very smooth.
Heat a cast iron pan over medium-low heat and add a tablespoon of butter. Lightly toast the slices of baguette in the hot pan and serve.