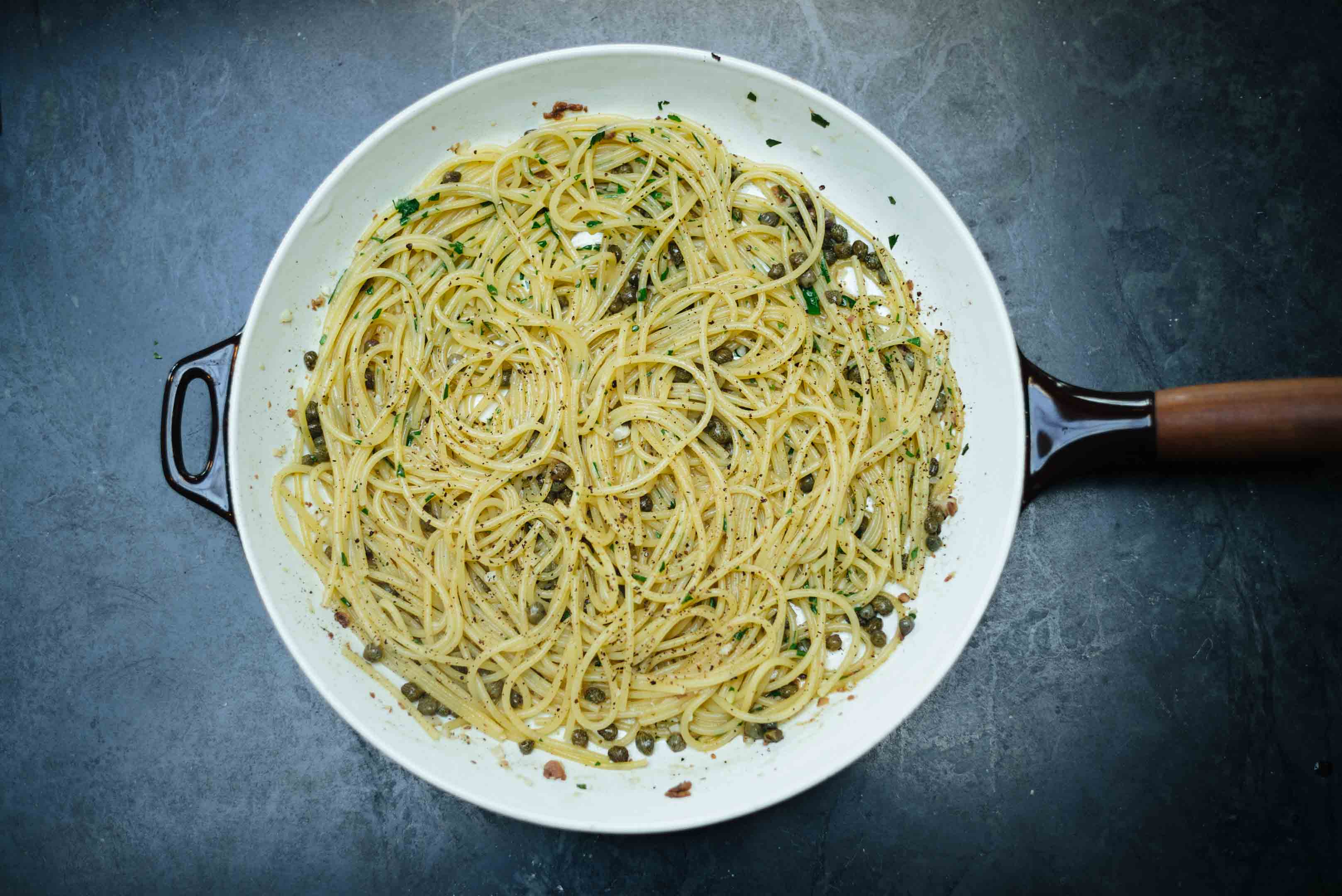 We visited Alta Maria Vineyards on our trip to Santa Ynez Valley. The wines were fantastic and Jim, our host, suggested pairing their Gold Cost Chardonnay with spaghetti with anchovies, capers, French butter, and garlic. We had to try it and it was delicious.
We always say that when you're making a simple recipe with very few ingredients, the quality of the ingredients is key. We use these anchovies that are packed in oil. They are so flavorful and don't taste fishy. We used this French butter, these capers (only buy salt-packed!) and this spaghetti. This dish comes together so easily, and all you need is a knife, a pot, and a skillet. We used a beautiful knife from Town Cutler. It's our favorite knife shop in San Francisco, and their custom handmade knives are gorgeous.
Spaghetti with Anchovies and Capers
Ingredients
200 grams dried spaghetti
Olive oil
2 cloves of garlic, finely minced
4-6 anchovy filets, chopped (we use these anchovies)
2 tablespoons of salt-packed capers, rinsed
2 tablespoons of French butter
Salt and pepper
Handful of parsley, chopped
Instructions
Bring about four quarts of water to a boil in a large stockpot. Season generously with salt. It should taste like the ocean. When the water comes to a boil, add pasta and cook for about 7 minutes, until it's softened but still very toothy.
While the pasta boils, heat a few tablespoons of olive oil in a large skillet, and add garlic, anchovies, and capers. Cook, stirring frequently, until the garlic just begins to soften. If the garlic begins to brown, turn down the heat and keep warm until the pasta is ready,
Add the cooked pasta to the skillet, along with about ⅓ cup of pasta water from the stock pot. Bring to a simmer and cook until the pasta is perfectly al dente. Season with salt and pepper and add the French butter to finish. Toss with the parsley and serve.