On our last night in LA, we wanted to go out for a special dinner. Since we had a limited time in the city and one of Sarah's pet peeves is disappointing (expensive) dining experiences, we'd spent a considerable amount of time researching our options and asking around for honest opinions.
Spago was a contender, and a lot of locals told us it was the place for a fancy dinner out in Beverly Hills. To be completely honest, we were pretty ambivalent about spending our limited time at the flagship restaurant of the Wolfgang Puck culinary empire, and had actually canceled our reservation before a server at another restaurant convinced us to give it a chance.
We decided to test the waters at the bar. We figured if the cocktails were good, the rest of the dining experience probably wouldn't disappoint. Our favorite was the Rolling Fog, a luxe blend of Nikka "Taketsuru" Pure Malt Japanese Whiskey, Aperol, and lemon. The bar was actually really fun and after cocktail hour there, we definitely understand why people told us its the place to see and be seen.
Once a table opened up, we made our way over to the dining room, which is both sophisticated and relaxed at the same time. The entire dining room has a view of the kitchen, and a center table has an incredible collection of Riedel decanters. One thing we noticed is that even though Spago is a fine dining restaurant, they keep the atmosphere fun and lively with hip music.
We decided to share two pasta dishes and an entree, which our server specifically suggested was a good approach. Our favorite pasta was the handmade seasonal White Corn Agnolotti, with sage, mascarpone, and Parmesan cheeses, but the Squid Ink Garganelli with lobster was a close second.
Spago's wine list is extensive. There were actually a lot of really interesting options available, in addition to all the usual suspects you'd expect in a California fine dining restaurant. We selected a bottle from one of our favorite Umbrian producers, Peter Bea. We actually had Peter Bea on our list of wineries to visit in Umbria last spring, but we ran out of time. We assume that it's fairly uncommon for Spago patrons to order obscure Umbrian wines, because it took the sommelier quite a while to dig out the bottle, and our server didn't seem to know much about it either, so we took the opportunity to talk about how much we love Umbrian wines.
The wine was perfect with our shared entree of perfectly cooked prime New York strip steak with roasted heirloom carrots and Bordelaise sauce. We finished with a millefeuille for two, which was as delicious as it looked. The presentation is also special—the server divides it up tableside, and it was a fun reminder of our time in the Veneto.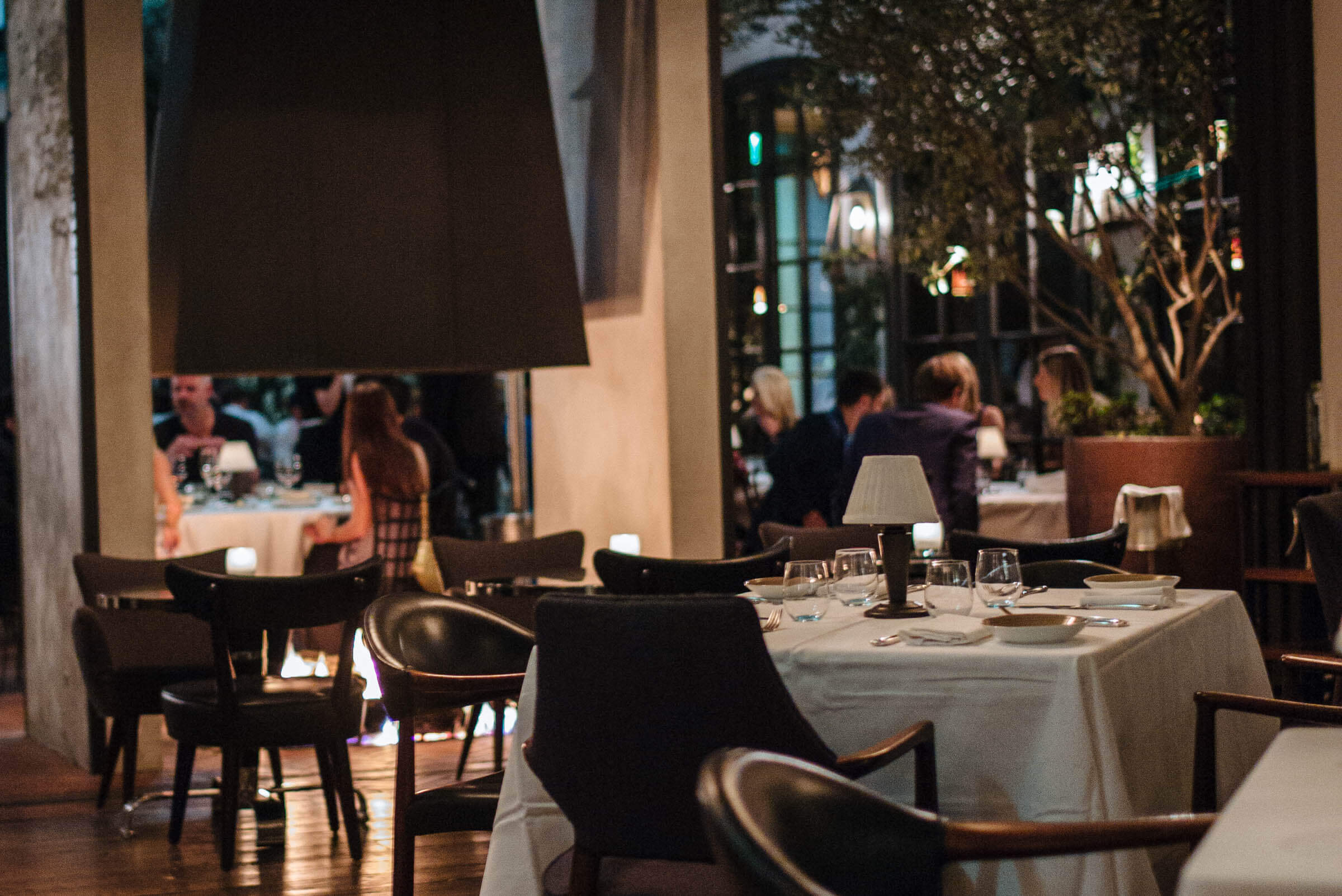 Notwithstanding our initial doubts, we ended up being glad we went to Spago to try it. It's definitely an experience. Everything is executed to perfection, the presentation is beautiful, and the service is top-notch. They have an outdoor patio that looks gorgeous, and we'd suggest trying to secure an outside table if the weather is cooperative. It's also a great spot for cocktails after a day of world-class shopping on Rodeo Drive. Finally a tip: we learned they have wienerschnitzel every day as an off-menu special. Just inquire.
Thank you to Alaska Airlines for sponsoring this post.