Potato leek soup is, in our opinion, one of the ultimate comfort foods. If you've followed us for a while, you've probably seen our potato leek soup recipe. It's a great vegetarian soup, and we'll gladly eat it, but once we tried Fabio Picchi's potato leek soup, we were converted.
Fabio Picchi is one of our favorite chefs, and his restaurant, Cibreo, is one of our favorite restaurants in the world. We've made his potato leek soup recipe from his new book Papale Papale over and over again, and we now agree that if you use vegetable stock instead of beef stock, the soup will still be good, but "you will have failed to give yourself one of the most praiseworthy cream soups in the world."
You should definitely buy Chef Picchi's incredible book, but do be forewarned that it's light on instruction. We've added our step-by-step instructions and U.S. measurements below so you can make this amazing soup at home. It's creamiest if you use a Vitamix, but an immersion blender will work as well.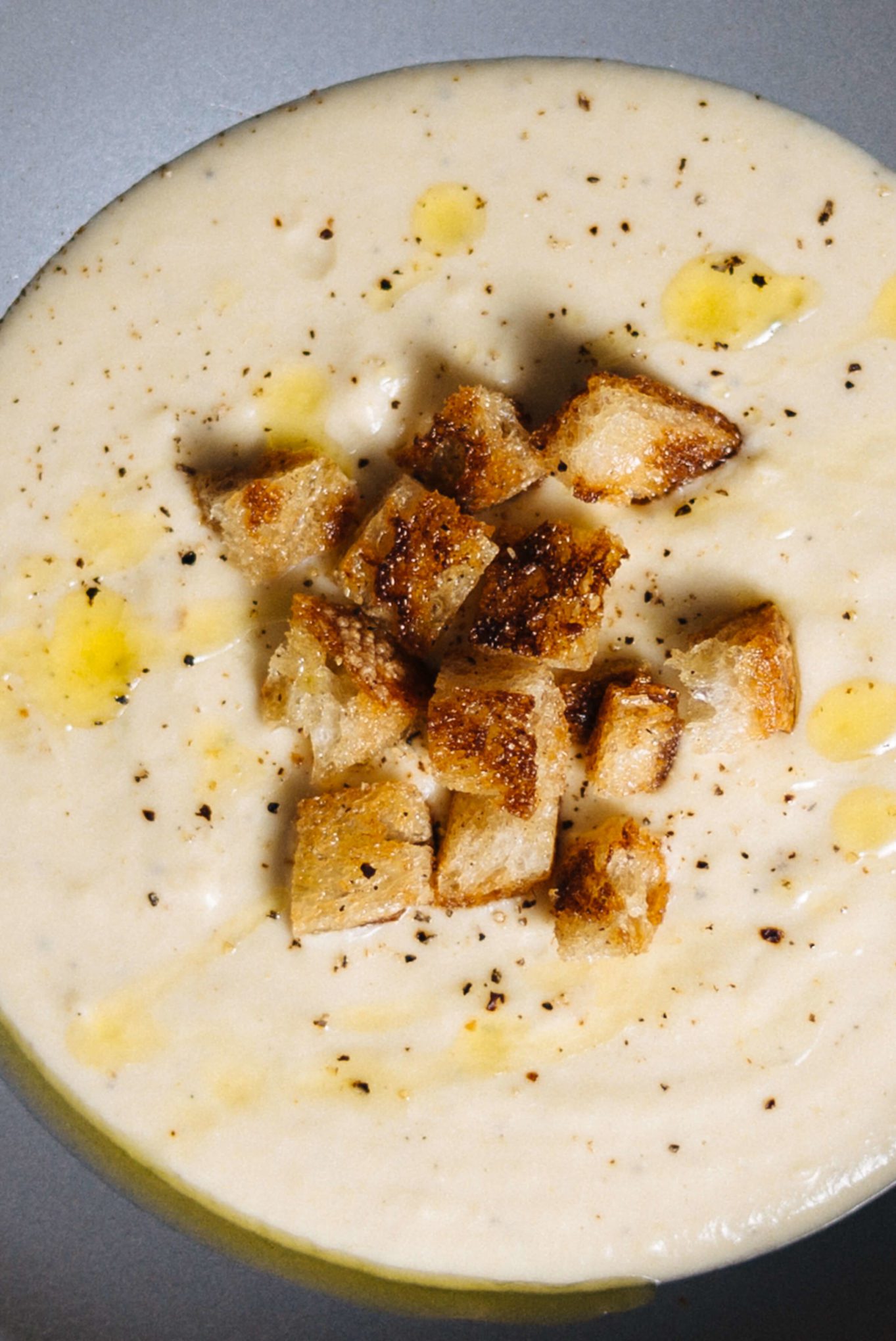 Creamy Potato Leek Soup
Ingredients
5 tablespoons butter
2 pounds of leeks (about 4 large), sliced and rinsed
1 pound of Yukon Gold potatoes (about 5-6 medium), peeled and cut into 1" chunks
Kosher salt
Freshly ground black pepper
1 quart beef stock
1 quart Half and Half
1 cup (loosely packed) grated Parmesan cheese
Fresh croutons and olive oil, for serving
Instructions
To prepare the leeks, cut the leaves off the top, reserving only the white and light green parts. Cut the very bottom (root) end off, cut the leek in half lengthwise, then cut each half crosswise into ¼" slices. Rinse and reserve.
Heat 5 tablespoons of butter in a large stock pot or dutch oven over medium-high heat. Add the cleaned leeks and cook until softened and golden brown, about 10 minutes. Sprinkle with a generous amount of salt and pepper.
While the leeks are cooking, peel and cut the Yukon Gold potatoes. Once the leeks have softened, add the potatoes, as well as one quart of beef stock. Reduce heat to low and simmer until the potatoes are fork-tender.
Make sure that the temperature of the soup is at a very low, simmer, then add the quart of half-and-half. Once the soup comes to a gentle simmer, add the cheese and blend with an immersion blender or in a Vitamix (if you use a Vitamix, be careful not to over-blend).
Season to taste with salt and pepper and serve immediately with fresh croutons and a drizzle of olive oil.