Our friends always ask for recommendations for the best places to eat in Chicago when they visit, so we wanted to share some of our favorite spots and what we like to get there.
JP Graziano
This family-owned Italian grocery store is small but has some of the most fantastic products in the city. Their cannoli is the best we've had in Chicago and they have THE BEST giardiniera hands down! Try it on one of their Italian subs with the hot giardiniera or buy a jar to bring or ship home for a souvenir. Check out this blog post to see how we use our giardiniera.
901 W Randolph St.
Little Goat
Stephanie Izard's Little Goat Bakery was a favorite weekly go-to while living in Chicago's River North. It's a must for visitors! There tends to be a line to eat, but we recommend going to the bakery side and sitting at the bar to eat. Try a Little Goat Latte or get a regular coffee and put the sweet cow milk on the coffee bar area. Brunch with a cocktail is fantastic or get coffee, pastry, pop-tart, cookie, bread, shrimp sandwich, or the the kale salad. You can't really go wrong here. Great place for foodie souvenirs!
820 W Randolph St

Xoco
We loved Rick Bayless's Xoco! When there's a long line, you just get from the togo line. Try a cochinita pibil (SPICY – watch the salsa), Ahogada, goat sandwich, churros, or a sipping chocolate. Check out his margarita recipe!
449 N Clark St.

Sable Kitchen & Bar
Walk in and sit in the bar and order a drink and snacks or dinner! We love their Spanish-style gin and tonic menu (try the Citadelle + Grapefruit), cheese curds, and the pigs in a blanket (request spicy ketchup). See more from our experience here.
Palm Court at The Drake
Stop here at night on the weekends for cocktails and dancing (or just good old-fashioned people watching). Check their website for the entertainment schedule.  We love when the Flat Cats play.
140 East Walton Place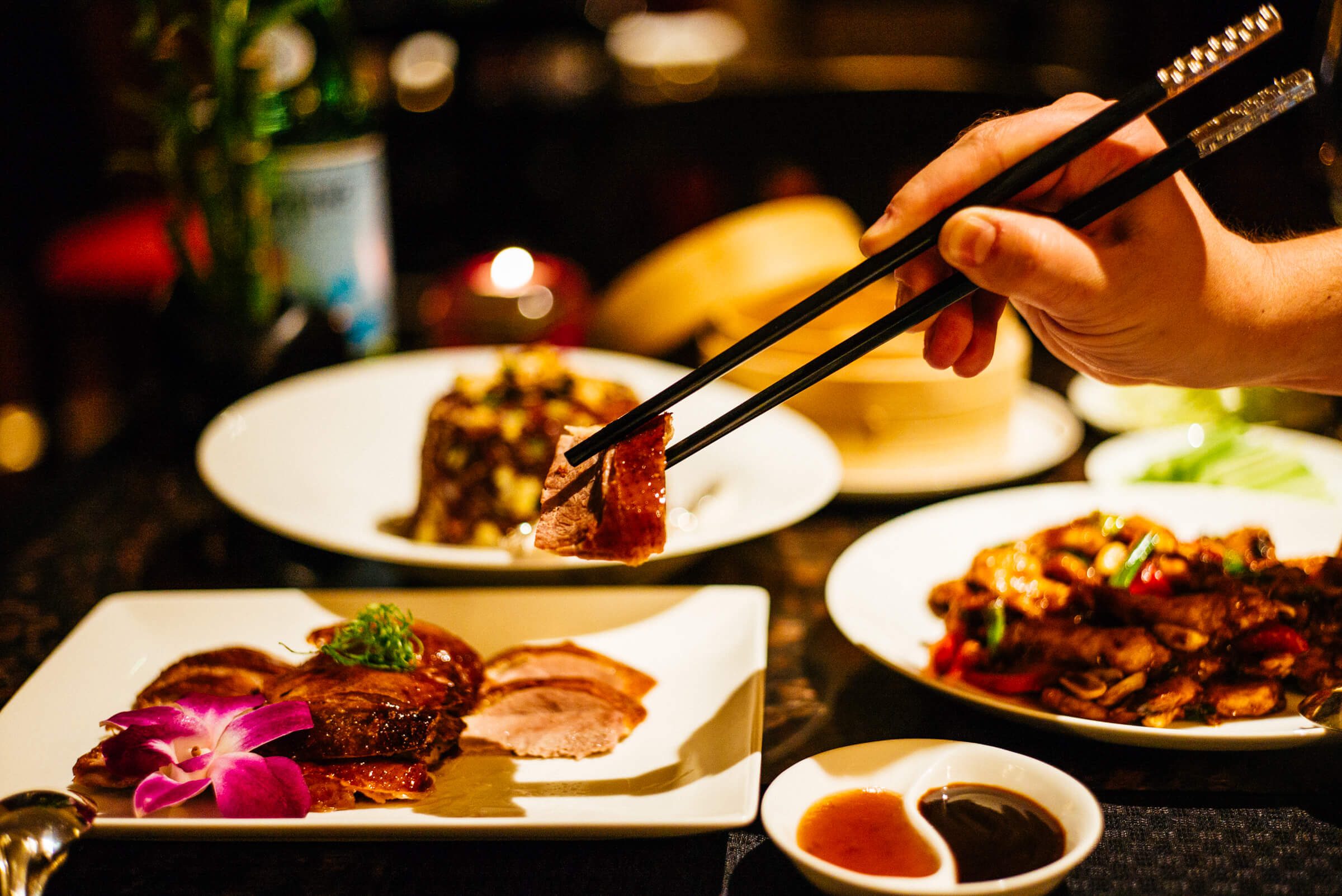 Shanghai Terrace at The Peninsula Chicago
Upscale Chinese food? Yes! Amazing cocktails, service, dim sum and more. Some of our favorites are the ning sling, crab wontons, barbequed pork buns, Kung Pao chicken,  If you can, eat on the terrace. See more from our experience here.
The Aviary
Try any of their cocktails. Just be warned, you will see other people's drinks and you will continually want to try them all. Some smoke, others come in treasure chests, and sometimes are even interactive. Just be careful of mixing too many liquors. Have you ever seen the Molecular Mixology episode of Parks & Recreation? This is that in real life, but way better. Make a reservation or stand in the lounge area.
955 W Fulton Market
Lou Malnati's
We're often asked what's your favorite Chicago-style deep dish pizza place. As Chicagoans, we really didn't eat deep dish pizza, but if we had to pick one it would go to Lou's. They also make a mean thin crust!
Eataly
This is your mecca of Italian food imports. Anything from chocolate, pasta, oils, flour, saulmi- you name it they have it. Stop in for a gelato or just buy ingredients as souvenirs. If you want espresso, go upstairs. You wont get Starbucks-type drinks but it's better coffee. We recommend grabbing some of their Afeltra or Rigorosa dried pasta. If you go during the week it's less crowded.
43 E Ohio St.
There are so many good places to eat in Chicago (find even more here). We could go on and on, but this is a quick guide to a few of our favorites. Look for more coming soon! Do you have recommendations or questions about a place? Let us know. What's your favorite Chicago foodie spot?