Palazzo Seneca, a 16th-century Umbrian palace in Norcia, was one of our favorite new discoveries on our last trip to Italy.  The property was meticulously restored by the Bianconi family, who have been in the food and hospitality industry since 1850. A stay at this family owned and run Relais & Châteaux property is truly special. It was worth every minute of the two-hour drive from Rome. We rented a car, but if you prefer, they are happy to arrange a driver or even a helicopter. 
When you visit Palazzo Seneca, you're not only staying in an Umbrian palace, but you're staying in a home run by an amazing family. During our travels, we've found that the people often make the experience, and the Bianconi family went beyond our expectations. Brothers Federico (pictured above) and Vincenzo Bianconi manage the property, but you will still see their parents who are also active in running the hotel. The night we arrived, we went to dinner along with Federico and his friends. We had some of the best sausage of our lives, truffle pasta, and the most amazing lentils. Later his father Carlo (Papa, pictured below), joined us all and we wandered back to the Palazzo after a long evening of sampling Umbrian delicacies.

The Palazzo has been modernized while preserving all of its historic charm. A library includes antique books and a bookcase that opens to reveal a hidden room. A large living room with a wood burning fireplace incorporates modern furniture and antiques as well as newspapers and a spread of snacks and teas to enjoy as if you were at home. The rooms are large with various layouts and luxurious linens.
Breakfast includes a variety of local meats and cheeses, fruit, cereals, as well as the option for an omelet (one of the best we've had) that's served along with local sausage (Norcia is known for its pork), tomatoes, greens, and the herbs are picked fresh from the garden. Don't forget to order espresso or cappuccino to get your morning going.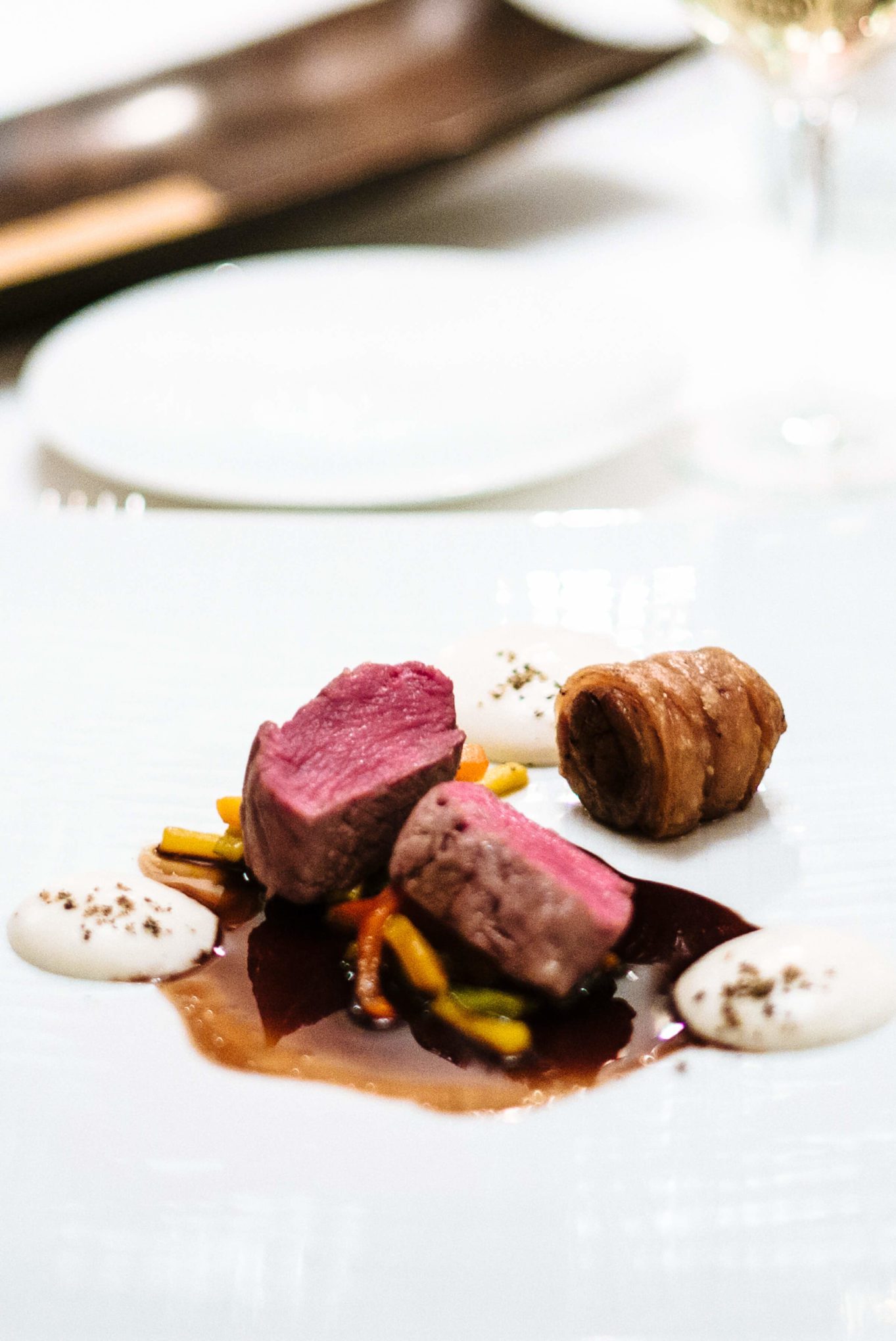 Enjoy dinner at Palazzo Seneca's Michelin-starred restaurant, Vespasia. This unique restaurant features large round tables with an eclectic blend of large, comfy leather chairs, and colorful Zafferano glassware (you can find similar ones by Zafferano here , here, and here). We enjoyed the tasting menu on our second night in Norcia, along with our new friends from Virtuoso that we met on the trip. See our full Vespasia experience here.
There are so many things to do near Palazzo Seneca. Set in the center of a national forest, the options are endless. We'd recommend take a cooking class in the Bianconi family home. We were able to get a peek at making fresh pasta, and would love to visit again to learn more about traditional Norcia cooking. You can also take advantage of the multiple special packages that Palazzo Seneca offers including your hotel stay along with gastronomic and recreational activities. Check back soon for our guide to all of the things you can do in this amazing place.
We didn't want to leave Palazzo Seneca, but we know we'll be back again soon. The truffles, wine, pork, and lentils in Umbria are of course wonderful, but more than anything else, we can't wait to spend more time with the Bianconi family.
Thank you to Palazzo Seneca for sponsoring this article.
SaveSave