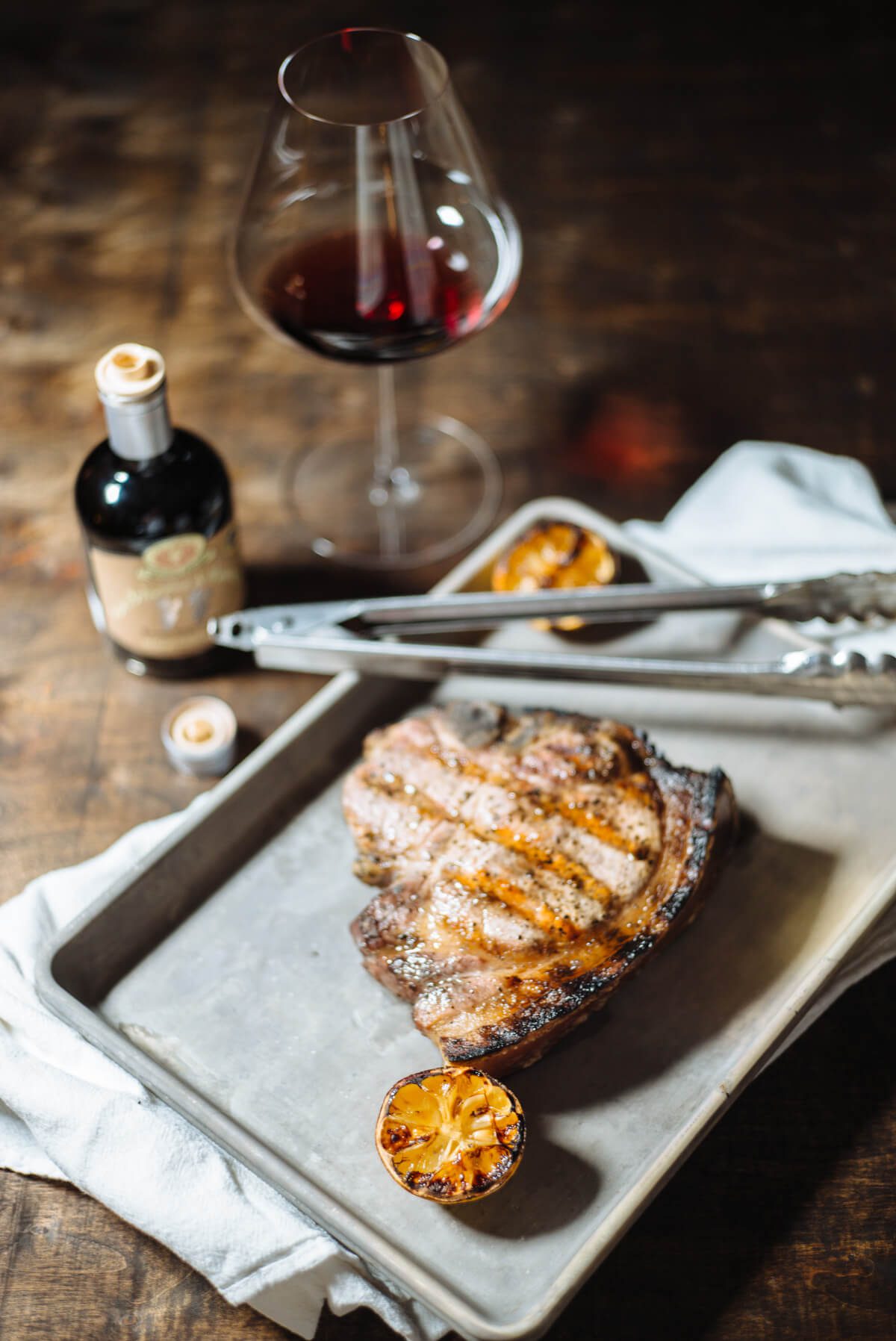 Grilling season is upon us, and one of our favorite things to grill is thick-cut pork chops. When we lived in Chicago, we learned to top our chops with grilled lemons and a drizzle of balsamic vinegar from Chef Erling Wu-Bower of Nico Osteria.
It's important to start with a good quality thick-cut chop. We like to get a 2+ inch skin-on chop that we can slice and share for two people, but you can always use this topping on any cut of grilled pork. This beauty is heritage pork from Olivier's Butchery.
We prep our our pork and lemons and transport them to the grill on quarter sheet pans. Be sure to take an extra clean pan to the grill for your cooked meat. To start off, heat and clean your grill. We like to use this to clean our grill, but you could also use something like this or this.
Grill your pork chop until it reaches 160 °F internally. Make sure you turn it only once. These are our favorite tongs for grilling. Squeeze the grilled lemons over your finished pork chop and finish with balsamic vinegar. We like this Rustichella Balsamic vinegar.

Pork Chop with Grilled Lemon and Balsamic Vinegar
Ingredients
Pork Chop
Olive Oil
Salt
Pepper
Lemon, sliced in half
Instructions
Drizzle pork chop with olive oil. Liberally salt and pepper it. Place lemons cut side down and the pork chop on a hot grill. Make sure pork is cooked to 150°F. Remove from grill, cover, and allow to rest for 10 minutes. Top with lemon and balsamic.
Save
Save