Eleven Madison Park has been at the top of our list of restaurants to visit ever since we learned about their huge renovation. When a restaurant that is already considered (by some) the best in the world shuts down for an entire summer, it draws attention. So when we planned our trip to New York City, we had to go.
Eleven Madison Park reopened in October after an extensive renovation of the entire restaurant, including the kitchen. The result is stunning. Since reopening they've started using a ticketed reservation system, so it's very difficult to get a reservation unless you plan ahead. We were lucky enough to secure a reservation in the bar for lunch, and it was one of the few fine dining experiences we would make plans to repeat. We can't wait to come back and experience the full menu in the dining room.
In short, the food is exquisite and the service is impeccable. We were absolutely blown away by the attention to detail and incredibly refined, yet friendly, service.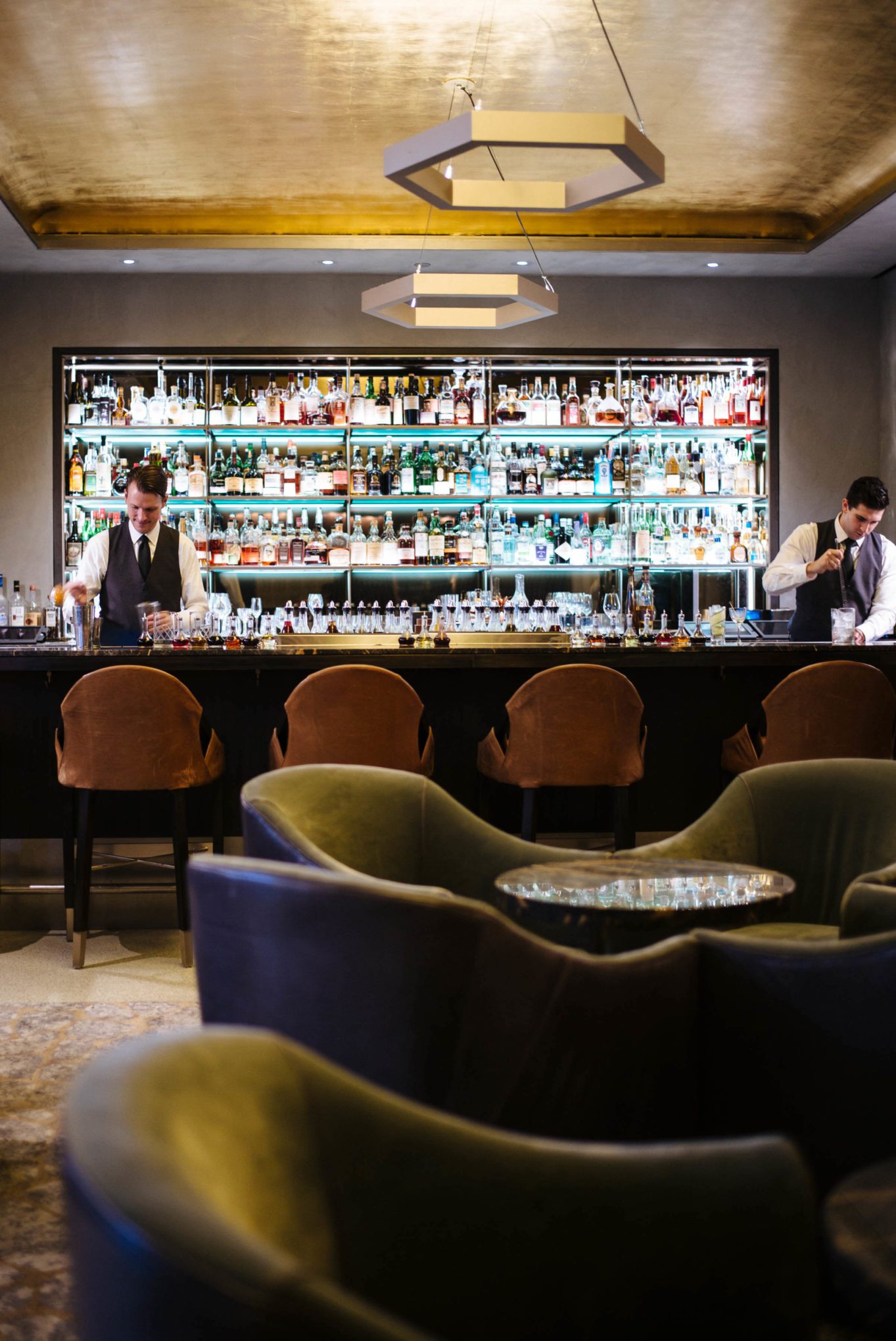 We arrived early (we had left extra time because of the rain), so we started off with cocktails. They were perfection, and Eleven Madison Park kindly agreed to share both their cranberry and apple cocktails with us, so you can make them at home.
The bar menu offers five courses while the dining room offers at least eight, along with additional tableside preparation. The server will recite the menu, and offer a few choices for certain courses. We chose to each get a different dish where there were alternatives, since we wanted to try as many things as possible.
One of our absolute favorite courses was the play on an Eggs Benedict. Served in a caviar tin, as you break through the crust, you'll find caviar, hollandaise sauce, and a tiny poached quail egg. Mini English muffins are presented in the center of the table along with a perfect wine pairing.
The shaved and lightly poached clams and the foie gras cabbage were two of the most intricate dishes of the experience. We were in constant awe of the time, attention to detail, and precision that went into each dish (along with lots of tweezers to place each individual clam). We were told that it took the chef(s) an extensive amount of research and development to figure out how to properly make the foie dish have the appearance of a wedge of cabbage. Honestly, when it was set before us we thought, "Wow, did they just really serve us a slice of red cabbage?" But the rich flavors of the foie dish were a beautiful contrast to the lightness of the poached clams and fennel.
Before dessert, we got a tour of the kitchen, which is absolutely stunning. First, the size is remarkable. Second, the number of people working to execute these incredible dishes is impressive. We were there as lunch service was transitioning to dinner preparation, so there were at least 80 chefs in the kitchen at the time. Finally, the level of finishes and attention to detail was incredible. The kitchen has a custom built case to display the dry aged ducks (a signature dish), and features four Molteni stoves (if you're not familiar, check them out—they're incredible).
At the end of our meal, we were presented with two custom-printed menus in caviar tins, and Clayton's was personalized for his birthday. Unfortunately, it was lost in a cab, but we still have the other menu for reference. Each guest also leaves with a beautiful glass jar filled with apple-spiced granola. We had that for breakfast for the next few weeks with yogurt and berries. Each time we bit into it, it was a reminder of our special experience, like when you hear a song that reminds you of where you were when you first heard it. The restaurant also has a gorgeous cookbook set. Another guest was browsing it between courses, and we really want one, but we didn't want to carry it around in the rain the rest of the afternoon. It would be a perfect gift for any food lover!
Eleven Madison Park tickets open for sale on the first of each month, for the following month (e.g. if you want to go in January, book on December 1). If you can't secure a reservation, you can go to the bar and order cocktails, or order off an a la carte menu. We would suggest going for lunch. The views of the park across the street from their enormous Art Deco windows are so charming, and the dining experience is long. Our lunch was nearly five hours, and our friends who had gone for dinner said that, while everything was amazing, they were practically falling asleep at the table by the end of the experience because it was so late. Something that we love about this three Michellen star restaurant is that it's not stuffy and quite. It's busy and fun. Next time, we'll be planning a fun lunch with our friends in the dining room.
Thank you to Alaska Airlines for sponsoring this post.