You'll find one of the newest luxury hotels in Rome at the very top of the Spanish Steps, Hotel de la Ville. The UK-based Rocco Forte collection opened its newest hotel, housed inside of an 18th-century Roman palazzo, in 2019. Due to the various travel restrictions in place over the last year, it still feels brand new.
One of the things that stood out to us most about Hotel de la Ville was the inventive decor. The finishes in the bar are stunning, and we also loved the giant white-and-red striped umbrellas, the fabulous art, and the mosaic-like tables that graced the rooms and bar. Additionally, we also found Hotel de la Ville to have one of the best stocked minibars that we've seen. Especially if you plan to sit on your balcony and enjoy a cocktail or order room service, it's a great addition to the room.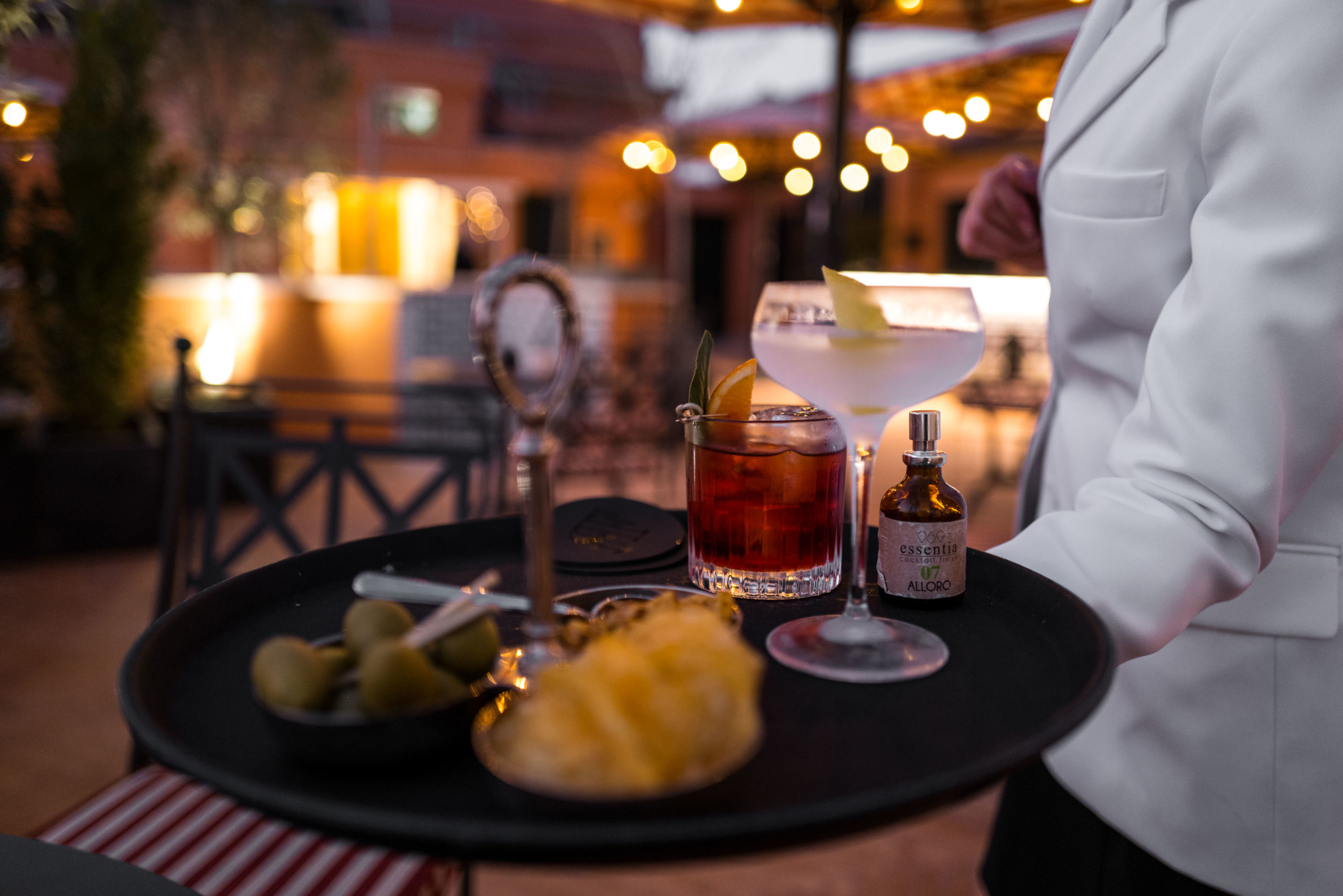 The hotel's Cielo Terrace rooftop is the place to be for a sunset aperitivo. Its proximity to the Spanish Steps gives an unobstructed view of Saint Peter's Basilica Dome. You could spend hours here on this glamorous terrace while you sip on a signature Hotel de la Ville cocktail, like their Negroni with laurel spray and house bitters.
After cocktails, head to Mosaico for dinner. If the weather is nice, eat in the charming courtyard. Otherwise, the main dining room has the perfect view of the kitchen, with a giant wood fire pizza oven. What we loved most about Mosaic is that the menu wasn't limited to traditional Italian food. We started with the mortadella and black truffle pizza, also tried the "vitello tonnato" made with tuna instead of veal, and finished with dim sum— the perfect break from carbonara.
After dinner, since it's dark out already, head down to the Julep Herbal & Vermouth Bar. As we mentioned above, this was one of our favorite spaces in the entire hotel. It's cheery yellow and blue wallpaper contrasts with black and white art and a buzzing neon Campari chair in the corner.
Due to government restrictions, the hotel's traditional Roman trattoria was not open during our visit, but if Mosaico is any indication, we can't wait to go back and try it. Between the fabulous decor, creative menus, and perfect location the Hôtel de la Ville is an ideal base for exploring the Eternal City.
Hotel de la Ville, Via Sistina, 69, 00187 Roma RM, Italy
Note: Hotel de la Ville provided support for the reporting of this story.