A few months back, some of our best friends visited from Chicago. They stayed in Sausalito for part of their trip. Our friend Bianca used to live in Sausalito, so I of course asked for her recommendations. Her immediate response was Fish.
I decided to hop on the Ferry from San Francisco to Sausalito to hang out. It was my first time on one of the ferries from San Francisco and it was a gorgeous day! It reminded me of taking the ferry from Napoli to Ischia or Capri!
Their hotel was right on the water, and offered complementary bikes, so my friend Stacy and I biked down to Fish. for lunch. On the way we made a quick stop at Heath Ceramics. Sausalito has so many beautiful homes perched up on the cliffs and house boats in the harbor. It's a unique place for sure! The landscape always reminds me a little bit of Amalfi.
We arrived at Fish., parked our bikes, and jumped in line. When you go to Fish., you'll want to bring cash (they also have an ATM available) and be prepared to stand in a line. We were there in the middle of the week so it wasn't too long of a line, but if you're there during the weekend we hear the line goes out the door. They do offer beer while you wait.
There is a lot to choose from here, but I was craving fish and chips. When I saw that they make their beer batter with local Anchor Steam beer I was sold.
There is some seating inside and a ton of picnic tables outside for those of us who enjoy sitting next to the water while eating our seafood. That was totally us! We wanted to enjoy being by the water in the sun and looking at all of the cool houseboats.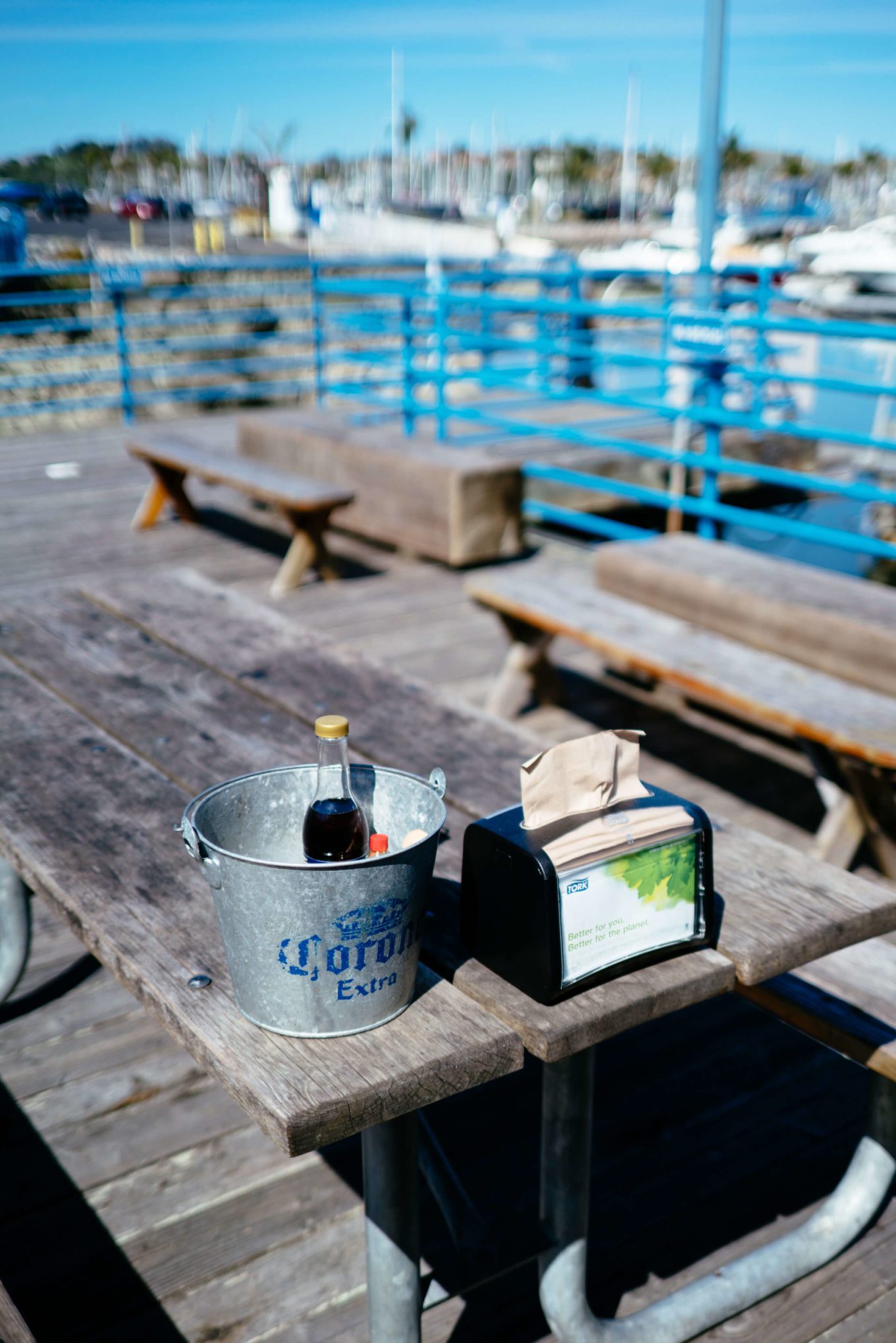 Stacy ordered the squid salad made with fresh Monterey Bay squid. It was delicious and even more refreshing on a hot day with a nice squeeze of lemon to top it off. We both paired our dishes with local beers. It was a perfect lunch post-bike ride.
Fish. offers a changing selection of fresh, sustainable seafood and organic produce. They even have a fish market located inside so you can purchase seafood to go. You can order one of the daily fish on the board as a sandwich, salad, or pasta. Next time, I think we'll try a pasta for two!
Fish.
350 Harbor Drive, Sausalito, CA