We had not tasted grappa that we liked before, but our visit to Romano Levi changed our opinion of this spirit entirely. You may not have had good grappa before, but this artisanal distillery crafts some of the most exquisite grappa in the world.
Grappa is made from distilling the pomace (skins, stems, etc) from wine grapes, which are a byproduct of the winemaking process, and one of the most interesting things about Romano Levi's grappa is that the spirit actually resembles the type of grape it is made from. In our experience, this is fairly rare.
Romano Levi was known for his antics – he refused to sell large quantities of bottles of grappa to any one person, and sometimes he would force buyers to give back their empty bottles before he would sell them new ones. Romano passed away in 2008, but his apprentice and now grappa maker, Fabrizio Sobrero, was gracious enough to welcome us to the distillery with our friends Ceri and Fabio.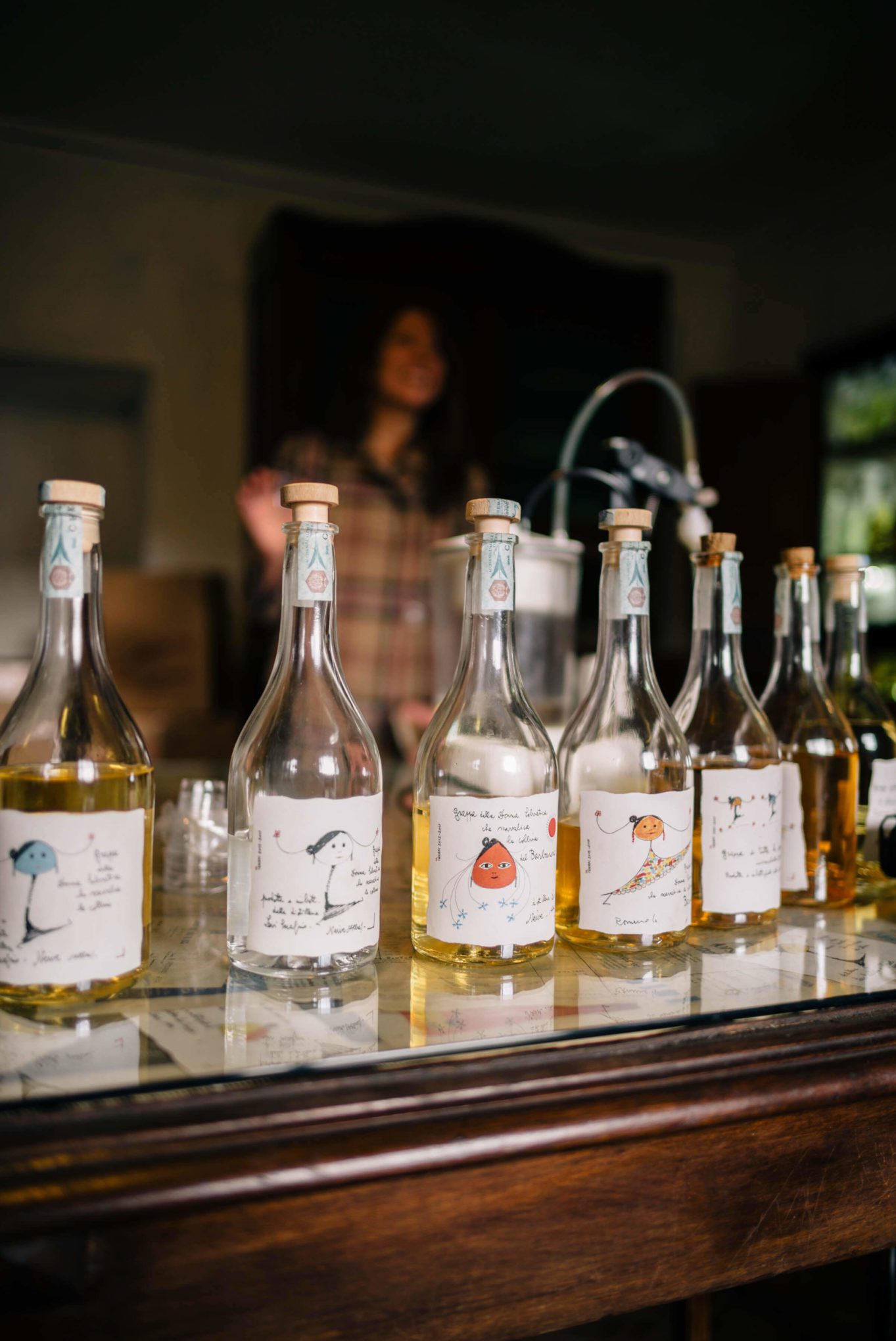 Located in the small town of Nieve (Piedmont)), stepping into this distillery is like stepping back in time. Romano Levi's direct-fire still is built into a brick enclosure and is fueled by a fire built in a room underneath. The distillery was environmentally friendly before its time, and uses dried pomace from the prior year's distillation process to fuel the fire, the ash from which is returned to the vineyards as fertilizer.
In addition to being a world-class distiller, Romano Levi was also an artist and loved nature. He designed and made the labels for his bottles by hand, many which include the "wild woman" image that he's known for. Additionally, his original handprinted bottles have become collectors items today and has a huge following.
We had the pleasure of tasting through the entire range of Romano Levi grappas on our visit, which include grappas made from Muscat, Barbaresco, and Barolo, as well as grappas infused with chamomile. The bottles of herb grappa on the wall were beautiful! We prefererd the more delicate grappas, and ended up bringing back one bottle of Muscat and one bottle of chamomile grappa.
Romano Levi is very small production and it's fairly rare in the United States. Similar to Bartolo Mascarello, only restaurants with serious Italian wine lists are likely to have it. We actually spotted a display of it at Charlie Bird in New York, but they do not serve it. It's only for display.
SaveSave
SaveSave
SaveSaveSaveSave
SaveSave
SaveSaveSaveSave
SaveSave
SaveSave