Renowned Neapolitan tailor Isaia has taken over the historic Frank Lloyd Wright building on Maiden Lane. We've been huge fans of the company for over a decade (it's also a personal favorite of Chef Thomas Keller—he informed us at the Bocuse d'Or event last year).
We've been eagerly anticipating this opening for months, ever since our friend Sean Yousofzoy, Brand Ambassador for Isaia, told us a San Francisco store was in the works. We couldn't imagine a more perfect space for the store in San Francisco.
If you're not familiar with Isaia, it was founded in Napoli in 1920 and has been a leader in tailoring ever since. Currently led by Gianluca Isaia, the family-owned company is known for combining classic Neapolitan tailoring with modern technology, vibrant colors, and bold patterns. The brand stands for everything we love about the city of Napoli; the exuberance of the city is reflected in every piece they make. Isaia suits, shirts, and ties are handmade by tailors in their factory in Casalnuovo, and the iconic red coral logo adorns each piece.
We recently toured the San Francisco boutique with Sean and were amazed by the space. We've been to the Isaia boutiques in Capri and Milan, and they are stunning, but the Frank Lloyd Wright interior (the spiral walkway to the second floor was the prototype for the Guggenheim Museum in New York) takes this location to a whole new level.
One of our favorite Isaia memories was sipping Aperol Spritzes and rare gin on a hot day with Giulia, the manager of their Capri boutique earlier this year (Isaia also used our favorite hotel in Capri as a location for a recent photoshoot). Isaia has imported two antique bars from Italy, so you'll enjoy the same Italian experience in the San Francisco store! You can sip an espresso, custom cocktail, or wine while you shop. You can even pick out a record and play your own music through the custom Philippe Starck speakers.
We love Gianluca's book of Neapolitan hand gestures. It will teach you how to speak with your hands like a true Neapolitan. Proceeds from the book go back to the students at the tailoring school for Isaia.
Isaia's boutiques are recognized for their incredible design, but being a historic building, Sean (half) joked that the city required a permit to change a lightbulb. Even so, their signature style is present throughout the building, with custom furniture imported from Italy, busts adorning the giant hanging light fixture, and Isaia's signature red piano on the second floor. One of our favorite touches is the fish print wallpaper reminiscent of Capri and the signature red tile in the upstairs bathroom.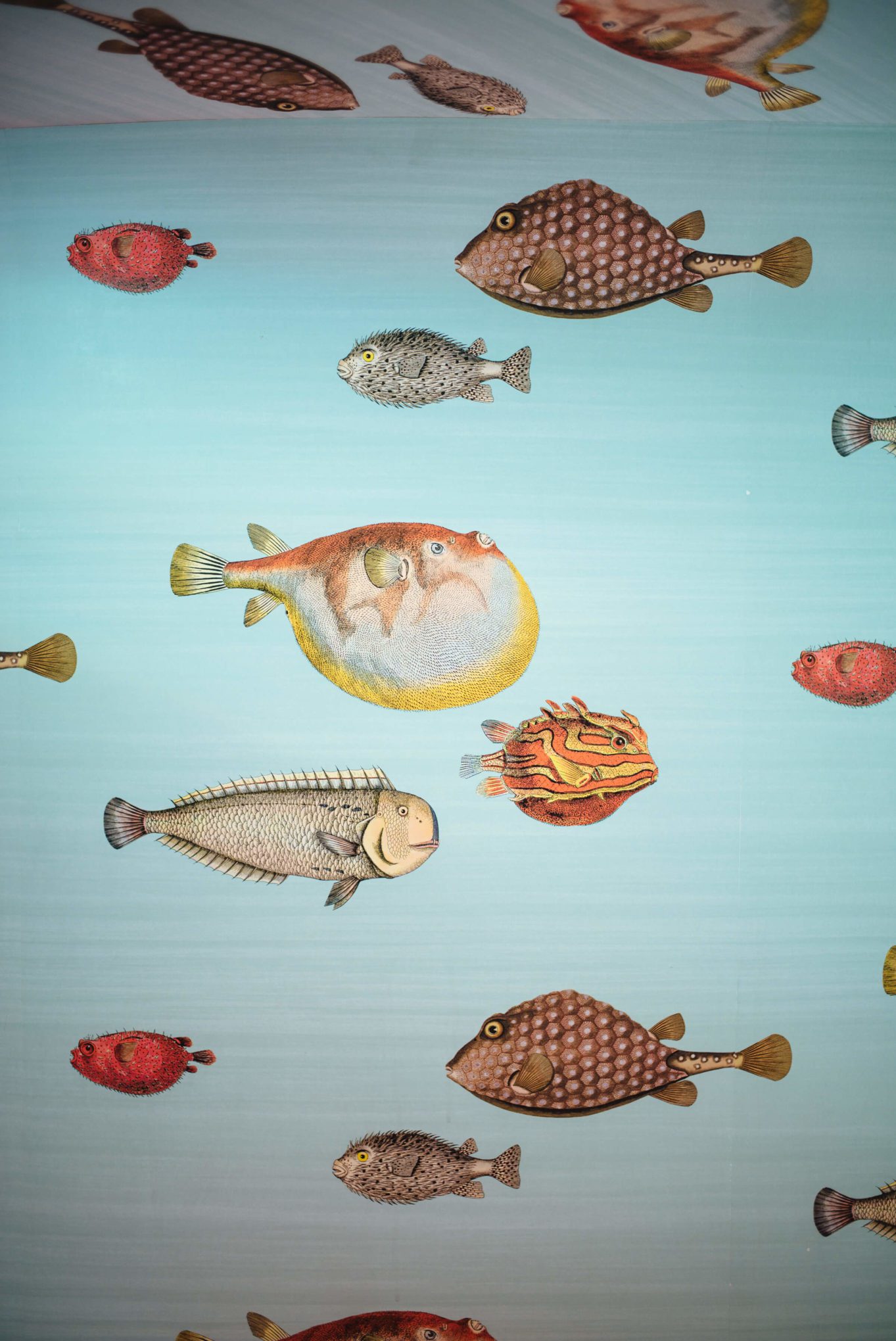 Isaia products are available at other luxury retailers like Barney's New York and Neiman Marcus, but the company's boutiques feature exclusive products you won't find anywhere else. We were blown away by the selection in the store—a full line of shoes, chunky-knit cashmere cardigans, brushed flannel shirts, exotic leathers, and Isaia's exclusive "Solo 8" line (rare made-to-measure fabrics limited to eight suits).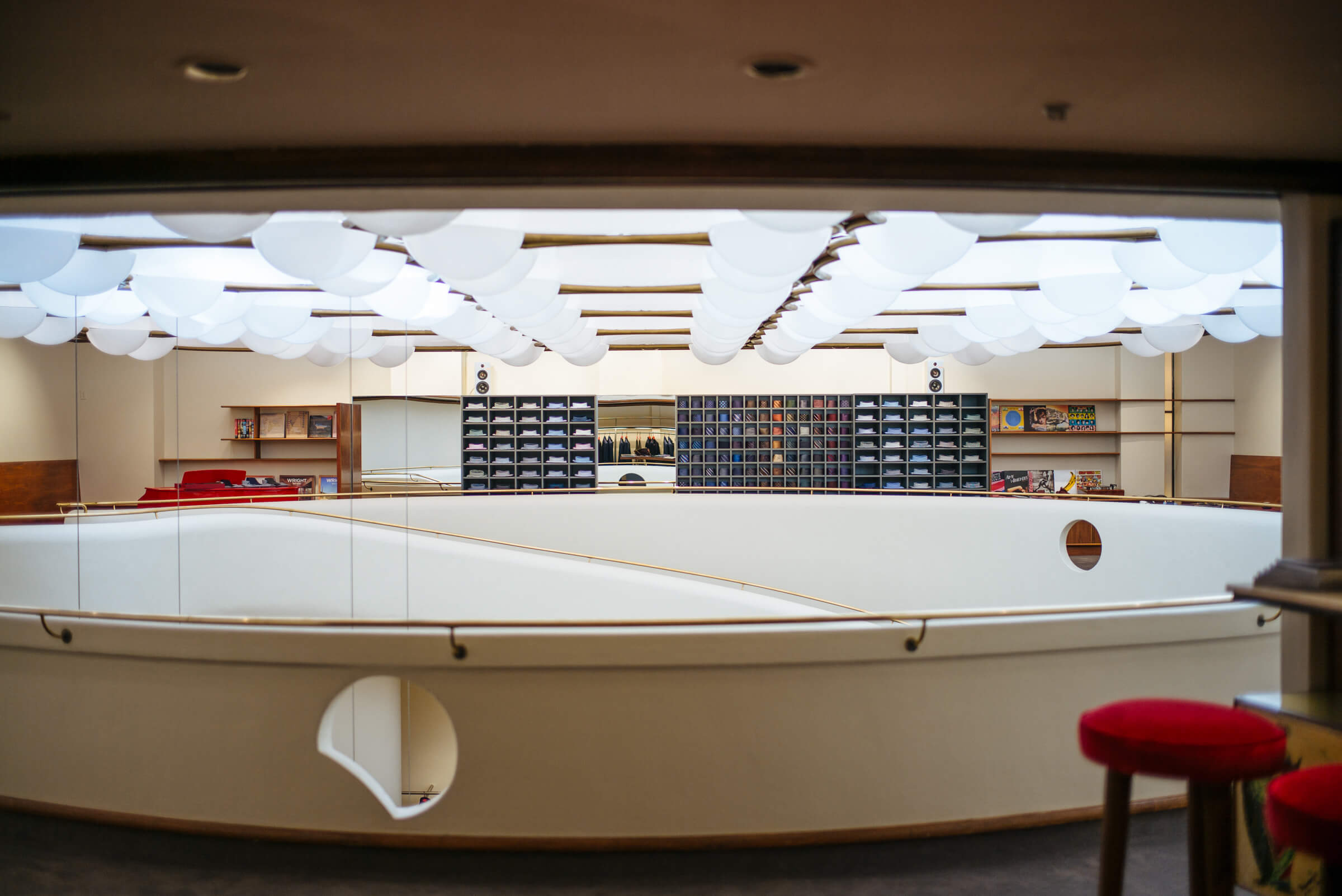 The boutique officially opens on September 21, with private appointments available by invitation in the meantime. We love Napoli, so we're thrilled to see one of our favorite Neapolitan brands expanding into San Francisco.