It would be impossible to hide our love for Palazzo Avino in the name of journalistic objectivity. Full disclosure: Palazzo Avino is our happy place.
This immaculately restored 12th century palace has all of its historic charm, but with the most luxurious modern upgrades imaginable (just one example: they recently reupholstered their outdoor furniture in Hermes fabric). It's centrally located in the town of Ravello within short walking distance of all of the shops and restaurants, but as our friends we met on our first stay at the hotel said, "Why would you leave?"
Even before you arrive, the level of service and attention to detail is remarkable. Antonio, the front office manager, will assist with any needs that you have, including arranging transfers to and from the hotel, and assisting with restaurant reservations. He greeted us by name every time we saw him, remembered us from three years ago, and even recalled that we (unfortunately) had to cancel our plans to visit last summer. You're likely to spot Owner and Managing Director Mariella Avino around the property. She exudes elegance and ensures that every corner of the hotel is remarkable.
Breakfast is served each morning on the patio with a view of the sea, and consists of a delicious buffet and eggs to order. We both choose the Uova in Purgatorio, a Neapolitan consisting of perfectly poached eggs on toast covered with a spicy tomato sauce. While there are several restaurants in Ravello, we would strongly encourage having dinner at both Rossellinis Restaurant (see more here) and the Lobster & Martini Bar (see more here).
The Martini Bar is nothing short of amazing. The ever growing martini list is impressive, but the presentation and garnishes are a work of art. During the chillier months, it's located inside, but in the summer they open the outdoor bar on the terrace, where you can enjoy cocktails with uninterrupted views from over 1,000 feet above the sea.
The hotel also offers regular shuttles to its Clubhouse by the Sea in Marmorata. Make sure to schedule a ride early, and be prepared to walk down a fair amount of steps to get down to the water. You'll be dropped off in a Mediterranean paradise where you can lounge by the sea for the day with drinks, towels, and pillows. Make sure to try one of their wood fired pizzas for lunch and take a kayak out along the coast. You may even spot a local resident picking mussels directly off the rocks for dinner.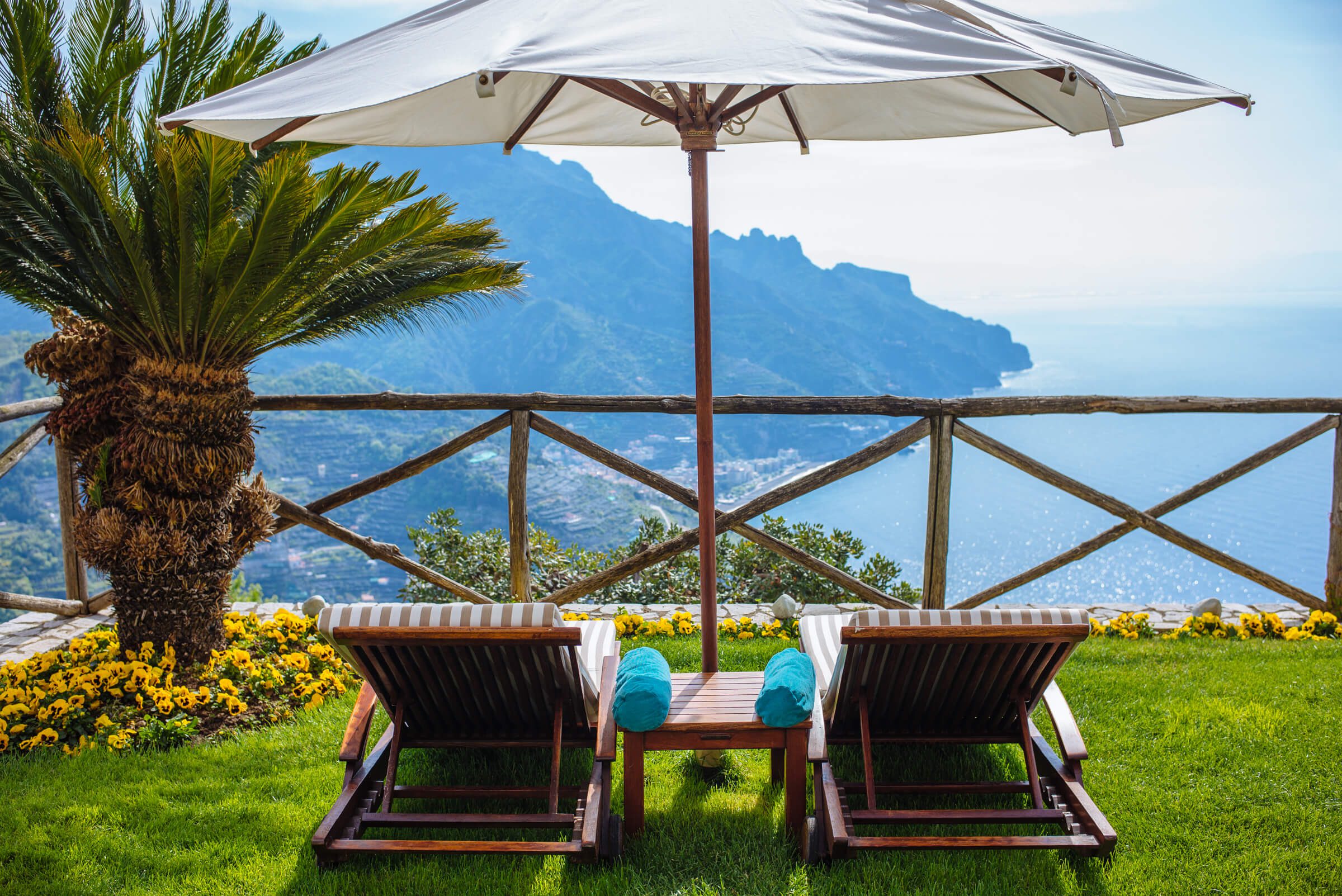 If you prefer to stay on the mountain, there are plenty of spots to relax on one of the many terraced areas on the cliffs below the hotel. From there you can enjoy the spa, pool, or the solarium rooftop hot tubs.
Beautiful views. Five star service. Amazing food. Perfect accommodations. We can't say enough. Savor every moment.
Thank you to Palazzo Avino for sponsoring this post.
Palazzo Avino
Via San Giovanni del Toro 28
I-84010 Ravello, Amalfi Coast
SaveSave