London has become our preferred connection to destinations in Europe that don't have a nonstop flight from San Francisco. It's one of our favorite cities, so we welcome any excuse for a connection through Heathrow. On our last visit, we booked our flights to Italy such that we had a weekend in London at the end of our trip, and we checked into the beautiful Sofitel St. James, for a few days of exploring.
The Sofitel London St. James is located at the corner of Waterloo Place and Pall Mall, and is within easy walking distance of Trafalgar Square, Charing Cross, Big Ben, Westminster Abbey, Jermyn Street, Soho, Buckingham Palace, countless other points of interest. Shopping, dining, sightseeing, and practically anything else you want to do in London are just outside your doorstep.
As soon as we checked in, we walked the quick 10 minutes down to Westminster Abbey to experience their choral evensong. If you're interested in seeing Westminster Abbey, this is the best way to do it. There are no admission fees and no lines, and you'll get to experience their exquisite music program. There's no photography allowed inside the Abbey at any time.
From the minute we checked in, the service at the Sofitel St. James was perfection. The extremely attentive front desk and bell staff handled our cases of wine from Piedmont like pros, and they were waiting for us in our room by the time we had our keys.
Our room was elegant, with nods to Sofitel's French roots, yet quintessentially historic London. We loved the blend of old and new, especially the clock wallpaper. The bathroom was especially luxurious, featuring Hermes toiletries.
London is full of top tier cocktail bars. You'll want to stop in for a drink at the St. James Bar while you're here.  It's dark and plush, inspired by Coco Chanel's 1920's French apartment. The bar menu focuses on different themes throughout the year. During our visit,  the menu was themed around Alice in Wonderland, and our bartenders were part of the menu (and even posed with their sketch cameos). They're a fun team with exciting cocktails.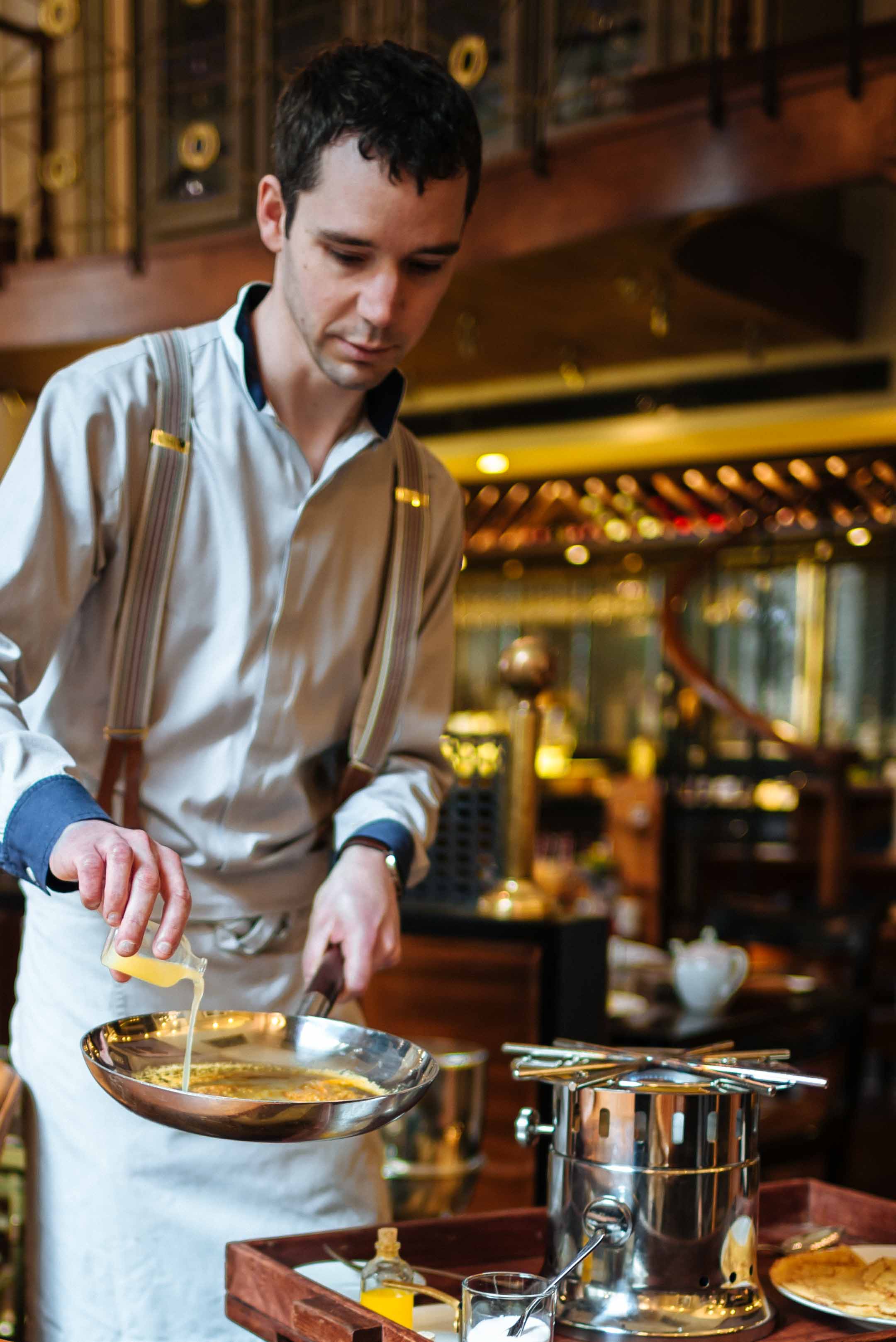 We had breakfast in The Balcon, a beautiful restaurant with dramatic high ceilings and a spiral staircase. They were kind enough to serve us the signature Crepes Suzette, prepared tableside, which are not technically on the breakfast menu. This was just another example of the superb customer service. Order them at lunch.
We've stayed at a number of Sofitel properties during our travels and the St. James stands out as one of our favorites. We were sad to go, but the bell staff made it as easy as possible, and even double checked to ensure we had our passports in hand prior to escorting us to our car back to Heathrow. If you're visiting London, we'd highly recommend staying at this beautiful property. Thank you to the Sofitel London St. James for hosting us for such a lovely weekend in London.