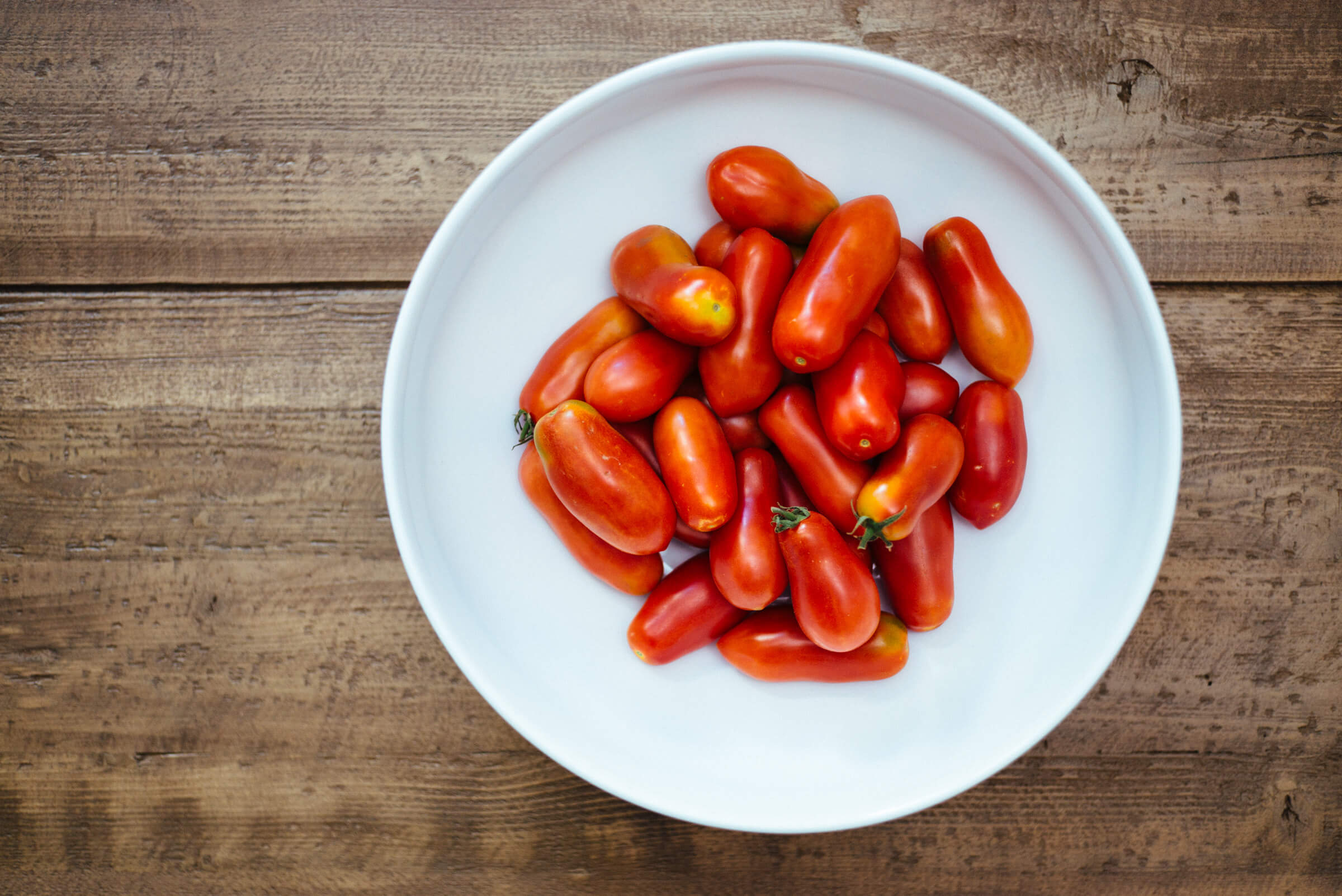 It's prime tomato season, so we're sharing some of The Taste Edit's most popular fresh tomato recipes. If your garden is producing more than you can use, or, if you just want to know what to do with the beautiful tomatoes found at the market – this is for you! Some of our favorites include Lobster Pasta, inspired by our trip to the Amalfi Coast, Bistro Jeanty in Napa serves up an amazingly creamy tomato soup (we freeze it so we have it all winter long), and easy confit risotto stuffed tomatoes (they taste like candy). Let us know which tomato recipes is your favorite!
Lobster Pasta
A few years ago, we spent our fifth anniversary on the fabulous Amalfi Coast of Italy. One of our hotels had the most amazing lobster and martini  bar. Their Lobster Pasta was one of the most memorable dinners of our trip.
Pasta With Tomatoes and Arugula
This easy Pasta with Tomatoes and Arugula recipe was inspired by a seaside lunch in Capri at Ristorante La Fontelina (see more here). A super-simple recipe, it's perfect for lunch or a light dinner. For a heartier meal, serve it as an appetizer with grilled fish. Pair it with a crisp white wine. Make sure to use very ripe, good tomatoes since they are the true stars of the show! The better the tomatoes, the better this dish.
Tomato Confit Risotto
Tomatoes have a high sugar content, so the more they break down in cooking, the sweeter they get. We read an article about making Tomato Confit in the oven, which is basically tomatoes baked so long they get super soft and as sweet as candy. This baked risotto kills two birds with one stone. While the tomatoes are turning into a sweet treat, the herb rice absorbs the liquid from the tomatoes, cooking to creamy perfection.
Pasta with Tuna and Cherry Tomatoes
We serve this pasta cold. This easy cherry tomato recipe is the perfect light dinner. Plus there's enough leftovers for lunch the next day (for two). Prep all the other ingredients while the pasta is boiling, so it really only takes about 15 minutes from start to finish!
Mamma Agata's Tomato Sauce
You need to try Mamma Agata's tomato sauce recipe! It's an authentic family recipe that's easy and delicious! Check out more from our visit with Mamma Agata in Ravello (plus video) here.. We've graciously been allowed to share Mamma Agata's tomato sauce recipe with our readers. Don't miss out – purchase her book!  It highlights fantastic ways to use this simple sauce, and features dozens of other signature dishes like her lemon chicken and lemon cake. Her Italian tomato sauce is a base for many of our Italian recipes at home as well. It's just so good and simple!
Pico De Gallo
In the mood for chips and salsa? Pico De Gallo, or Salsa Fresca is one of the simplest salsas you can make! Serve it with chips or use it to top your tacos or quesadillas. We put jalapeños in ours, but you can use other spicy peppers like Serrano or Fresno chiles.
Bistro Jeanty Tomato Soup
Bistro Jeanty tomato soup is by far the best tomato soup we've had. On one of our first trips to Napa, locals recommended Bistro Jeanty in Yountville. It's a cute French bistro where you can get $1 oysters during the week, Coq-au-Vin, or the famous Cream of Tomato Soup in Puff Pastry.
Thankfully, they share their recipe so you can make it at home. We've made this soup many times on chilly, rainy nights.  Over time, Clayton and I have given it our own spin. We've lightened it up a bit (the original recipe has tons of cream). Sometimes we mix it up and serve it plain, with grilled cheese, or with puff pastry croutons.
French Tomato Tart
The tomatoes at the farmer's market are beautiful right now. So, last weekend, we decided to make a fresh tomato tart with goat cheese and herbs. The best time to find ripe tomatoes is usually at the end of summer into early fall. These were perfect!
Calamarata Pasta with Fresh Tomato Sauce
If you are lucky enough to come across fresh San Marzano tomatoes, you can make them into a great sauce yourself.  All you need to do is cut the tomatoes in half, toss them in a pot, and simmer with some garlic and basil until they break down. Run the sauce through a food mill to remove the skins and seeds.
Caprese Salad
A perfect Caprese salad is one of the simplest and best ways to enjoy ripe tomatoes. It allows the tomatoes to really shine at the peak of the season. When I (Sarah) first visited Italy during college, one of my favorite memories was sitting on a terrace in Ischia overlooking the Mediterranean while eating a Caprese salad. When my friends and I returned to Rome, we went to a shop to buy balsamic vinegar  and oil, then stopped over to the farmer's market in Campo d'Fiori to buy basil and tomatoes. (Tip: When you go to an Italian farmer's market, don't touch the produce. The vendor will choose the best of what they have for you.)