This easy pasta salad is one of my (Sarah) favorite recipes in the summer. My senior year of college was spent in Italy, half in Salerno and the other half in Puglia (Muro Leccese to be exact). My undergraduate degree was in anthropology and I joined a medieval archeological dig. It was hard work in the sun, and every day lunch would alternate between pannini or this pasta with tuna and tomatoes. You serve the pasta cold, which is refreshing when it's hot out and you bite into delicious ripe chilled tomatoes.
Now that it's August, when tomatoes are at their peak, we thought it was an especially appropriate time to share this recipe. It makes a great light summer dinner and and enough leftovers for lunch the next day (for two). The best part is you can prep all the other ingredients while the pasta is boiling, so it really only takes about 15 minutes from start to finish!
Let's talk about the elephant in the room: in Italian cuisine, you don't mix cheese and fish. As with all rules, there are a few exceptions, and this pasta salad is one of two instances we're aware of that it's appropriate to mix fish and cheese (the other is the mozzarella stuffed baby squid we had at Ristorante Max in Positano). According to Italians we've consulted, the reason it's okay to put cheese in this pasta is that canned tuna has a stronger flavor that is the cheese won't overpower. If you don't like tuna or don't eat fish, just leave it out. There was always a big pan made without tuna. We ate it every other day, so it was easy to get tired of tuna!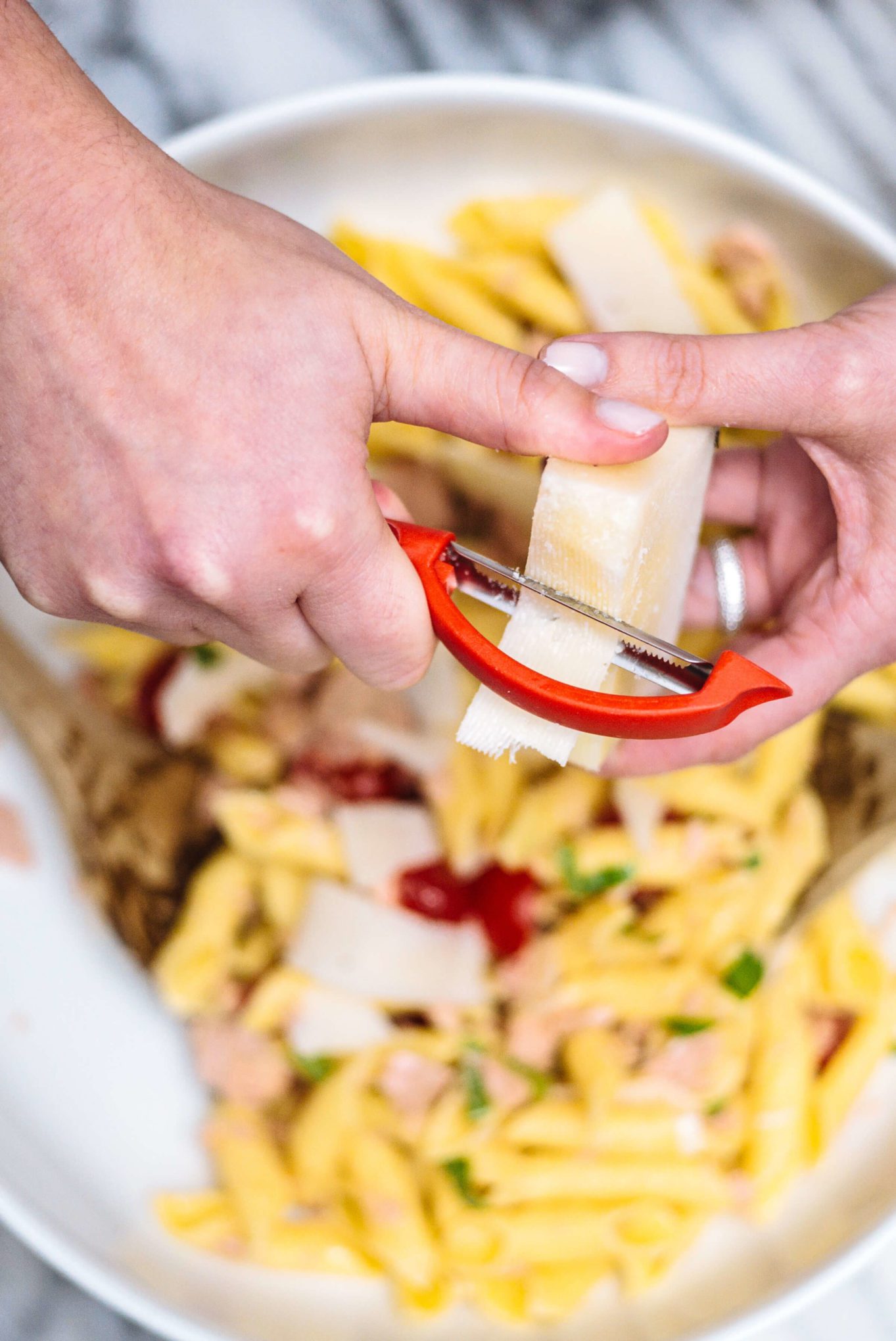 I learned to make this dish with farfalle ("bow tie" pasta), but you can use any short pasta you like. We love garganelli, so that's what we used here. Only use oil packed, and make sure it's a good jar of tuna. We use this one from Tonnino. Make sure to save the oil from the jar of tuna, because you'll use it in the finished pasta. The only way to make this pasta is with shaved cheese–not grated. We used our favorite peeler to shave off long shards of Pecorino Romano or Grana Padano. It was perfect! I hope you enjoy this little slice of Italy as much as we do.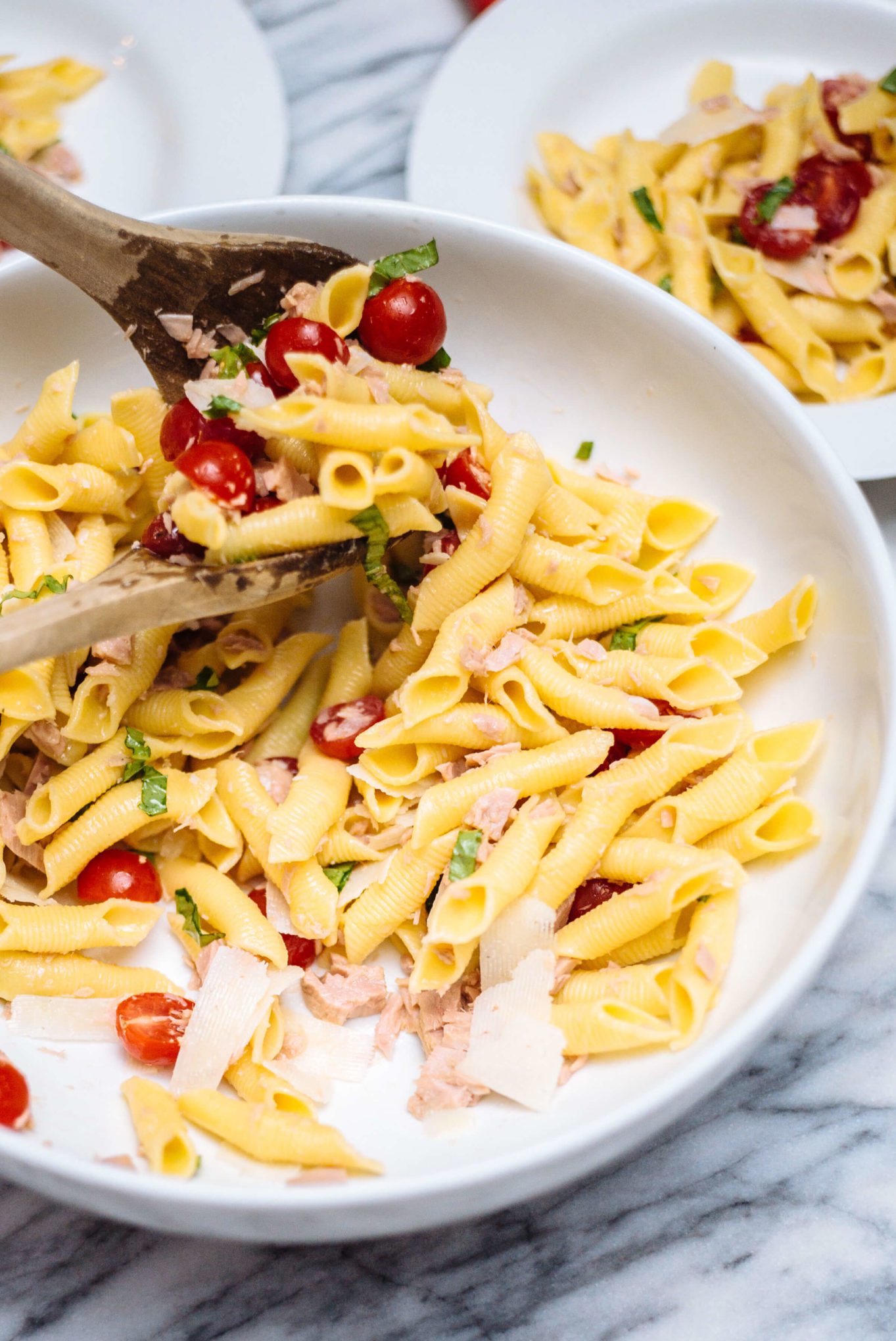 Pasta Salad with Tuna and Cherry Tomatoes
Instructions
Salt a large pan of water and bring to a boil (we use gray salt or kosher salt for this). When the water is boiling, add the pasta and cook for one minute less than indicated on the package instructions.
Meanwhile, rinse the cherry tomatoes and cut in half, thinly slice the basil leaves, and remove the tuna from the jar and cut it into chunks. It's fine if it starts to fall apart a little, but be sure to reserve the oil.
When the pasta timer goes off, drain the pasta through a colander and let cool for a few minutes. Toss the pasta with the oil from the jar of tuna, the tomatoes, and basil. If the pasta salad is too dry, add an extra drizzle of olive oil.
Shave strips of cheese over the pasta and finish with a sprinkle of sea salt, to taste.