What will you eat in Sicily? Well, Sicilians have very different food from the rest of Italy. When we think of Sicilian food, the things that come to mind are raisins, almonds, pistachios, swordfish, red shrimp, and sweets… are you hungry yet? You'll find almonds and pistachios everywhere! Sicilians cook with both and nuts will often be the primary flavor in foods like granitas and pastries. The almond milk even tastes better in Sicily.
Granita is a shaved ice that's so thin that it's almost like gelato. It has a creamy texture for an ice-based dessert and is often served with brioche. If you want to learn more about granita, we'd recommend watching the Netflix Chef's Table with Corrado Assenza in Noto, Sicily.
Sicilians are known for their pastries. You'll want to try as many as possible, especially the cannoli, a fried pastry shell filled with a ricotta mixture. They make a pistachio version of the hazelnut Nutella and often fill pastries with it. Also, you'll find marzipan and cassata in most bakeries.
Make sure you try the Arancini. These fried balls or cones of deliciousness are made up of risotto and often have béchamel, peas, and ham inside. Lightly covered in breadcrumbs and fried – it's the perfect snack cold or straight out of the fryer after it's cooled enough to eat.
Polpette di Pesce Spada, meatballs made of chopped swordfish, are one of the most popular fish in Sicily. Often served with a tomato or onion jam sauce. They're so good we've started making them at home.
You'll see a lot of swordfish on the Sicilian coast. You'll also find agrodolce, which is sort of a sweet and sour mix using vinegar and sugar. Here's a recipe you can make at home. Fish and seafood here are so fresh, you'll often find locals and visitors eating it crudo. Think sushi, but with really good olive oil. If you love fish, don't miss the historic Catania Fish Market.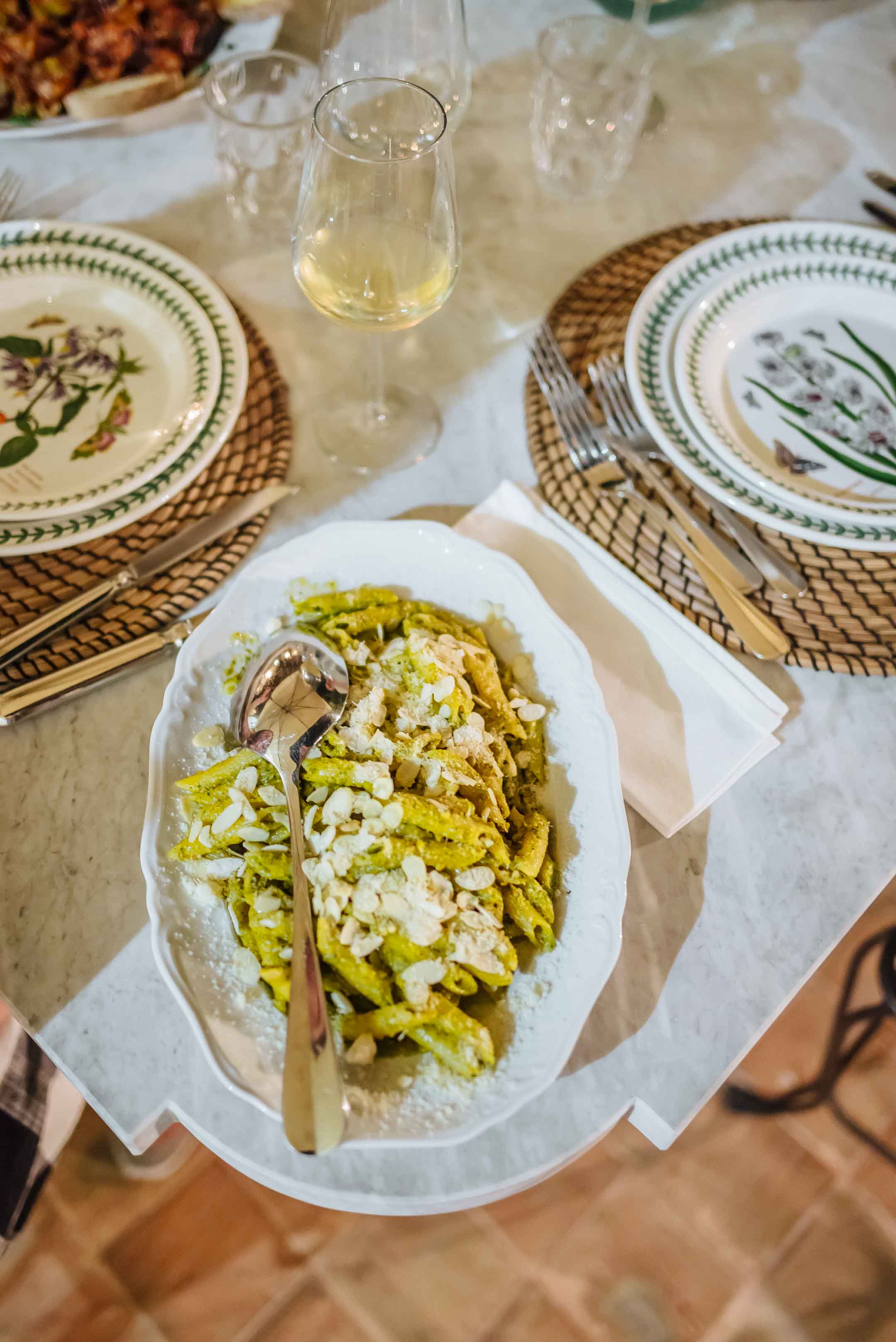 You'll find a lot of eggplant dishes as well. Caponata is a typical starter made with raisins and olives. See how to make an authentic caponata here. Also, try Pasta Alla Norma is made with tomatoes and eggplant. Typically you might think of pesto as made with basil and pine nuts from Genova, but in Sicily, they use almonds or pistachios. Try making Pesto Alla Trapanese,  a Sicilian almond pesto pasta recipe.
Don't miss the Sicilian wines from Mt Etna. Some of our favorite Sicilian winemakers include Alessandro Viola, Frank Cornelissen, and Arianna Occhipinti.