One of our favorite dishes at Thanksgiving and Christmas dinner is sausage stuffing. Sarah's family is from Massachusetts, and this stuffing has been a part of her holiday meals for years.
This spicy sausage stuffing recipe is made with onions,  apples, and spicy sausage. We have never met anyone who does not love this stuffing. If you like raisins or craisins you can throw some of those in. It is by far our favorite stuffing mix we've used.
Bell's started as a seasoning blend in New England in 1867. The company has made the seasoning using the same recipe for over 100 years, and they have a boxed stuffing mix as well. 
The seasoning is easier to find than the boxed stuffing mix in grocery stores, but we would highly recommend ordering the boxed mix online. You can make your own stuffing mix with bread, but it is not as good as the boxed version.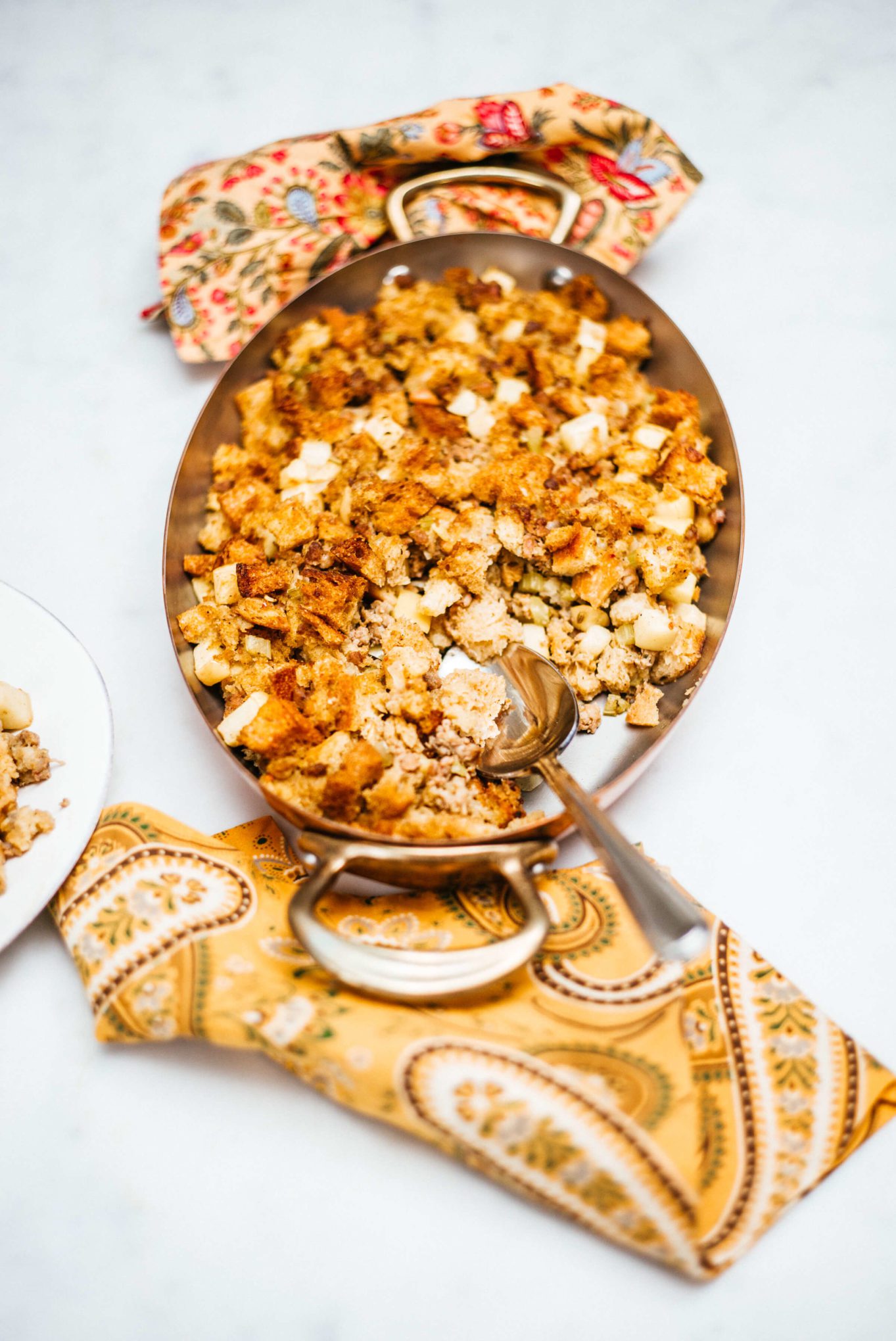 We never cook stuffing inside the turkey. We prefer to cook it in a large roaster or a smaller gratin depending on how many people we are having over. For something more festive, we recently discovered this Staub pumpkin cocotte, and it could be great for cooking stuffing. Just make sure to take the lid off for the last few minutes in the oven so the top can crisp up.
New England Style Sausage Stuffing
Print Recipe
Email Recipe
Ingredients
¼

cup

butter

1

cup

onion

,

chopped

1

cup

celery

,

chopped

1

lb

spicy pork sausage

2

cups

apples

,

chopped

1½

cups

chicken stock or apple juice

¼

cup

dry white wine

12

oz.

Bell's traditional stuffing
Instructions
Preheat oven 350F degrees.

Melt butter in a large skillet and sauté onion and celery until soft.

Add sausage and break apart until fully cooked.

Add apples, wine, and chicken stock to heat through.

In a large bowl, add dried stuffing and combine with mixture.

Press stuffing in baking dish and cook 30-40 minutes.
Notes
If you like a spicier stuffing add red pepper flakes.
Adapted from winning recipe submitted by Deborah Napsey to the Yankee Magazine Bell's Recipe Contest.