Late fall and winter is when you start seeing celeriac at the market. We don't normally know what to do with it, so we challenged ourselves to find a few ways to use it. Celeriac is a variety of celery cultivated for its edible roots.
We turned to Nigel Slater, one of our favorite food writers, and found several enticing celeriac recipes in his book Tender. He has so many beautiful (and simple) vegetable recipes, and if you're a gardener, the book tells you more about growing them. We made his celeriac salad for a light dinner, but it would be perfect as a side dish for barbecue in place of cole slaw, or on top of a burger or sandwich.
Celeriac will oxidize and turn brown when you peel it, so make sure you have a bowl of water with some lemon juice squeezed in it to keep the celeriac until you're ready to use it. It will help keep it from browning. We used a box grater to shave the celeriac into perfectly sized pieces. You can also use a Japanese mandoline with the widest blade.
Celeriac and Bacon Salad
Author:
Adapted from Nigel Slater's "A remoulade of celery root and smoked bacon"
Ingredients
Crème fraîche, 1 cup
Juice of ½ lemon
Whole grain mustard, 2 tablespoons
Celeriac, shaved
Bacon, 4-6 slices, cooked and cut into pieces
Sprouts
Parsley, sliced
Instructions
In a small bowl, whisk together the creme fraiche, lemon juice, and mustard.
In another bowl, toss the celeriac, sprouts, and ¾ of the bacon with enough dressing just to coat.
Serve topped with the rest of the bacon and parsley.
SaveSave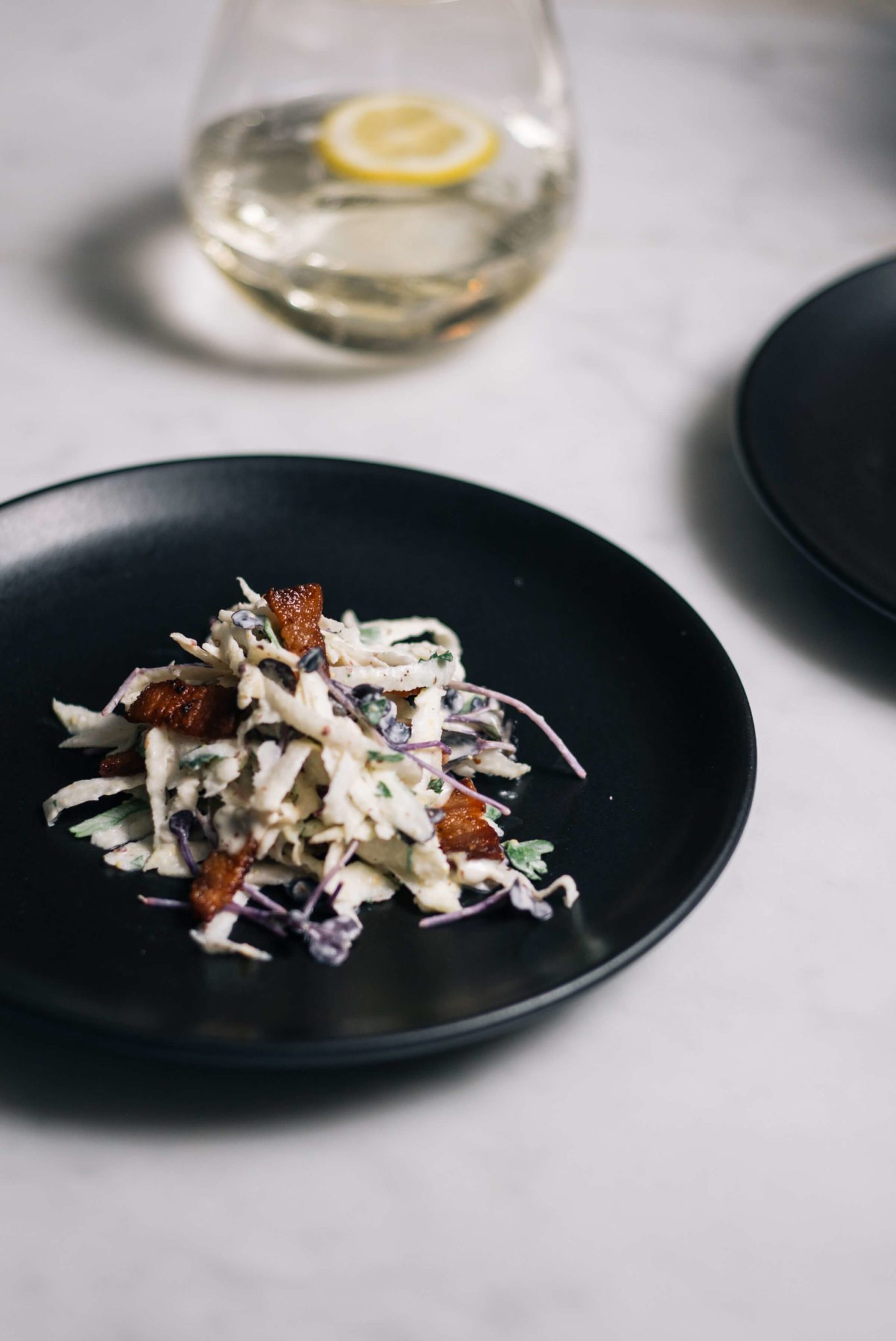 SaveSave
SaveSave