One of the major benefits of all the rain we've had this winter is that there is still six feet of snow at Lake Tahoe. Despite having lived in Chicago for years, we had never seen six feet of snow, so we planned a late season ski trip at the end of March.
We are both huge fans of Ritz-Carlton hotels (last seen here), so we couldn't wait to check into The Ritz-Carlton Lake Tahoe, which is halfway up the mountain at Northstar ski resort. We had stopped in to check it out on our last trip to Tahoe.
We had a packed itinerary for our weekend, starting with dinner at the chef's counter at the hotel's flagship restaurant, Manzanita, a Saturday morning private ski lesson, lunch on the slopes, apres-ski Champagne, dinner in Northstar Village (we also squeezed in some time at the cutest wine bar), and Sunday brunch.
After the long drive up through the snow, we were greeted with two flutes of champagne upon check-in and started our getaway off to a fabulous start.
If you love skiing, you will love this hotel. You can literally ski out the back door and catch one of a number of ski lifts depending on your ability. We spent most of our time in a ski lesson, on the bunny slopes, but took the gondola to the top of the mountain for some photos.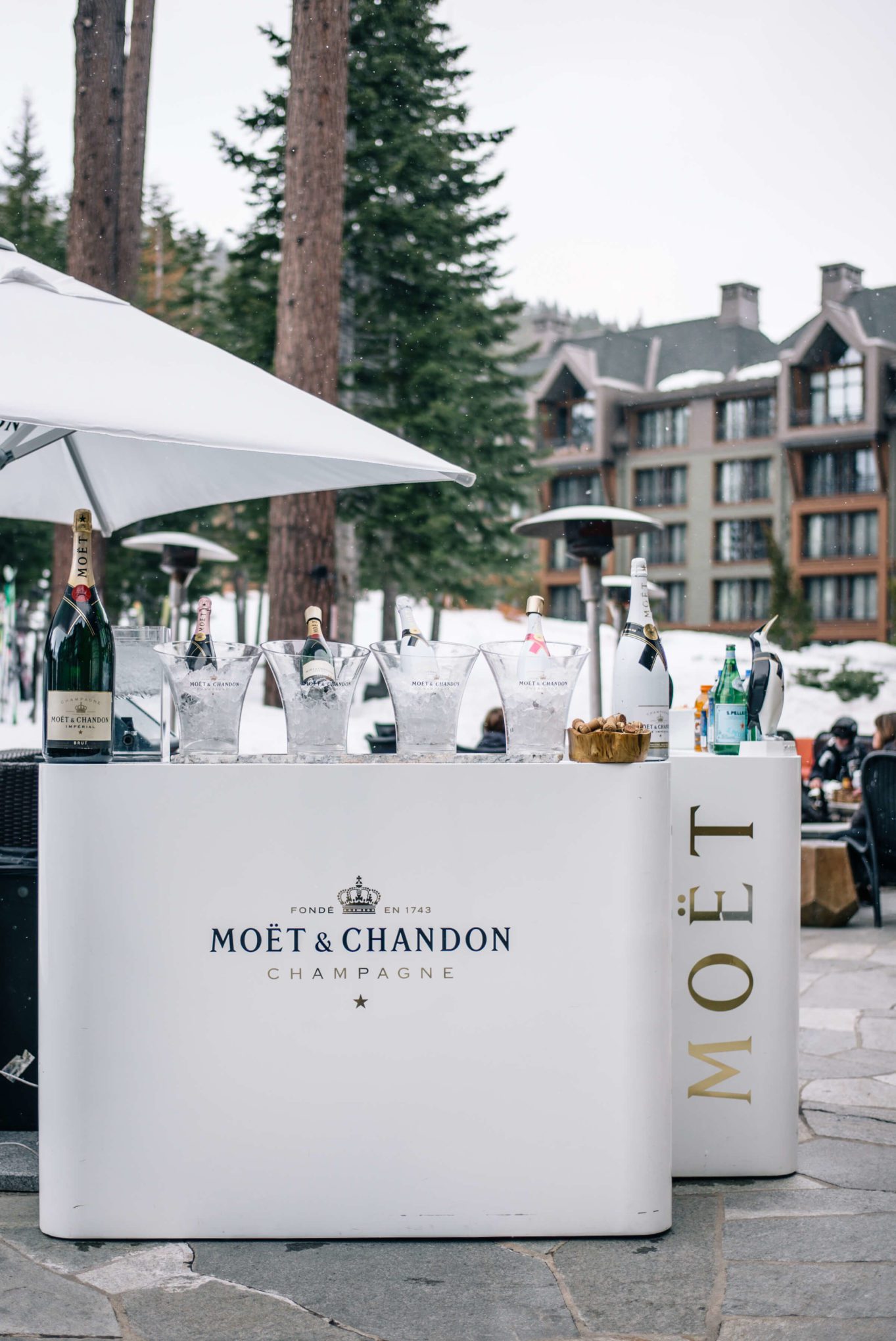 The lobby of the hotel is built around a giant fireplace, and it honestly makes you want to spend more time in the lobby than in your room. If you want some peace and quiet, there are fireplaces in the rooms as well, but we definitely took advantage of cocktails in the lobby both nights.
We were invited to experience the chef's counter at The Ritz Carlton's flagship restaurant, Manzanita. We had met Chef Mark Jeffers at our last visit to Navio at the Ritz-Carlton Half Moon Bay, so we were excited to see what he had been working on up in Tahoe.
Manzanita has a full chef's counter as well as a chef's table. We love the counter because it has a great view of the kitchen, and you also get some great interaction with Chef Jeffers. He personally served each dish, and answered all of our questions. "How are you able to get such an amazing crunch on these scallops?" The answer: let them dry on a paper towel in the refrigerator overnight so they get a good sear. Chef Jeffers is bringing in all kinds of local ingredients, as he still has great relationships with Bay Area purveyors from his time in Half Moon Bay, many of whom deliver to Truckee once a week or so.
We left wine pairings in the hands of the restaurant, and they were spot on with each course. We started with one of the most amazing cauliflower soups we've ever had (topped with shaved black truffles) and a salad of apples and beets. We'll be sharing the recipe for that creamy cauliflower soup with you very soon. Chef Jeffers also treated us to a dish of seared diver scallops served on a bed of beans and lardon with a warm vinaigrette (a play on the traditional beans and pork) as well as a delicious melt-in-your-mouth braised lamb and faro risotto dish made with marscapone cheese to give it an extra bit of creaminess.
To finish off we shared (what we could manage!) of two desserts, "Rocky Road" Warm Chocolate Cake a play on rock road and s'mores, which included an amazing toasted marshmallow gelato. Chef Jeffers said that they literally char marshmallows over a fire and incorporate them into the gelato base. If we had only tasted the gelato we'd have been happy – that' how good it was! We also tried the famous flaming "Northern Lights," built on a gluten-free vanilla pound cake, with lemon ice cream and topped with meringue and rosemary caramel sauce, which is then flambeed tableside by chef Jeffers.
Manzanita serves a large variety of California cuisine (we kept seeing a tomahawk pork chop go out that looked incredible), but if you're on vacation for the weekend, we would highly recommend trying out the chef's counter for an extra special experience. See more from our trip in Part 2 here.
Thank you to The Ritz-Carlton, Lake Tahoe and Northstar California Resort for sponsoring this post.