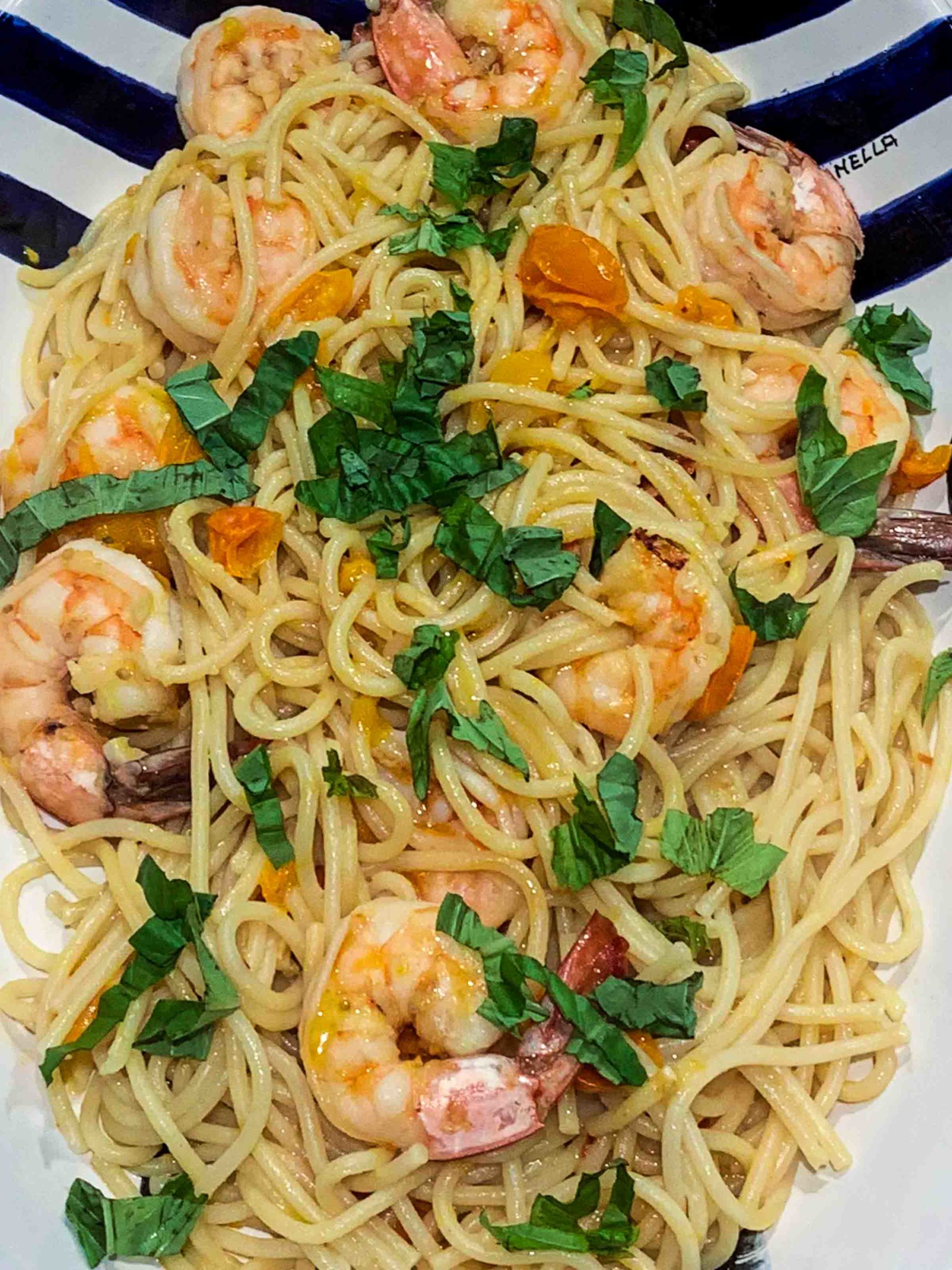 DINNER AT OUR PLACE:
Italian Shrimp Pasta with Cherry Tomatoes
If you loved our Bucatini Pasta Fish recipe, inspired by our time in Italy, you'll love this shrimp pasta! It's very similar, but uses shrimp instead of fish. Frozen shrimp can be found most everywhere in North America. Growing up in Florida, I took it for granted that we could always find fresh shrimp. Now that we live in California, we typically have a big bag in the freezer of individually quick frozen shrimp on hand, unless it's prawn season – then we'll substitute huge, head-on live prawns!
Here's another shrimp pasta recipe that we love. It's inspired by Avec in Chicago. It uses rock shrimp, corn, and squid ink pasta. (You can substitute chopped shrimp for rock shrimp and any pasta.)
Italian Shrimp Pasta with Cherry Tomatoes
Print Recipe
Email Recipe
Ingredients
400

g

bucatini

10-12

peeled and cleaned shrimp

,

chopped

½

onion

,

diced

2

cloves

garlic

,

diced

1

chili

,

crushed

100

ml

dry white wine

500

g

cherry tomatoes

,

halved

salt

pepper
Instructions
Boil a pot of well-salted pasta water, so it tastes like the ocean. Cook pasta until al dente, about a minute less than directed on the package.

Meanwhile, in a saute pan, cook the garlic, onion, chili and oil on medium heat until it softens. Add the tomatoes, cook until they begin to break down. Add a scoop of pasta water to the pan and allow the tomatoes to break down further to create a sauce. Add the shrimp and wine. Saute until the shrimp is cooked through. If the pan begins to dry out, add a splash more pasta water. Add the pasta to the pan and toss to coat. Salt to taste.