Just a short drive from San Francisco, you could spend the afternoon at Nick's Cove sitting out on the pier of this former fishing lodge enjoying the salt, sun, and the most delicious beer-battered fried fish! Opened in the 1930s, it's a relaxing and historic getaway you won't want to miss.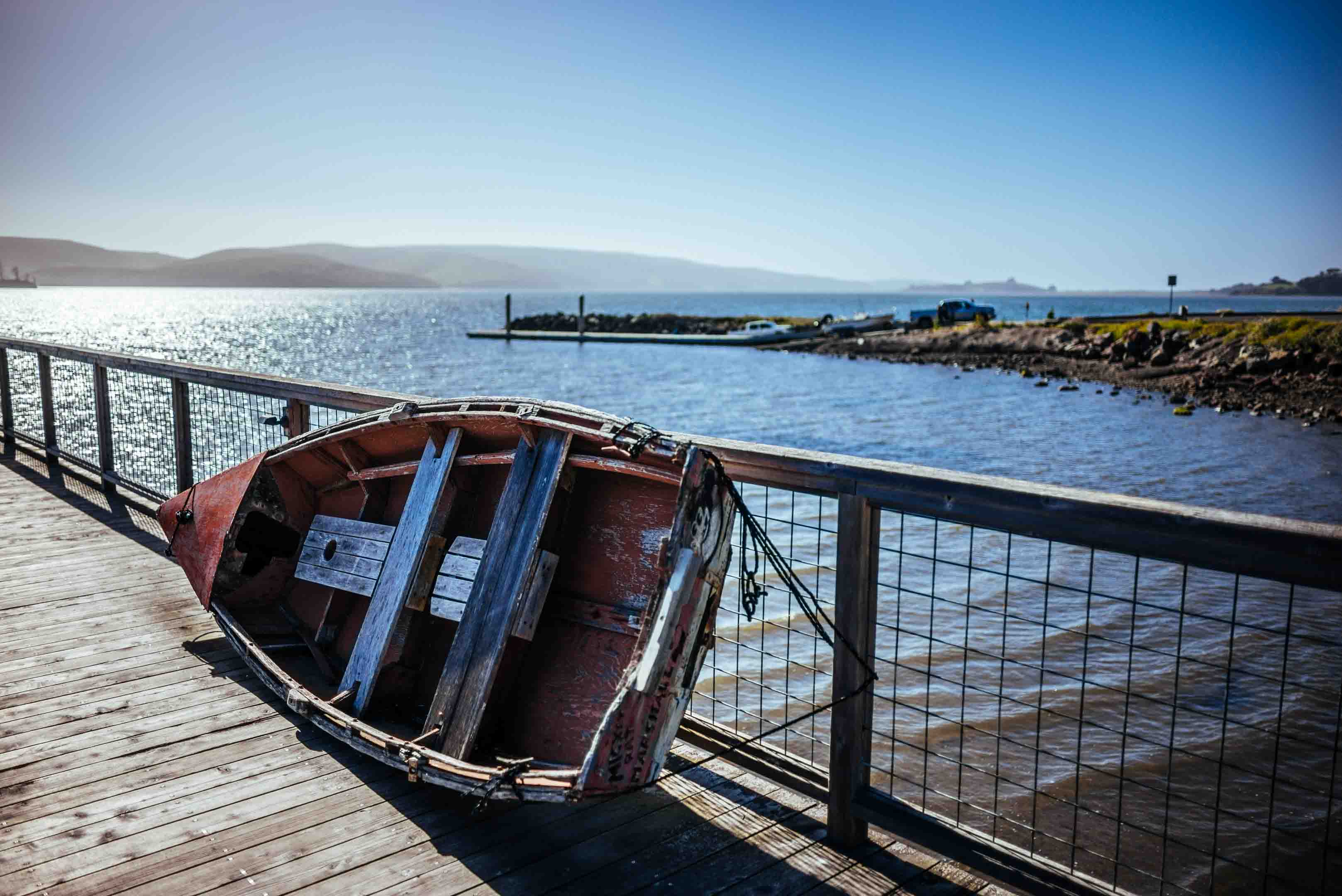 Table with a View: The History and Recipes of Nick's Cove by Dena Grunt is out now.
Nick's Cove Beer-Battered Fried Fish with Homemade Tartar Sauce
Print Recipe
Email Recipe
Ingredients
For the Tartar Sauce:
¼

cup

drained and roughly chopped cornichons

1

tablespoon

drained capers

2

sprigs

dill

,

stems removed

2

sprigs

tarragon

,

stems removed

4

fresh mint leaves

Juice of ½ lemon

1

teaspoon

kosher salt

1 ½

cups

mayonnaise
For the Fish:
1 ½

cups

all purpose flour

3

teaspoons

baking soda

¼

teaspoon

kosher salt

1 ½

cups

pilsner beer

,

such as Lagunitas pilsner

3

teaspoons

malt vinegar

Canola oil

,

for deep-frying

1 ½

lb

rock cod fillets

,

cut into 6 equal pieces (about 4 oz each)

2

lemons

,

quartered, for serving
Instructions
For the tartar sauce:
Combine all ingredients except the mayonnaise in a food processor. Process on high for 1 minute, until combined but not liquefied. In a large bowl, fold the mixture into the mayonnaise until all is incorporated, and check for seasoning. May be made ahead of time and refrigerated, covered, for up to 5 days.
For the fish:
In a large bowl, whisk together the flour, baking soda and salt. Add the beer and vinegar and whisk until combined.

Fill a large Dutch oven or other heavy pot half-full with oil. Place over high heat and heat until the oil registers 325F on a deep-fry thermometer. Line a large ovenproof plate with paper towels and place near the stove. Preheat the oven to 200F.

When the oil is ready, working in batches of two or three pieces of fish to avoid crowding, dip each piec of the fish into the batter, coating it liberally; lift it out, letting the excess batter drip back into bowl; and then carefully slip it into the hot oil. Cook the fish, turning the pieces once or twice, until crispy golden brown and cooked through, 4 to 6 minutes. Using tongs or a slotted spatula, transfer to the towel-lined plate to drain and place in the oven to keep warm. Repeat with the remaining fish. 

Serve fish at once, accompanied with the tartar sauce and lemons.