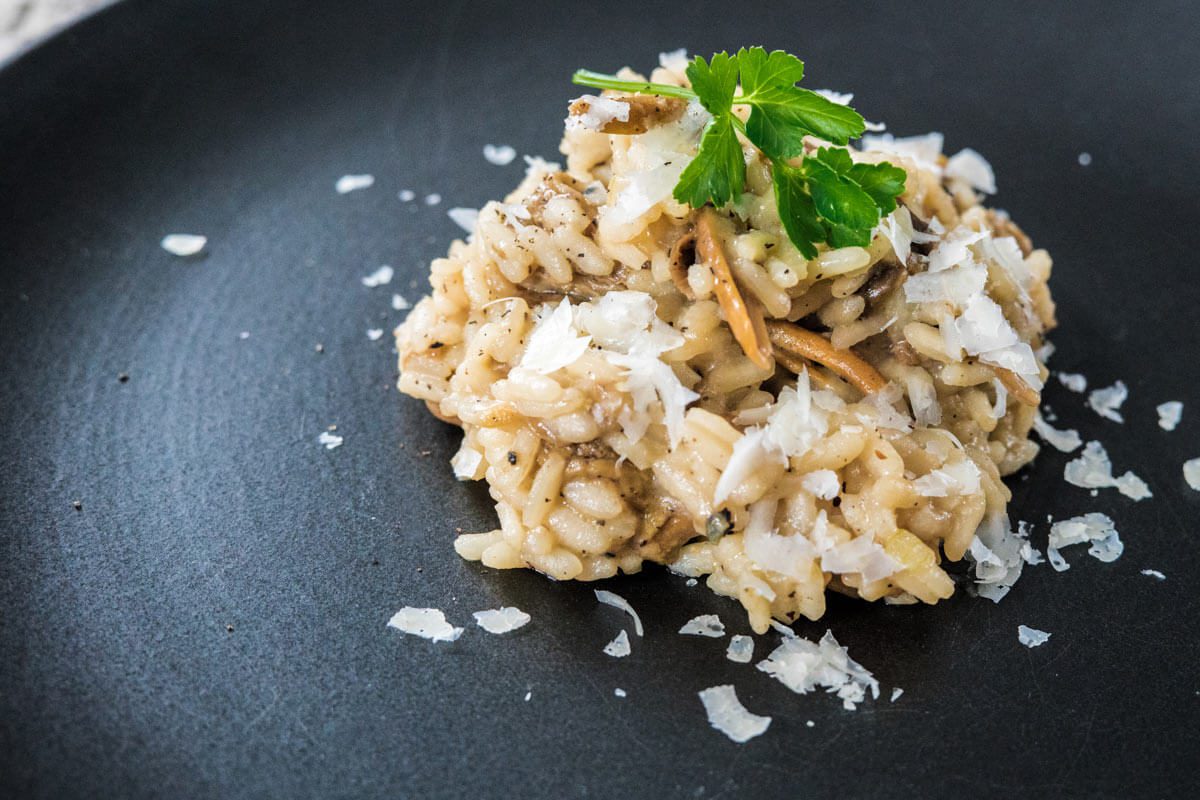 Mushroom risotto is a staple in our house. It makes a perfect weeknight dinner with a light salad, and we always make enough to have leftovers for lunch the next day. We were at the CUESA Ferry Plaza farmer's market a few weeks ago checking out the mushrooms at Far West Fungi. We usually have no clue what to do with the more exotic mushrooms, and we were trying to decide between chanterelles, yellow foot chanterelles, or black trumpet mushrooms. 
Clayton asked the man standing next to him what he thought would be best. It turned out to be Evan Allumbaugh, chef de cuisine at Flour + Water. He suggested that the yellow foot chanterelles would be perfect for risotto as he loaded up boxes of black trumpet mushrooms onto his cart. Yellow foot chanterelle mushroom risotto it is!
A lot of people think risotto is difficult to make, but it's actually fairly easy, and you can use almost any type of mushrooms you can find. In this recipe, we've used fresh mushrooms, but high quality dried mushrooms also work well. It does take about 15-20 minutes of stirring, but it's a great way to relax and unwind with a glass of wine!
Here are a few tips:
If you use dried mushrooms, strain the water you soak them in and add it to your stock for extra mushroom flavor.

Use the best risotto rice you can find. Carnaroli is preferable to Arborio. Acquarello is our favorite! You can order it online if you can't find it locally.
It is important to use hot stock. It speeds up the process a lot.
If you're interested in elevating your risotto making experience, try a risotto spoon. You can find some options here, here, and here. Risotto spoons have a hole in the middle so you get a smoother action when stirring your risotto. 
We like to use Microplane zesters to grate our cheese. We have a few. For a more luxurious option, check out this beautiful copper cheese grater. 
We use an Italian copper risotto pan that we received as a wedding gift from Clayton's mom to make risotto. This All-Clad pan is identically shaped and woudln't require polishing.

This is a vegetarian dish but can be made vegan, just substitute olive oil for butter and finish with a drizzle of fresh olive oil and cracked pepper instead of cheese.
Yellow Foot Chanterelle Mushroom Risotto
Ingredients
¼ pound, fresh seasonal mushrooms, thoroughly cleaned
4 tablespoons of butter
1 medium onion, finely diced
1 cup carnaroli rice
4 cups vegetable or chicken stock
salt
pepper
freshly grated Grana Padano cheese
Instructions
Bring the stock to a simmer in a sauce pan.
Melt 2 tablespoons of butter in a risotto pan or sauté pan over medium heat. If you are using larger mushrooms like chanterelles, cut each in half lengthwise. Add the mushrooms to the pan and season with salt and freshly cracked pepper. Cook the mushrooms in the butter until they are very soft and release their water. Continue cooking until the pan is almost dry. Remove the mushrooms from the pan and set aside.
Add the remaining butter to the pan and saute the onions until they are very soft, seasoning with salt and pepper. When the onions are soft, add the rice and stir, cooking a few minutes until it appears slightly translucent and you can hear it pinging against the pan as you stir.
Begin adding the stock about ½ cup at a time, stirring constantly, adding more hot stock as soon as the last addition is nearly soaked up by the rice. It will take about 4 cups of stock, but taste the rice as you near the end of the stock and add the mushrooms back to the pan to heat through as soon as the rice reaches your desired consistency.
Serve in a bowl and finish with freshly grated Grana Padano cheese.