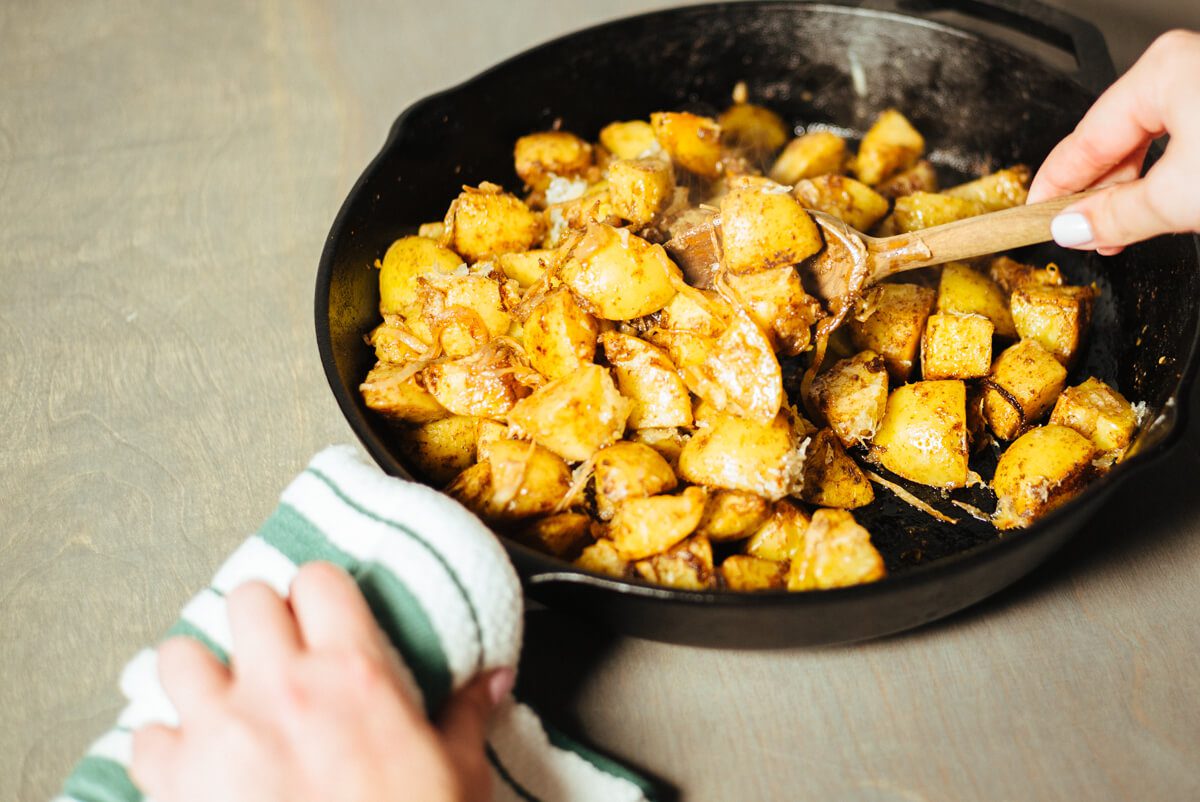 One of our favorite go-to side dishes is cast iron skillet potatoes. There are a lot of variations on this simple recipe you can make. For example, you can add herbs or cheese like Grana Padano or Manchego. When we were introduced to Maria Sinskey's Merguez spice it took the potatoes to another flavor level with cast iron skillet Manchego cheese potatoes. It's easy to make on your own or you can purchase a pre-made Merguez spice. We like to make a batch of the spice, store it in tins like these, these, or these, and keep it in the pantry.
We love using cast iron pans to cook potatoes to give a crispy exterior. Make sure your potatoes are patted dry for an even crispier texture. Another benefit of using a cast iron pan is that cast iron holds heat for a long time, so the potatoes will stay warm longer. We like these, these, and these options. If you plan to serve the potatoes out of the cast iron skillet, make sure to protect your tabletop. We love this expandable trivet from Alessi or a simple towel like one of these.
We use various Microplanes like this or this to grate cheese. We have at least three. We use this one or this one for finishing dishes like pasta or these potatoes, and this one for larger tasks. Our Microplanes are workhorses, but for a beautiful grater, this one has been on our wish list for a long time.
These potatoes are fantastic to make alongside a skirt steak or a roast. They will be perfect for the summer grilling season too!

Cast Iron Skillet Manchego Cheese Potatoes
Ingredients
1 lb yukon gold potatoes, cubed or sliced
olive oil
½ onion, thinly sliced
1 tablespoon merguez spice
salt
pepper
½ cup manchego cheese, grated
Instructions
Heat over to 375 F. In a large cast iron skillet, toss the potatoes and onions in olive oil, mergez spice, salt, and pepper. Cook until golden tossing ever 15 minutes. Add cheese and return to oven until melted and golden.