This summer, United Airlines launched the only direct flight from the United States to Naples, Italy, with daily flights from New York/Newark through October 26.
We've wanted to explore Naples for years. Most Americans spend very little time in the city, passing through only while en route to other southern Italian destinations. After accumulating a long to-do list of exclusive Neapolitan culinary experiences over the years, we decided to combine a week-long visit to one of our favorite Italian islands with a weekend in Naples.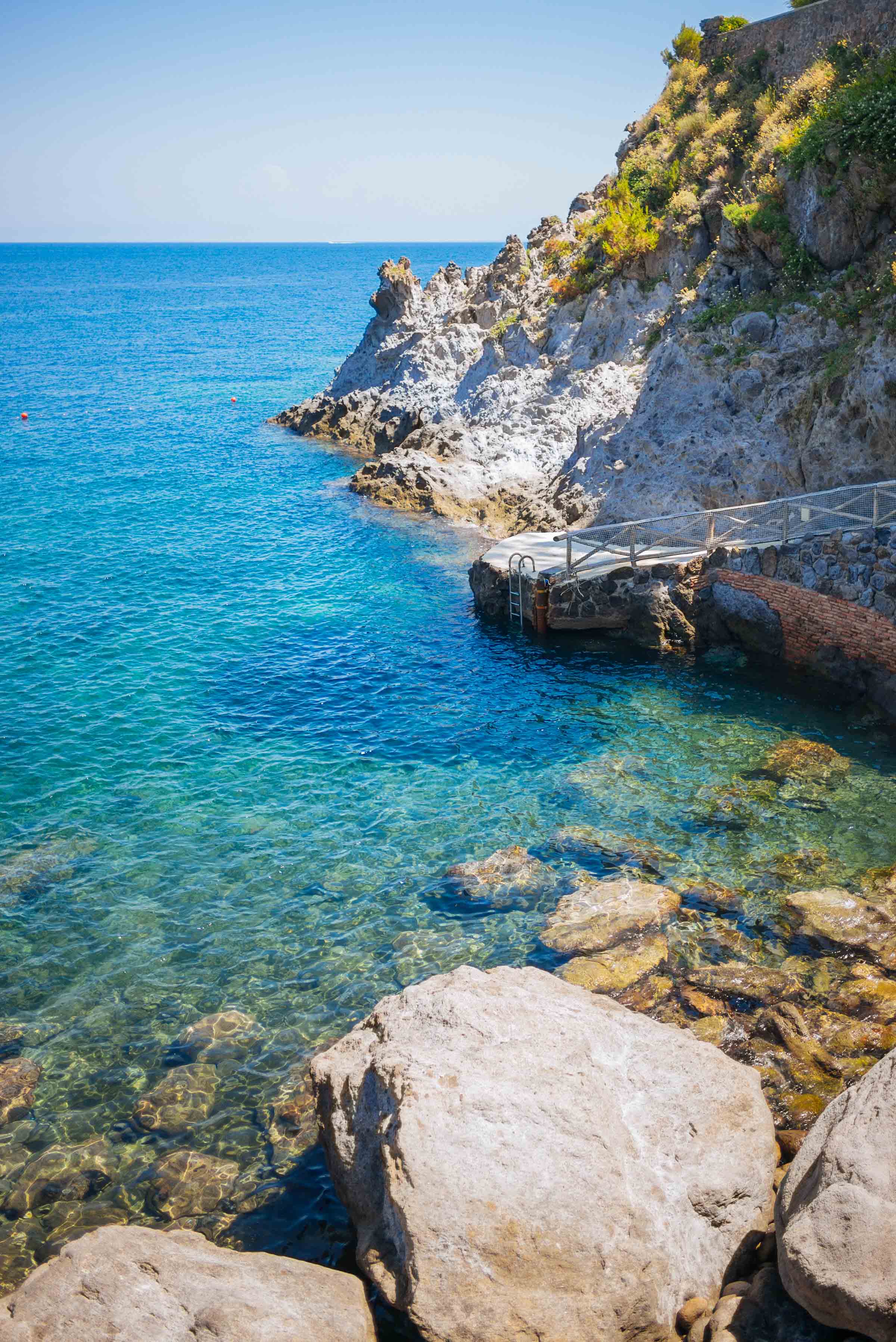 Before the launch of United's nonstop service, the most convenient options to travel to Naples were to connect through a major European airport or to fly into Rome and take a high-speed train (or drive). With United's service to Naples, you can leave New York/Newark in the evening and wake up in Naples with the whole day ahead of you. After stepping off the plane at Naples small, convenient airport, it's just a short cab ride to the city's historic center or the Port of Naples, where you can catch ferries to Capri, Ischia, and the Amalfi Coast.
For a truly extraordinary travel experience, book your flight in United's Polaris Business Class cabin. Our luxe in-flight experience featured lay-flat beds with Saks Fifth Avenue bedding, exclusive amenity kits, gourmet meals, and United's famous dessert cart offering ice cream sundaes, cheese paired with port.
From San Francisco, you can leave in the morning and arrive in New York/Newark mid-afternoon with enough time to have cocktails and lunch in United's exclusive Polaris Lounge dining room before boarding the flight to Naples. If you don't have time for a seated meal, you can grab a drink at the bar and head to the extensive buffet for a bite to eat. The bar menu offers a variety of exclusive aviation-inspired cocktails, classics like negronis and martinis, and an extensive selection of premium spirits like one of our favorite Japanese whiskies, Nikka Coffey Grain.
United's flight lands in Naples early the next morning. Arriving early and getting through passport control quickly (being it's a small airport) gives you the whole day to explore Naples or head off to one of Southern Italy's iconic vacation destinations. It's just a 20-minute cab ride to the hydrofoil to Ischia, a magical island of thermal spas, deep blue pools, and some of the best fish and pasta dishes around. We made it to the pool at our hotel by noon.
Ischia may not have the historical glamour and notoriety of Capri, but that is exactly what we love about this laid back escape. Rather than fighting crowds in the tiny streets of Capri, you can spend hours lounging by the pools and swimming in the salty turquoise waters of the Mediterranean Sea, and you can walk into almost any restaurant without a reservation and enjoy an authentic Italian meal at a very reasonable price. It's quite hot in July, so it's the perfect time to work on your tan and stay cool in the water.
Ischia is a volcanic island and also the oldest spa destination in the world, and thermal healing waters are found all over the island. Ischia also has several sandy beaches and umbrella dotted beach clubs along the shoreline where you can rent private chairs and umbrellas.
The island has hundreds of hotels at every price point, but we recommend staying at the newly renovated Mezzatorre which has its own private cove to swim in, or San Montano Resort perched high on the mountain with over ten pools overlooking the bay. Both resorts have fabulous restaurants and offer complimentary transportation to the local fishing village of Lacco Ameno, where you can shop the boutiques and grab dinner seaside at one of several fish restaurants.
Since you're in the middle of the Mediterranean Sea, the fresh fish and seafood are the best you'll find anywhere! Be sure to try fritto misto at Il Delfina, and the fresh fish of the day at Ristorante Coco with a spectacular view of the Aragonese Castle that you'll probably recognize from movies like The Talented Mr. Ripley.
Ischia also has a thriving wine industry, so make sure to sample its signature white wine, Biancolella, from a number of producers. Summer in Ischia also means tomatoes and melons are at their prime, and you won't want to miss Dani Mason, the island's two Michelin star restaurant set in the middle of a gorgeous garden.
After spending a week relaxing by the sea, be sure to leave some time to explore the historic city of Naples. The modern Romeo Hotel is located perfectly – just a few steps from the port and walking distance from most of the major sights in Naples.
In just two days we visited over five pizzerias and several cafes so we could form an educated opinion of what is the best. If you feel the need to stand in line at one of the historic pizzerias like Da Michele or Sorbillo, know that these cater to tourists and the pizza is honestly not recommended. For the best pizza in Naples, without the line, check out our favorite, Pizzeria Concettina ai Tre Santi, where Ciro serves everything from classic pizza margherita to inventive new pies, to octopus stew. Pizzeria Vincenzo Capuano and 50 Kalo are also exceptional. All three made us wish we hadn't stood in line for the generic and unremarkable margherita at Da Michele.
Naples is a beautiful city that's buzzing with activity and filled with colorful buildings, well-dressed men, and some of the best food in Italy. Don't listen to anyone who tells you it's dangerous. Just be safe like you would in any big city like New York or San Francisco and you'll be fine. Pickpockets are a concern everywhere in Italy, but in our experience, you are ten times more likely to be a target of petty crime in a crowded tourist attraction like the Coliseum in Rome or the train to Pompeii than on the busy streets of this charming city, where people are just going about their business. Everyone we met was super friendly and eager to help. It's also easy to get around Naples. You can walk, take a taxi, or use the metro.
In addition to its famous pizza, try the street food and cafes and visit the many museums and churches. Stop into the famous Gran Caffe Gambrinus for a sfogliatelle and espresso, and if you have time, head to the famous Teatro San Carlo for an evening of opera. The shopping is fabulous in Naples' chic Chiaia district. You'll find everything from local Neopolitan tie makers and tailors like E Marinelli to large luxury brands like Bulgari and Hermes. There's so much to do, you really need more than two days or a few hours to take it all in.
Sponsored by United Airlines.
United Airlines, New York/Newark to Naples seasonal service until October 26, 2019
Dani Maison, Via Montetignuso, 4, 80077 Ischia
Ristorante Delfino, Corso Angelo Rizzoli, 106, 80076 Lacco Ameno
Ristorante Bar da Coco', Ponte Aragonese, 1, 80077 Ischia
Mezzatorre Hotel & Thermal Spa, via Mezzatorre, 23, 80075 Forio d'Ischia
San Montano Resort & Spa, Via Nuova Montevico, 26, 80076 Lacco Ameno
Hotel Romeo, Via Cristoforo Colombo, 45, 80133 Napoli
Pizzeria Vincenzo Capuano, Piazza Vittoria, 8, 80121 Napoli
Pizzeria Concettina ai Tre Santi, Via Arena della Sanità, 7 Bis, 80137 Napoli
50 Kalo, Piazza Sannazaro, 201/c, 80121 Napoli
Gran Caffè Gambrinus, Via Chiaia, 1, 80132 Napoli
E.Marinella, Riviera di Chiaia, 287, 80122 Napoli