Have you tried radicchio? It's that beautiful purple cabbage-like chicory you might see at the farmers market or grocery store and never know what to do with (other than put it in a salad). We like to grill radicchio and serve it with with goat cheese or blue cheese. Grilling a lettuce-like vegetable might sound weird but trust us. Radicchio is very bitter, and grilling helps to soften the bitterness and bring out the flavor. You can do this on the grill, in a grill pan, or in a cast-iron skillet.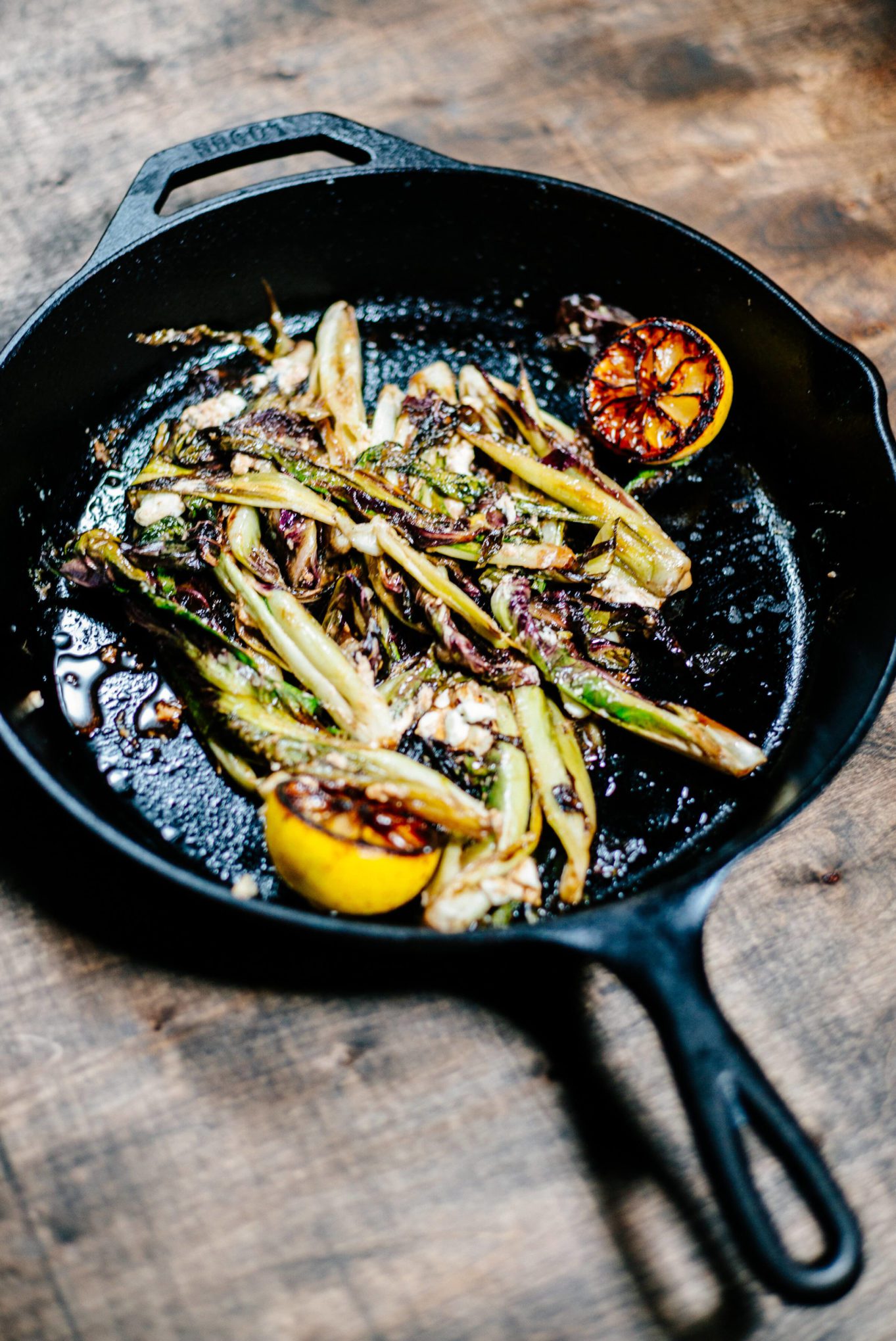 Clayton has long been obsessed with Treviso Radicchio, a northern Italian variety. We tried to grow it in a garden once and it came up, but we don't think it got enough light to fully mature. When we found beautiful Treviso radicchio from Dirty Girl Produce, we decided it would be a to make it into a weeknight dinner.
The result? Delicious, but don't make it the highlight of a meal. This is best as a side dish, paired with something rich like grilled meat, or maybe a hearty pasta. You'll want something to balance out the still (very) bitter notes of the dish. Next time we plan to try making radicchio into a gratin to see if it would soften it even more.
Grilled Radicchio with Cheese
Ingredients
3-4 heads of treviso radicchio, quartered lengthwise or broken into small bunches
olive oil
salt
pepper
3-4 oz cheese (goat, blue, creamy)
lemon
Instructions
Drizzle radicchio with olive oil and season with salt and pepper.
Heat a grill, grill pan, or cast-iron skillet. Cut lemon in half and grill, cut side down, until charred. Remove from the pan and set aside.
Add radicchio and turn as often as needed to cook through, a few minutes on each side. Slight charring is okay.
Remove warm radicchio and add to a serving dish.
Top with cheese and drizzle with grilled lemon juice.